Introducing the:
NACC 200 Countdown Podcast
Learn more about Jeff Leake,
the voice behind the NACC 200 radio show
and newly launched podcast, available now on
iTunes, TuneIn, Google Play & Stitcher
HOLIDAY CHARTING HIATUS
The last active chart week of 2017 will be December 12. NACC will not accept station reports for the chart weeks of December 19 & 26, 2017 or January 2, 2018. Charting will re-open on Friday, January 5th for the January 9, 2018 chart week.
MDs, Labels, Promoters, Publicists, Musicians:
SEND US YOUR YEAR-END PERSONAL TOP 10 ALBUMS!
With the year coming to a close, we'd love to know your personal favorite releases of 2017. Any albums released since January 1st are eligible. Just head HERE and type them in.
NOTE: Only Top 10s entered at that link will be included. Labels, please feel free to share this link with your artist roster! You have until next Wednesday, December 13 @ Noon EST to get yours in!
St. Vincent's Loma Vista release, MASSEDUCTION, logs a fifth straight week at #1 and in doing so, matches Alvvays for the longest run on top of the NACC 200 this year. These two acts have owned the top of the chart for 10 of the last 11 weeks (with Beck grabbing a week at #1 between them). The battle for the last #1 of 2017 will be a fierce one next week with Sharon Jones & The Dap Kings hanging tough at #2 and Fever Ray rising 4-3. Stay tuned.
In a 1993 Spin article, Björk said she never thought she'd release a solo album. At the time she was the lead singer of The Sugarcubes and about to unleash her platinum-selling debut appropriately called, Debut, which spawned massive modern rock hits like "Human Behaviour" and "Big Time Sensuality." Twenty-four years, nine studio LPs, two soundtracks, eight live albums, an Academy Award nomination and one swan dress later, Björk has become one of the most fascinating, enigmatic, and unique musicians around. Her latest album, Utopia, races ahead 87-8, becoming the biggest mover of the three albums that reach the Top 10 this week. OCS and Curtis Harding join Björk in the top 5% of the chart.
The NACC 200's highest debut of the week comes from Noel Gallagher's High Flying Birds. Noel adopted the moniker for his solo work in 2010 after quitting Oasis, the band they formed with his brother Liam in 1991. The touring band consists of former Oasis members Gem Archer (guitar) and Chris Sharrock (drums), former Oasis session pianist Mike Rowe, and The Zutons bassist Russell Pritchard. Gallagher's third release post-Oasis, debuted at #27 this week.
A NACC first this week is a re-issued album landing the week's biggest climb. It comes from Rock And Roll Hall Of Fame inductees, R.E.M. Michael Stipe, Peter Buck, Mike Mills and Bill Berry formed the band in 1980 and along with Nirvana and Pavement, are considered pioneers in the Alternative rock genre. R.E.M. amicably parted ways in 2011. Automatic For The People was the 8th of their 15 studio albums and came at the height of their commercial success, becoming one of three R.E.M. albums that went 4x platinum. It sold 18 million copies worldwide and spawned six singles including "Drive" "Losing My Religion" & "Man On The Moon." This 25th Anniversary edition, put out on Craft Recordings (Concord Music's newly formed reissue label), includes four discs of live recordings and demos.
This week's most added release comes from Death Of Lovers. The band consists of three of the four members of the band Nothing (frontman Domenic Palermo, drummer Kyle Kimball, and bassist Nick Bassett) along with keyboardist CC Loo. An EP was released in 2014 and now the band has their first LP, The Acrobat (out on Dais Records), comfortably land at #1 on the NACC Adds Chart this week.
NACC 200 Chart: Top 5 ADDS
————————————————————
# | ARTIST | TITLE | LABEL | # OF ADDS
1] DEATH OF LOVERS The Acrobat [Dais] //97//
2] L.A. LAW Law & Order [Burger] //61//
3] MIYA FOLICK Give It To Me/Strange Darling [Terrible] //58//
4] SWINGIN' UTTERS Drowning In The Sea, Rising With The Sun [Fat Wreck Chords] //55//
5] THE HOLD STEADY Entitlement Crew (EP) [Frenchkiss] //52//
#1 On NACC Genre Charts:
————————————————————
GENRE | ARTIST | TITLE | LABEL
NON-COMM: SHARON JONES & THE DAP-KINGS Soul Of A Woman [Daptone]
NACC NEXT: ST. VINCENT MASSEDUCTION [Loma Vista]
ELECTRONIC: GIRAFFAGE Too Real [Counter]
HEAVY: CONVERGE The Dusk in Us [Epitaph]
HIP HOP: YOUNG RJ Blaq RoyalT [Ne'Astra]
JAZZ: PHIL DEGREG TRIO Queen City Blues [Self-Released]
FOLK: THE WAILIN' JENNYS Fifteen [Red House]
WORLD: BOUBACAR TRAORE Dounia Tabolo [LusAfrica]
If you're a station programmer and are interested in NACC launching
Classical, Latin & Blues Charts, make sure to sign up HERE
Complete new charts are available to paid subscribers.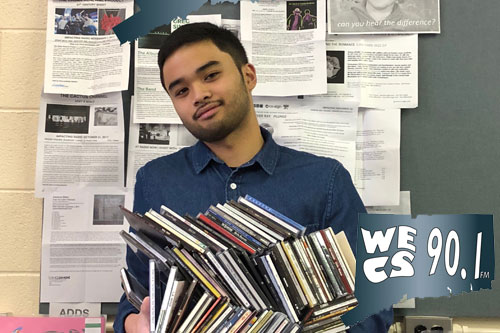 MD OF THE MONTH:
WECS 90.1's Eumir Abela
"The best live performance I have been to this year was Mild High Club at Rough Trade Brooklyn. Pavo Pavo opened for them and both bands were phenomenal. The songs off the record translated great live. The lighting was pretty low-key, however, the musicianship for both bands were the key components of their performance."
Shil K. Patel
Tiger Bomb Promo
"College and community radio stations are important in many different ways. They're often among the earliest public supporters of an artist, especially new artists who are just starting to make a name for themselves. Many college and community stations are much more open minded when it comes to programming new music, and are willing to take a chance on an artist that isn't yet established."
The North American College and Community Radio Chart tabulates weekly airplay from College and Non-Commercial radio stations in the United States and Canada. The NACC 200 is the primary chart with several genre specific charts that highlight specific styles.
TO REPORT TO THE CHART:
Please have your radio station's music or program director reach out to support@naccchart.com and list call letters and market information.
–