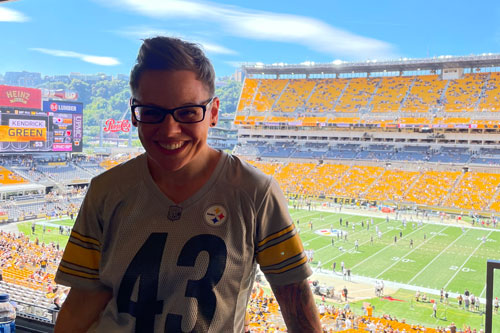 Interview With:
Sali Zielachowski
Twin Vision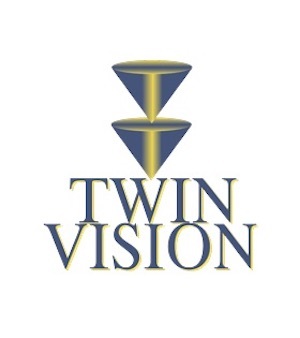 Tell us a bit about the career path that led to where you are now.
Like many promoters, I got my start at a college station. I was a DJ at a campus-only broadcast station (WTLS) and wasn't there long before the Station Manager/MD noticed my enthusiasm for all the new, incoming music and asked if I was interested in taking over as MD. As quickly as I accepted, he peaced out! He dropped out of school before I could submit my first CMJ Chart! It was trial by fire. Thankfully a couple promoters helped me navigate the waters, and from that I formed some great relationships. From there I became the Cleveland Field Rep for TVT Records, and then went to NYC to intern for them. Unfortunately, I ended up living every intern's nightmare: doing coffee runs and stuffing packages in a windowless mailroom all day (and back then, interns were not paid!). Luckily, I had a friend leaving the promotion company she was with (Twin Vision) so she could help her best friend start a label. She recommended me to take her place and I finally became a college radio promoter! A couple years later though, life threw me in a different direction, and I left NYC. Even though I missed working in music, I said I'd only go back if I could work for Peter Hay at Twin Vision again. Some years passed, then one day Peter and I reconnected. Next thing I knew I was doing what I loved again, but with a much deeper appreciation for it. It was kismet!
What is your favorite experience you've had in your career? Perhaps a musical idol you got to meet? A festival you were able to attend? A project you were involved with promoting?
There are a lot of projects I feel incredibly fortunate & proud to have been involved with. One of my favorites was Chrysta Bell. We worked her first collaboration with David Lynch. I'm a longtime Lynch fan, so that was epic for me, and that album also made me a big fan of Chrysta Bell. We've kept in touch & worked together since, even after her career really took off. I still pinch myself when I hear from her lol.
I've been working some exciting projects recently, BUT the biggest thrill has been Ringo Starr. My mom is a huge Beatles fan, and I grew up on their music. The pride & excitement she has for me working Ringo's EPs is better than meeting any of my idols!
What aspect of your job gives you the most satisfaction?
When our artists entrust us with their music, they're entrusting us their craft, their life, their livelihood. It's rewarding to get their music onto the airwaves and show them that people outside of their established fanbase connect with their music. Many independent musicians are surprised when they find that airplay not only spans across North America, but is often in other countries, too. Music is essential in my life, and I consider myself incredibly lucky that I get to work with others that feel just as passionately about music as I do, every day.
What band/artist or style of music outside the realm of your college/community radio promotion would people be most intrigued to hear you love?
Oh jeez, this is a hard one! I'm open about what I like, which includes what some might consider "guilty pleasures" (Madonna, the Bee Gees). I find a lot of people scoff at Pearl Jam, but I'm an unapologetic fan since day one. As far as surprises go, I have a mix that keeps me revved up for long, grueling workouts and includes stuff people might not expect from me: Miley Cyrus's newer tunes, Bassnectar & other Dub-Step/EDM, Andy Black, Black Veil Brides (I usually prefer my metal less…pretty). Sometimes I also pepper in some tracks from Ellie Goulding, Justin Timberlake and Kim Petras' Turn Out The Light.
What job do you think you would have if you weren't in this industry?
I'd love to work at a brewery. I'm a people person, so getting to know patrons would be a blast. I also find the science of brewing very interesting and would love to learn about it directly from a brewmaster.
We hear you're a big Halloween fan! What is your favorite part about the holiday and what was your favorite costume you wore when you were a kid?
You heard right! I love the mysterious and "spooky" mood surrounding Halloween — I even have specific music playlists for this time of year (nerdy, I know). It goes without saying that I enjoy scary movies & haunted houses, and even as an adult, I love the costumes. It's fun to dress up for parties and see how creative other people can get (no lazy costumes, please!). While I don't have any standout costumes as a kid, I've had some fun ones in recent years: a luchadora, Bride Of Frankenstein, Alabama from True Romance, Twin Peaks' Laura Palmer wrapped in plastic. My favorite of all was from a cartoon I loved as a kid: Jem. It was truly outrageous (sorry, had to).
You just won 10 million dollars. What are you going to do with it?
Trying to wrap my head around that much money is crazy. First, I'd get my mom a new car & house. I would like to open a brewery, preferably with a space to host live music. I'd also love to fund something local for those in need – maybe some sort of affordable housing project. Oh, and I'd get a personal nutritionist/chef, so I could eat well without the hassle of planning & meal prepping, which is the worst!
Entertainment Time: What is/are your current favorite TV obsession(s)? What's a great movie (new or old) you've watched recently? What is your current favorite album?
TV: Reservation Dogs, Heels, Tacoma F.D. (I'm a sucker for dumb comedy), 9-1-1 (I'm a sucker for unrealistic dramas). I finished Cobra Kai a while ago, but it's always worth mentioning. Football: Bearcats & Steelers, even though The Steelers are awful this year. I've been re-watching Justified, which I can't say enough great things about. I periodically revisit Jane Austen screen adaptations and Buffy The Vampire Slayer, usually when I'm under the weather or feeling kinda down.
Movies: For some reason, I don't watch many, but I recently saw the documentaries Val and Woodstock '99, which are compelling. As we know I like horror movies, so obviously I'm psyched for Halloween Kills. On the non-horror side, The Many Saints Of Newark looks like it'll be good.
Music: I can't choose just one album! Here are a few new favorites (that I'm not working): Nothing But Thieves, Desperate Journalist, Lucia Cifarelli, We Were Promised Jetpacks, AFI, Joy Formidable. I'm also digging the new singles by Alice Merton, ACTORS, Dianas and Dar Williams (one of these is not like the others lol).
Do you have a favorite restaurant in town for take out or to take out-of-town guests to?
Dancing Crab Thai restaurant– their Pad Thai and Drunken Lo Mein are tasty. Another favorite is Urban Tap. Their Southwest black bean burger is one of the best I've had, and they make big, square tots that are worth the trip alone. I'd be remiss if I didn't mention their impressive rotating tap-list (I think my appreciation for craft beer has been well-established).
You're stranded on a desert island (or in your own home!) What five well known people (dead or alive) would you like to have there with you?
This isn't as easy to answer as it seems!
– Chris Cornell, for sure. He could sing the phone book and I'd be enthralled. Plus, he was gone too soon.
– Kathleen Edwards, because she's hands down my favorite singer-songwriter. She'd also be the in-house coffee expert and I'm always down for a great cup of coffee.
– Margaret Atwood is a phenomenal author and a feisty, brilliant mind. I imagine conversations with her would be interesting and intense.
– Patton Oswalt would keep me laughing, which is important especially if you're stranded anywhere for any amount of time.
– Chef Gordon Ramsey, because I need to eat and hate cooking (the accent is a bonus).
BUT if I was stranded on a desert island, rather than at home, and said island was more like "Lost" than a resort, I'd swap out Gordon Ramsey for a survivalist (credit for that brilliant idea goes to my husband).