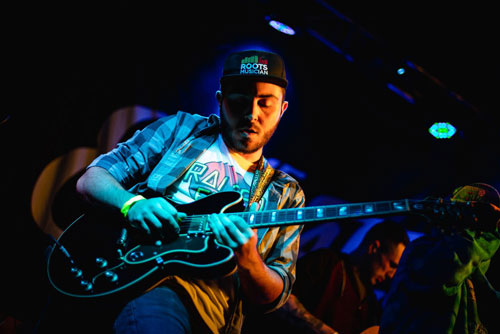 Interview With:
Will Glass
Powderfinger Promotions
Tell us a bit about the career path that led to where you are now.
After leaving school at the University of Tampa in 2015, I was fortunate enough to stumble upon a Radio internship opportunity at Powderfinger Promotions. Growing up in Massachusetts and having the office 25 minutes away from my home was pure luck. I was beyond excited to find a place where I could grow and learn more about the inner workings of the music industry. David Avery and Brett Wilson have been incredible mentors to me and my career in music and I credit them both for giving me my start.
After a couple of years interning with Powderfinger I started to branch out and seek new opportunities in the music business. I felt as if I needed to find more field experience in the industry; so I applied to work as a stagehand at the House of Blues in Boston. That gave me the chance to work with a plethora of well known and famous bands/music groups including the Dropkick Murphys, Slash, members of Aerosmith, Sting & Shaggy, Alice in Chains and many more musicians I used to (and still do) look up to. I was at HOB for about two years until I felt that being behind the scenes every day was hindering my love for music. It was taking away from the magic of the experience which was the main reason why I started my career.
Once I began to look for other ways I could remain in the music scene without getting too jaded I shortly found my way into an Artist manager role for the national management agency Reggae360/Ascension Music group. The artist I currently work for is Joey Calderaio from Florida (check him out!). This is ironic for me because when I lived in Florida for college, I had wanted a manager to help me book gigs and play shows. In the next month or so I should be starting to work for another national touring band in addition to Joey. All this time I have remained at Powderfinger promotions as a Radio Promoter because of the support and good vibes I get from being a part of the team.
I am always listening and looking out for new music and new artists to promote! This is just a small summary of my whole story. I am very grateful to have gotten my start at Powderfinger.
What is your favorite experience you've had in your career? Perhaps a musical idol you got to meet? A festival you were able to attend? A project you were involved with promoting?
This is a very tough question for me since I have had so many awesome experiences in the industry. I have been a huge fan of the band Slightly Stoopid for a long long time. David Avery was able to get me backstage on multiple occasions to meet the band and the team that works with them. I would say when you meet someone you look up to for 10+ years for the first time its very nerve-racking.
However when I met this band I quickly learned that they were just normal human beings. They were very welcoming and friendly and for this I was extremely grateful. This left an impression on me that I was on the right path with my career and I could hang out and not feel out of place.
I could add one more experience: Being able to work on Grammy Award-winning radio campigns for Morgan Heritage and Sting & Shaggy with Powderfinger is for sure one of my proudest accomplishments as part of the team.
What have been some challenges (and perhaps any solutions to them) you've faced promoting music during this pandemic?
The simple answer to this is that there are just no shows happening for most bands – for a whole year – When a band signs up with us for a campaign generally they will already have a tour or a run of shows booked so that when their music hits the airwaves,they are able to support the campiagn much better. Without touring, alot of people have not had the money or the ability to play their music live in most states. For example, my own band Buddahfly was only able to play 2 shows in the year 2020 – We normally do 30+ a year.
A great solution that worked well during the height of the pandemic was Live Streaming. I worked closely with Reggae360 and a local Gig booking startup team known as Gigabit Live to help put together the first ever Ascension Music Festival.
Since March 2020 there have been 4+ of these festivals and they have been super successful and also a great outlet for bands who don't want to travel but still want to share their music LIVE online.
What band/artist or style of music outside the realm of college/community radio would people be most intrigued to hear you love?
I am a huge fan of the HIP HOP Genre and NIKO IS – a tri-lingual MC from Rio de Janeiro (based in the USA) who brings hip hop to a whole new level. He is on Javotti Media (Talib Kweli's label) If you have not heard him before I would HIGHLY reccommend it.
What job do you think you would have if you weren't in this industry?
It's hard to see myself in any other industry but if I had to choose it would be the Medical Marijuana Industry. I say "medical" because I am a huge advocate for the healing properties of the plant. I have had my own struggles with anxiety and I find that at the end of the day I can help myself through this form of medicine.
There is always an opportunity to really help someone find the right treatment for themeselves, change their life or even save it.
What destination would you most like to visit and why?
If I was a touring musician I would love to play at Red Rocks in Colorado. Although I have never been physically, I have seen alot of shows virtually there. I have always been in awe of the atmosphere that a sold out show at Red Rocks creates. In terms of an international trip it would probably be Japan (For the sushi of course!)
You just won 10 million dollars. What are you going to do with it?
First I would dontate to a charity the most in need of assistance. Secondly, I would use the money to travel around the world and experience different cultures before buying a dream house with my wife Gaby.
Entertainment Time: What is/are your current favorite TV obsession(s)? What's a great movie (new or old) you've watched recently? What is your current favorite album?
I am a huge fan of the F1 Drive to survive series on Netflix, I am also admittedly a huge Starwars fan. We Just watched Happy Gilmore – a classic Adam Sandler movie. My favorite album currently would have to be Chronchitis by Slightly Stoopid. It's Perfect for summer!
Do you (or did you when dining out was safer) have a favorite restaurant in town to take out-of-town guests to?
I would definitely Reccomend Felipe's in Harvard Square (Cambridge, MA). It's a 3-level Taqueria with incredible Food, prices and Drinks!
You're stranded on a desert island (or in your own home!) What five well known people (dead or alive) would you like to have there with you?
Bob Marley, Kyle from Slightly Stoopid, John Frusciante from the RHCP, Dave Grohl & Jack Black.