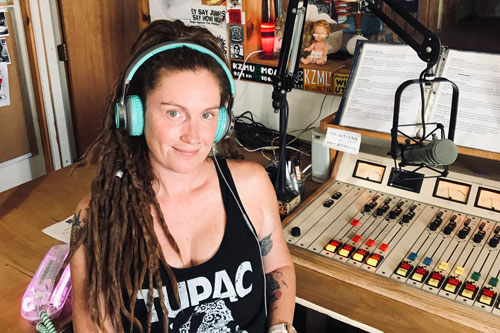 August MD of the Month:
Crystal Bunch
KZMU Moab Community Radio
Listen to NACC's MD Takeover on Spotify!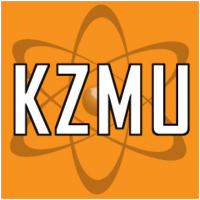 How long have you been involved with KZMU and how did you first hear about the station?
I have been a DJ at KZMU since May of 2019 and became MD in June 2020. I first encountered KZMU in 2010 on a trip to Moab before I relocated here. I was instantly hooked and listened everytime I visited. When I eventually moved here in 2018 I listened daily/ sometimes all day! I quickly realized I wanted to be a part of the KZMU community and am forever grateful that I am.
What advice can you offer other MDs as the best way to get their DJs to play the new music your station receives and how you get your on-air staff to play the new music you receive.
When I receive new music that I think would be a perfect fit for a specific show I reach out to the DJ and let them know I have a rad new album that I think they would like. KZMU also has whiteboards in the studio that I note my top picks for the month on. I showcase both physical and digital submissions so that all DJs have access to new music depending on their preference of media. We have a Digital New Releases tab bookmarked on the PC in the studio so that DJs have quick access to artist/label/genre/riyl/suggested tracks for each digital album added to the library. Another helpful tool is our Fresh Tracks page on our website that was started by a former KZMU MD. Fresh Tracks features 2 albums weekly, my favorite albums of the week, notable singles, and everything that was added to our studio library during our current week. I think it is important to make the information easily accessible for the DJs.
What is the part of your job you love the most?
Our listeners and our volunteers, without them we wouldn't be here. I love watching the enthusiasm of the DJs in the booth or chatting with someone who KZMU has reached in one way or another. I love music and I love curating the music that goes into our library/automation system. Most importantly I love the family I have gained when I became a member of the staff. If I were to choose only one part of the job I loved the most I would be leaving so much out. KZMU is special and I love every single part of it.
What has been your favorite album released so far in 2021?
OOHHH I have several, but here are a few I'm digging at the moment; Amigo the Devil- Born Against, Shane Morgan Raps- Journal Entries, SOJA- The Covers, Arlo Parks- Collapsed in Sunbeams
Do you have a favorite artist or album you never get tired of listening to?
SOJA, Devil Makes Three, Fleetwood Mac, Nirvana, Johnny Cash, Ziggy Marley, Stick Figure, Flogging Molly…. I can't possibly choose one.
Which artist/band has put on the best live show you've ever seen? Have you attended a live show recently now that tours are beginning to happen? If so, how was it seeing live music again?
Hands down Slipknot at the Metal Mayhem Festival in 2012. I haven't seen a live show since lockdown, but I have tickets to Sublime w/Rome & Dirty Heads in September and I am STOKED!
Who is an artist or band totally outside the realm of the music you play on KZMU that people might be surprised to know you love?
The entire 90s Country line up. I know the lyrics to every hit.
If you had the power to instantly change one thing going on in the world at the moment, what would it be?
I would stop the division and hate that has developed amongst our human race. Kindness is key.
What event in your life would you say has shaped you the most as a person?
Every single one of them. I have learned and grown from each event in my life, and oh what a long strange trip it's been. (I love Grateful Dead too)
If you could choose, what time period in the past would you most want to travel back to visit and why?
That is a toss up between Woodstock 1969 or the 90s to have another chance to see the bands that I no longer will have the chance to see because some of the legends have left the earth too soon.
Do you have a favorite restaurant in town (dine-in or take out) that you recommend people try?
My current favorite is Singha Thai. YUM!
What in your life brings you the most joy?
Watching my children navigate through adulthood.
Lightning Round:
Dog or Cat? Cat
Morning Person or Night Owl? Morning Person
City or Country? Country
Beach or Mountains? Mountains
Watch TV or Read A Book? Book
Sunny or Rainy? Sunny
Restaurant or Home Cooking? Home Cooking
Pants or Shorts? Shorts
Warm or Cold drinks? Cold
Do you have any current favorite shows you're enjoying/binging?
How about a movie (new or old) that you've watched recently that you loved? SHOWS: Dirt Every Day, Outer Banks, My So Called Life (I mean… I was a teenager in the 90s), Animal Kingdom, and Gossip Girl (don't judge me hahahahaha) MOVIES: The most recent movie I have (re)watched was Romancing the Stone. I'm a sucker for 80s/90s movies.
Finally and most importantly: nuts in desserts… a crunchy surprise or a dastardly destruction of perfection?
Crunchy Surprise