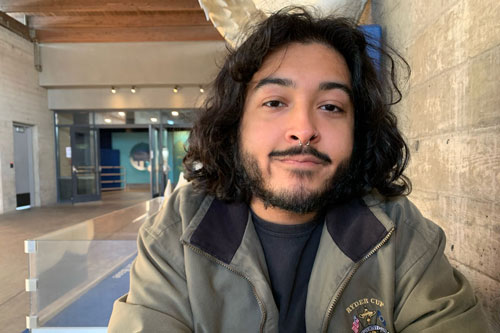 January 2022 MD of the Month:
Gil Cuevas
WMUA 91.1 FM, Amherst, MA
Listen to NACC's MD Takeover on Spotify!

How long have you been involved with WMUA and how did you first hear about the station?
I have been involved with WMUA since the fall of 2019! I first heard about the station when I first visited UMass before committing to go to school there, and since the moment I heard about it, I knew i wanted to get involved.
What advice can you offer other MDs as the best way to get their DJs to play the new music your station receives and how you get your on-air staff to play the new music you receive.
My best advice is to get to know the DJs that make up your station. This way you get a grasp of who plays what type of music, and once you build that type of relationship with the DJs, it'll be easier to recommend to them some of the new music you receive as an MD.
What is the part of your job you love the most?
I love love love getting to discover new music, which is one of the main reasons I became interested in becoming a Music Director. Getting to expand the horizons of my music consumption is definitely the thing I love the most about my job.
What was your favorite album released in 2021? Is there a 2022 release on the horizon you are eagerly awaiting?
My favorite album released in 2021 would have to be I Know I'm Funny haha by Faye Webster. A 2022 release I am eagerly awaiting is the new Mitski record or the new FKA twigs record.
Do you have a favorite artist or album you never get tired of listening to?
Loveless by my bloody valentine
Which artist/band has put on the best live show you've ever seen? Have you attended a live show recently now that tours are beginning to happen? If so, how was it seeing live music again?
EARTHGANG put on the best live show I've ever seen when touring for Mirrorland, the energy was something I have never felt before!
Who is an artist or band totally outside the realm of the music you play on WMUA that people might be surprised to know you love?
Probably either Willie Nelson or the girl group AOA.
If you had the power to instantly change one thing going on in the world at the moment, what would it be?
It would have to be to make sure that everybody's basic needs are met around the world.
What event in your life would you say has shaped you the most as a person?
This is a very good question because I have so many different answers that could fit here. If I had to pick one, it would be starting college and having more independence and the ability to shape my life the way I want to.
If you could choose, what time period in the past would you most want to travel back to visit and why?
I would love to travel back to the 80s because I would love to go see The Cure live since they are my favorite band of all time. The music during this time period was amazing because you had everything from Madonna and Prince to The Cure and New Order to NWA and Slick Rick and to be there to witness it all in real time would be a dream come true.
Do you have a favorite restaurant in town (dine-in or take out) that you recommend people try?
I love Indian food so much and thankfully I was able to find one in town called India House. I totally recommend it, it is probably the best Indian food I have had in this area! https://www.indiahousenorthampton.com/
What in your life brings you the most joy?
It might sound really corny but to be honest I would say listening to my favorite music and also when my favorite artists drop new music.
Lightning Round:
Dog or Cat? Cat
Morning Person or Night Owl? Night Owl
City or Country? City
Beach or Mountains? Mountains
Watch TV or Read A Book? Watch a Movie!
Sunny or Rainy? Sunny
Restaurant or Home Cooking? Restaurant
Pants or Shorts? Pants
Warm or Cold drinks? Cold drinks
Do you have any current favorite TV shows you're enjoying/binging? How about a movie (new or old) that you've watched recently that you would recommend?
Currently I have been binging Daria and it is so good I love it! If I had to give a movie recommendation I would recommend either Control (2007) or one of my all time favorites Portrait of a Lady on Fire (2019)!
With it being a new year, do you have any resolutions? If so, how quickly do you imagine that resolution will go out the window?
My new year's resolution for next year is to listen to one new album every day. I thought of this because sometimes I get too comfortable listening to the music I already know I like, so I want to make myself listen to something new every day. To be honest, I think this is one of the only resolutions ever I wouldn't throw out the window.