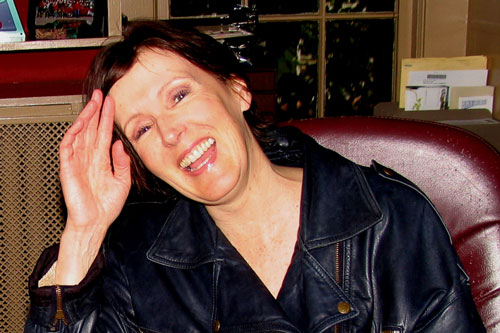 Interview with:
Betsie Brown
Blind Raccoon
Tell us a bit about the career path that led to where you are now.
I started my career as a banker and an economist. Found pretty early on it was not my calling, but it paid well. While at the bank, I was transferred to the PR department working on specific projects. I found my calling. By a very circuitous route and an old flame, I found blues music (Howlin' Wolf, John Lee Hooker, Slim Harpo) and decided to take my talents and work music as an independent. Have been doing that for the last 20 years.
Why does college/community radio matter in today's fragmented environment?
If they were not around, most of our artists' music would not get on the air. They are indispensable. And they have a loyal listener base.
What is your favorite experience you've had in your career? Perhaps a musical idol you got to meet? A festival you were able to attend? A project you were involved with promoting?
Our biggest thrill to date is working the last five albums from Buddy Guy – two of which received Grammy awards. Just looked in our archives and I find it hard to believe we started working his releases in 2010 with "Living Proof." We are very proud and honored to have had the privilege.
What band/artist or style of music outside the realm of college/community radio would people be most intrigued to hear you love?
If we're talking about music not worked by us, then I have a varied palate from the works of Django Reinhardt to Billie Eilish, from Adele to Joni Mitchell, from Rag 'n' Bone Man to Marty Stuart.
What job do you think you would you be doing if you weren't in this industry?
Public relations for sure. Most probably in the environmental/ecological arena working for a non-profit.
What destination would you most like to visit and why?
Either Galapagos or Costa Rica for their ecological significance.
You just won a million dollars. What are you going to do with it?
Go to Galapagos or Costa Rica or both! J Invest some of it. Create a foundation to support artists in need.
What is/are your current favorite TV obsession(s)?
Gosh, that's a hard one to answer. I watch a lot of Netflix, Amazon, Masterpiece Theatre and more. I love watching "Fixer Upper." Also, into Jack Ryan, anything to do with Billy Bob, so Goliath has been a big hit in our home. Big into Sci Fi, vampire, extra-terrestrial goings on!
What was your favorite movie of 2019?
Joker – one of the finest performances of "madness."
What was your favorite album released in 2019?
Delbert McClinton's "Tall, Dark & Handsome" (one of our projects).
When friends come to town, what is your favorite restaurant you take them to?
Itta Bena's. It's above B.B. King's Club on Beale. Great ambiance. Fabulous food. And, a perfect escape from Beale Street, when it gets too much.
You're stranded on a desert island. What five well known people (dead or alive) would you like to have there with you?
Noah – a builder
Joseph – a carpenter
Sir Joseph Dalton Hooker – horticulturist
Mallanaga Vātsyāyana – author of the Karma Sutra
Dalai Lama – keep me on the straight and narrow