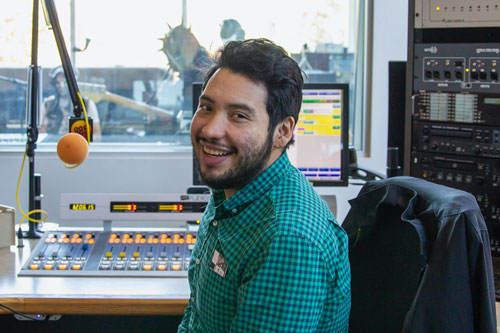 Genre Programmer of the Month:
Byron Gonzalez
Latin Alt HD3
88.5 Los Angeles
How long have you been involved with Latin Alt HD3 and how did you first hear about the station?
I've officially been involved with the Latin Alt for about a year and a half but I was interning for 2 years before I got hired. I first became aware of the station through my internship with 88.5 FM. My internship coordinator told me about the station, telling me that 88.5 FM also has online-only station HD2 their Jazz station and HD3 their all Latin station.
How did Latin Alt HD3 get started? What sort of changes have you made & what sort of goals do you have to keep expanding your listenership since you took over programming?
The station first started broadcasting in 2013 to better serve the large Hispanic population in Los Angeles without having to play what other mainstream Hispanic stations play; such Reggaetón or regional Mexican.
I first started making changes as an intern. I noticed the station's catalog was fairly outdated. The songs being played did not reflect newer rising Latinx artists in the scene at the time. The station wasn't playing any Cuco, The Marias, Buscabulla, among many other rising Latinx artists that were making wave in the local Los Angeles scene. I integrated these artists in as soon as I knew how.
I also started bringing local artists into the station itself for in-studio sessions. I would interview the artists and coordinate three songs for them to play live on-air. This was a feature the station didn't previously have.
What was your favorite release of the past year or so?
Oh wow. There are so many favorites but one release that I have put on repeat the most has got to be the entire EP from Miami based, Venezuelan artist, Simon Grossmann titled Triste Pero Fresh. Sad but Fresh.
Is there any music slated for release before 2020 ends that you are particularly excited about?
Right now, I'm really excited for her LA's Raye Zaragoza's upcoming album. It's set to be released late October and I'm itching for it.
Do you have a favorite artist or album you never get tired of listening to?
Oh yea! Aside from Simon Grossmann. I'm really loving Vanessa Zamora and the new music she has been releasing. But also, I can never get enough of Manu Chao.
Which artist/band has put on the best show you've ever seen live?
A performance that has really stuck with has got to be from Mexico's Dromedarios Magicos (Magical Camels) a solo indie folk artist. I didn't even know who he was when I saw him perform. I caught his set at a local festival called Viva Pomona here in LA and he was playing in a small room with no more than 50 people. He became one of my favorite's instantly, right then and there.
Who is an artist or band totally outside the realm of the music you play on Latin Alt HD3 that people might be surprised to know you love?
I think that would be NOFX. I've been a fan of theirs for a long time. Also Against Me!
What is your best childhood memory?
Aww, that would be the strolls I would take with my grandma to a park a couple blocks away from where we used to live. I was only 7 or 8 years old but I remember these walks a lot. We would stop to look at flowers a lot.
What event in your life would you say has shaped you the most as a person?
About 8 years ago, I was hit by a drunk driver while riding my bike. I woke up in the hospital, without any knowledge of what had happened. I had a torn ACL, shattered knee and my leg was completely broken. I was bedridden for a little over four months. After dealing with what might have possibly be the end for me, I decided to further my education, take it seriously and get a degree, even if it didn't land me a job.
If it wasn't for this. I wouldn't be here at the Latin Alt.
If you could choose, what time period in the past would you most want to travel back to and visit?
I would want to travel back to the 80's and visit Paris for no other reason than the 80's seems like a pretty rad time.
Do you have a favorite restaurant in Los Angeles (dine-in or take out) that you recommend people try?
Shin-Sen-Gumi Hakata Ramen
132 S Central Ave, Los Angeles, CA 90012
What in your life brings you the most joy?
Sushi and Coffee!
Lightning Round:
Dog or Cat? Dog
Morning Person or Night Owl? Both
City or Country? City
Beach or Mountains? Mountains
Watch TV or Read A Book? Tv during the Day, Book before sleep.
Sunny or Rainy? Sunny
Restaurant or Home Cooking? Home Cooking
Pants or Shorts? Shorts
Warm or Cold drinks? Cold
Given all of our time now spent at home, do you have any current favorite shows you're enjoying/binging? How about a movie (new or old) that you've watched recently that you loved?
TV: I really enjoyed La Case De Las Flores on Netflix. Season 3 has a cameo from Indie-pop artist Ximena Sariana.
Movie: Self-made on Netflix is soooo good.
Book: The Kite Runner by Khaled Hosseini is wonderful
Finally, what do you miss most about your pre-pandemic life?
Gathering of friends and the occasional hang at a bar.