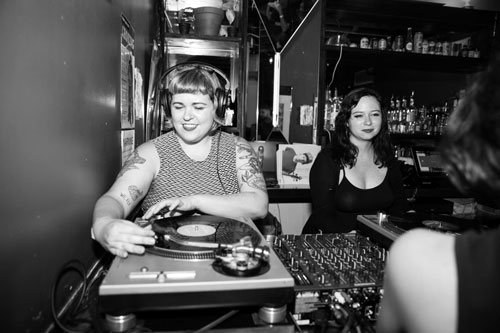 Interview with:
Caroline Shadood
Director of Radio, MUTE
Tell us a bit about the career path that led to where you are now.
As a DJ at WMUH I loved being on the air but had no idea what radio promotion was… then as a Music Director I quickly learned that sending-music-to-people-and-talking-about-it-nonstop was an actual job option. I started telling my promoters that I was interested in doing what they do, so once I graduated more opportunities would present themselves.
Why does college/community radio matter in today's fragmented environment?
It's the only vestige of media that reliably operates under artist friendly community-driven ideals.
What is your favorite experience you've had in your career? Perhaps a musical idol you got to meet? A festival you were able to attend? A project you were involved with promoting?
Career radio promo highlights include Sharon Jones, The Blow, La Luz, Blood Orange, José González, Fever Ray, and Yeasayer. There are countless others. A glimpse of a highlight was witnessing David Byrne meet Courtney Barnett in the VIP area of Terminal 5, I think it was CB's show with Torres and Speedy Ortiz. It was pretty surreal to see two musical idols interact for the first time. And of course they are both extremely nice.
What band/artist outside the realm of college/community radio would people be surprised to hear you love?
Lately I cannot stop listening to Squeeze. I'm not a good fan or a committed fan, plus I have no barometer of if they're "cool" or not. I go through intense phases of listening to "Tempted" and "Pulling Mussels (From the Shell)" on repeat.
What job do you think you would you be doing if you weren't a promoter?
I would 100% be working in farming, food justice, and sustainability. That or like, a life coach.
Do you think college/community radio will ever actually be an all-digital format? And if so, when?
I hope so! Would save a lot of financial and environmental resources. I also recognize that many stations don't have the privilege or budget to upgrade their systems, so it's tricky.
You just won a million dollars. What are you going to do with it?
Buy farmland to grow plants, build a stage to book shows, host and provide for all my friends.
What TV show are you obsessed with atm? Or are you one of 'those people' that doesn't watch TV?
Riverdale, and The Good Place.
If someone came to town, what is your favorite restaurant you'd take them to?
Freemans on the Lower East Side or Sea Wolf in Bushwick.
You're stranded on a desert island. What five well known people (dead or alive) would you like to have there with you?
Easily Karin Dreijer (Fever Ray) + the four bdsm tea party characters from the video for "To The Moon And Back."