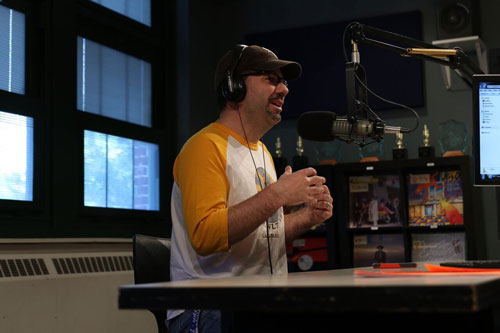 Interview with:
Christopher Thomas
Intercollegiate Broadcasting System (IBS)
Tell us about IBS and how it got started.
I started attending conferences with my students from WLTL-FM at Lyons Township High School and a couple of years into it I asked why they didn't do a college awards program. As a high school advisor I had no interest in who won so I offered to start one. That was more than 10 years ago. Today I am the President of the organization.
When is IBS this year and what can stations do to participate?
Our 79th Annual Conference takes place March 1-3 at the Hotel Penn in New York City. Details and sessions are listed at www.mediaconferences.org (plus you can register there as well). Stations can sign-up to attend and learn by attending the more than 100 sessions offered during the weekend. Plus we have tours to NYC media outlets, vendors and more.
With so many technological changes and new ways to reach listeners, how has IBS changed over the years?
We do our best to meet students and their stations where they are at. We listen to their concerns and search to find resources, speakers and more to support them. It helps that IBS is a completely volunteer run organization and that the majority of us are media advisors ourselves, so we are interacting with students and student media each and every day as well.
Tell us a bit about your personal career path that led to where you are now.
Ever since I was about 7 or 8 years old I knew I wanted to work in radio. I started at WLTL (where I am the faculty advisor now…life has come full-circle), then I went to college in Iowa at Wartburg where I worked at KWAR. I started working commercially in Iowa as well, first at a light rock/smooth jazz station (don't laugh but it was awesome), then classic rock and finally active rock. After my time in Iowa I spent time working in promotions in Tucson, Arizona at 93.7 KRQ and finally landed back in Chicago as a producer for talk shows on ESPN Radio and the Chicago White Sox Radio Network. I got a wide variety of experiences at all of these stops and it has really come in handy as a faculty advisor because it is my job to teach/train students on all aspects of radio.
What was your favorite album of 2018? What is an album from the past that you find yourself going back to?
There was quite a few albums in 2018 I liked, but my favorite was Soccer Mommy's Clean. Her voice is excellent and the music is catchy, yet at the same time it felt like something completely new and different. As for an album I keep going back to? I am a child of the 90s, and there are two albums that I love: Barenaked Ladies Gordon and Counting Crows August and Everything After. They are both albums that I can pop on and not skip a track.
What destination would you most like to visit and why?
On my travel bucket list right now are the ten states I haven't been to yet because I want to check off all 50. Also I would love to spend time in Japan. It is not very large as far as the size of the island, but it has a great mix of urban and rural to see, plus such deep history, along with tons of great food and culture too.
You just won a million dollars. What are you going to do with it?
I've got three kids so in reality I'd never see any of it, but for the sake of this question let's assume I snuck the win past them. Working in radio I've met lots of great people all around the country and even the world, but we rarely (if ever) get to see each other. So I'd buy a car (a nice one of course, I just won some big bucks) and head out on a super long road trip to see everyone. Plus I'd get to geek out because most still work in radio and who doesn't like visiting other people's stations!
What is/are your current favorite TV obsession(s)? What is the best movie you've seen so far this year? Favorite show ever?
How I Met Your Mother. If you didn't want it the first time around binge watch it starting right now. Currently, I'm in love with The Good Place. It is easily one of the most thought provoking and hilarious shows on TV. As for movies, the best one I saw recently was Eighth Grade. If you can't relate to at least one thing from the film you just aren't thinking about junior high hard enough. It should also be required viewing for anyone raising kids.
When friends/family come to Chicago, what is your favorite restaurant you take them to?
For the sake of this interview, let's assume we've already had the stereotypical deep dish pizza and Chicago style hot dogs (because we'd be getting both) and move onto dessert and drinks. When you come to Chicago, you've got to get an ice cream sundae from Margie's Candies. They've been dishing it out forever (well since 1921). Make sure to order hot fudge or caramel sauce on the side. It literally comes in a gravy boat! Then for a beer, we're heading to the Old Town Ale House. It's a dive bar, but what makes it unique is the owner paints picture of politicians and hangs them on the wall. Oh, and they're what he imagines them to look like naked. It's hilarious and disturbing all at the same time. As a bonus, it is right across the street from The Second City which you should check out too.
You're stranded on a desert island. What five well known people (dead or alive) would you like to have there with you?
Neil Patrick Harris, Patton Oswalt, Kristen Bell, Wolfman Jack and Betty White.