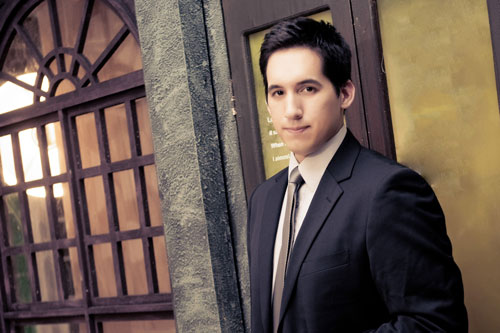 January 2020 Genre DJ of the Month:
Russ Slaten
KRUA Anchorage (Loud Rock Director)
How did KRUA get started and how did you first hear about it?
Since 1992, KRUA has provided the University of Alaska Anchorage and the Anchorage community with not only great music and shows, but also the opportunity for Alaskans to gain skills in radio broadcasting and a unique creative outlet. On February 14, 1992, at 5pm, KRUA's faint signal was suddenly heard around the Anchorage area. REM's "It's the End of the World as We Know It" was the first song Anchorage listeners heard from KRUA. As KRUA continues to evolve, one element is constant: KRUA volunteers. Our volunteers continue to make KRUA a great station to listen to, and an excellent place to work and learn!
How long have you been at KRUA? What is your history there and what duties do you undertake as the station's Heavy/Loud Rock Music Director?
I've been volunteering at KRUA (kruaradio.org) in different capacities for over 10 years now. I first heard of KRUA as a UAA student. I was initially interested to help build up my journalism career and work toward my degree—but I was really drawn to it as a way to get my favorite bands and musicians out there to the public and be able to talk about them for others to discover. I had a show as a DJ and I also used to volunteer as the RPM Director, now I screen and enter the latest metal & heavy releases for KRUA, and work as a conduit between the industry and our DJs. I also recently began reviews for The Northern Light (UAA's newspaper) at www.thenorthernlight.org.
What was your favorite release of 2019?
Blood Incantation Hidden History of the Human Race on Dark Descent Records. Blood Incantation from Denver deftly melds the brutal nature of death metal and mind-expanding properties of prog metal. I can't get enough of this album as it reveals something new each time I listen. Music that never gets old and stays with you long after many listens is a good litmus test to deciding what really resonates with you.
Is there any music slated for release in 2020 that you are most excited about?
The Ocean, a metal collective based in Berlin, is set to release Phanerozoic II: Mesozoic & Cenozoic on its own Pelagic Records. The Ocean continues to excite, and its universe continues to expand after every consecutive release. Robin Staps has led this collective to experiment and express what is possible in post-rock and post-metal.
Do you have a favorite artist or album you never get tired of listening to?
Well, along with The Ocean, I can never get enough of the epic, aggressive and beautiful sounds of Between the Buried & Me from North Carolina. This essentially prog metal band with roots in hardcore and everything under the sun, is always making music that sounds unique but so familiar in the most unusual ways possible. Also, never tire of: QUEEN.
Which artist/band has put on the best show you've ever seen live?
I'd have to say seeing Between and the Buried & Me (after releasing Coma Ecliptic) along with opener Animals As Leaders in San Diego was an experience that is best experienced live. Metal itself is the best type of music to experience live, with a wall of sound that reverberates inside you long after the show. It is just amazing to see Tosin Abasi (of Animals As Leaders) shred in-person with the beautiful, progressive and brutal melodies on his 8-string guitar.
Who is an artist or band outside the realm of heavy/loud rock music that people might be surprised to know you love?
Being a DJ and a fan of music, you really have to appreciate everything. I love everything from the expected classical music, blues and jazz beginnings of rock & roll, to electronica, ska, industrial and most things indie. One thing some people may not know is that I really appreciate pop & rock music from other countries like Taiwan, Germany and Japan. It helps me in my quest to learn a little of each language and understand the vastness of our world and cultures.
What is your best childhood memory?
My best childhood memory is kicking it to the old school stylings of—new at the time—MC Hammer and Kriss Kross. In my middle school years, my friends and I were essentially suspended for choosing to play the "violent" sounds of 'Master of Puppets' from Metallica—in ART CLASS of all places. In my defense, the art teacher did ask us to bring in the music that "moves you."
What event in your life would you say has shaped you the most as a person?
My family life has most greatly shaped who I am today, but I'd say the travel with family to other countries and cultures—like to Austria, the UK, Taiwan, Japan, Mexico and many other countries in Europe has shaped how I see this world. Travel opens your heart for the better, I suggest making the leap—onto the airplane. 😀
If you could choose, what time period in the past would you most want to travel back to and visit?
I would like to visit Vienna in the heyday of our original "rock stars" of music, to see a live performance from Mozart or Beethoven. Sitting next to Beethoven while experiencing "the glorious 9th" would be the dream.
Do you have a favorite restaurant in Anchorage that you always make sure to take guests/visitors to?
Everyone loves to brag about going to Moose's Tooth. Well, besides that, there are some places for great Asian food too: Naruto Ramen for Japanese ramen and Charlie's Bakery for Taiwanese sticky rice. One thing I MUST mention about the sticky rice. Do not eat the lotus leaf, it is essentially a wrapper. I once recommended the sticky rice at Charlie's Bakery to a college friend and he said, "it was good, but what's with the leaf?" Yes, don't eat the leaf.
What in your life brings you the most joy?
Family, music, film, travel, and being able to tell people's stories at any capacity whether it is through the written word, radio or video.
Lightning Round:
Dog or Cat?  Dog—cats make me sick, literally.
Morning Person or Night Owl?  Night Owl, but can't we just say Owl since they're a nocturnal creature? 😛
City or Country?  City to live, but you should always take time to visit the country.
Beach or Mountains?  Still waiting to visit New Zealand so I can visit the beach and the mountains in one magical place.
Watch TV or Read A Book?  Prefer both mediums. Sometimes films do so well, it is forever associated with whatever you can imagine when reading the book.
Sunny or Rainy?  Snowy. The Lower 48 has been stealing our snowfall as of late.
Dine or Delivery?  Dine. I always prefer the experience.
Beard or Clean Shaven?  To each his or her own, but I personally shave.
Pants or Shorts?  Shorts in Taiwan, pants in AK.
Do you have any current favorite TV show obsessions?
Like many, I am currently in love with the Star Wars and comic book universes, so I have to give a shoutout to the Mandalorian on Disney+, Watchmen on HBO, and The Boys on Amazon Prime.
Finally, and most importantly… how would you say the short period of daylight in the winter there affects daily life for people? Do you think it makes any difference?
The length of daylight in winter is the litmus test of the true Alaskan. If you still love living here after 3 or more years, you can consider yourself an Alaskan—or after a born & raised Alaskan dubs you an Alaskan—it's kind of a big thing.