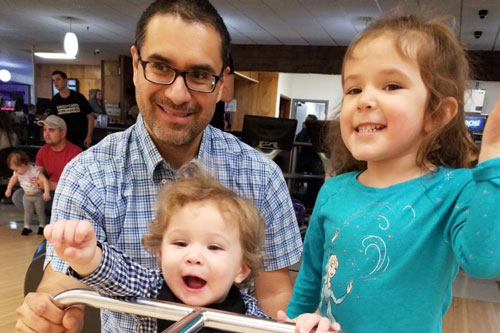 Genre DJ of the Month (RPM):
Adrian Lugo
WEFT, 90.1 FM, Champaign, IL
How long have you been involved with WEFT and how did you first hear about it?
One summer day in 2013, I left work early and was driving home when I decided to turn my radio dial all the way to the left. Suddenly, I heard a really heavy digital cumbia track that I had on vinyl and would often play during my club DJ sets. I keep listing to that station and a couples weeks later they had an announcement about becoming a new airshifter. A couple months later I had my own show and took over genre MD duties for RPM (Electronic).

Do you have your own show on the station or do you only oversee Electronic airplay?  If you do have a show, tell us about it!
I do! My show is the sync soundsystem (1st /3rd/5th Weds, 8-10pm)
I play mostly electronic jams from all around the world with an emphasis on underground sounds, new emerging scenes and low-end frequencies. All genres, eras, bpms, moods and grooves.
What was your favorite release of 2019?
It's hard to pick just one but I kept coming back to these during the year:
Dog Blood – Turn Off The Lights
Defizit – Growth Spurt
Frikstailers – Extrasolar
Is there any music slated for release in 2020 that you are most excited about?
Zebra Katz – Less Is Moor
Burial – Satanic Upheaval
And I always look forward to new stuff coming out on the Cold Busted and Alpha Pup/Brainfeeder labels
Do you have a favorite artist or album you never get tired of listening to?
40 oz To Freedom by Sublime
Which artist/band has put on the best show you've ever seen live?
DJ Shadow and Cut Chemist @ The Hard Sell Tour and Renegades of Rhythm Tour
LCD Soundsystem @ The Metro Chicago 2005
Who is an artist or band totally outside the realm of Electronic music that people might be surprised to know you love?
I love The Promise Ring
What is your best childhood memory?
I remember we went out to eat once and I was making my whole family laugh with my 8 year old weird jokes. Everyone was happy and there was no other place in the world I wanted to be. It's a very mundane memory, but it sticks in my mind.
What event in your life would you say has shaped you the most as a person?
The death of one of my best friends when I was 19. It really made me aware of what it means to be alive and just how precious and fleeting our time on this planet and this dimension can be.
If you could choose, what time period in the past would you most want to travel back to and visit?
I've actually thought about this a lot. I'd want to be sixteen in California during1968 so I could catch the end of the 60's. Spend my 20's in Disco Era 70s NYC. My 30s in 80s Chicago/London. Back to Midwest in time for my midlife crisis and also for birth of Rave in 90s and investing in Apple stock. Then taking profit from said investments and buy a portion of Facebook in the 00's and enjoying the explosion of the "open-format" cross-genre DJing. Finally, taking my billions and building a spaceship and traveling the cosmos in the 2020's.
Do you have a favorite restaurant in Champaign that you always make sure to take guests/visitors to?
There's a lot of great places to eat, but with a 4 and 1.5 year old it's easier to just eat at home. If I'm sans children's, I'd got to Black Dog Smoke and Ale House. It's been in top 10 best bbq restaurants in the US lists for few years. Their burnt-ends and cornbread are amazing.
What in your life brings you the most joy?
Seeing the expression of pure, unadulterated joy on the faces and in the laughter of my children.
Lightning Round:
Dog or Cat?  Cat
Morning Person or Night Owl?  Night Owl
City or Country?  City
Watch TV or Read A Book?  TV is easier but books are more enjoyable
Sunny or Rainy?  Sunny
Dine or Delivery?  Dine but preferably cooked by some else
Beard or Clean Shaven?  Beard
Pants or Shorts?  Shorts
Do you have any current favorite TV show obsessions?
I am way too busy taking care of miniature human beings, so I don't have much time for TV. My DVR list is huge and thoroughly out of date. However, I'm a huge Conan O'Brien fan and slowly working my way through his current season. Also, The Outsider and Avenue 5 are fantastic.
Finally, and most importantly… with March famously being known as Frozen Food Month, what would you say is your favorite frozen food?
Fruit popsicles.