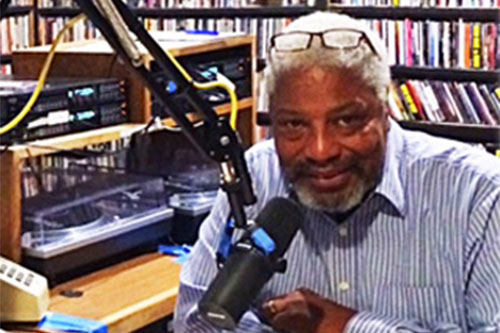 Genre DJ of the Month :
Hobart Taylor
KUCI Irvine, CA
How long have you been involved with KUCI and how did you first hear about the station?
I have been on the air at KUCI since 2008, and I have been Jazz and Classical Director since 2010. I was cruising the left side of the dial, as one would, and breathed a sigh of relief when I found a break from the usual formulaic and calculated programming. When I got to 88.9 in Irvine I heard tune after tune I'd never heard before. KUCI programmers are forbidden to play any rock or pop that has made the top 200.
You have a show called The Crystal Egg? Tell us about it! (When it's on, what sort of music you feature, etc.)
Well, first the name itself comes from a line in one of my poems, "Locked inside a crystal egg, met a metaphor", a shameless pun. The show airs from 6 to 8 PM PST and can be found on the web at KUCI.org. I ostensibly have a jazz program, but I think I approach programming the way jazz musicians approach playing. I am open to improvisation, so while I have a few key cuts I intend to play, I listen carefully to connections to other musics and create conversations with tunes from other genres, historical recordings, and even poetry. For example, Glenn Gould was, in my opinion, one of the great jazz musicians, just as Ellington was the 20th century Mozart. I try to highlight neglected groups like women jazz instrumentalists, for example, Jane Ira Bloom, Nicole Mitchell, Jessica Jones, Catherine Sikora, Terri Lynne Carrington, Helen Sung, Brandee Younger, Carla Bley, and Alison Au, and formal/neo-classical.
Black composers like Derek Bermel and Anthony Davis.
What was your favorite release of 2019?
One? Unfair! I'll give you a few because I can't squander the opportunity to alert programmers to this great music. Joseph Daley's "The Seven Heavenly Virtues, The Seven Deadly Sins" is a masterwork, Julia Wolfe's "Fire in my Mouth" about the Triangle Shirtwaist Factory fire addresses the critical issues of our time, eloquently, Victor Gould's "Thoughts Become Things", Philip Ramelin's retrospective "Collected Works 2003-2019", and Jaime Branch's "Fly or Die II: bird dogs of paradise".
Is there any music slated for release later in 2020 that you are particularly excited about?
Anticipation clouds judgment I find. I'll listen to it when I get it. Having said that, anything with Myra Melford on it will probably be great, and Tara Davidson, if you are out there…I'm waiting.
Do you have a favorite artist or album you never get tired of listening to?
Coltrane Coltrane Coltrane (John, Alice, Ravi) and Eric Dolphy. Nina Simone and Townes Van Zandt. Peter Case. Lightnin' Hopkins. Victoria Spivey. Lucinda Williams.Dylan.
Which artist/band has put on the best show you've ever seen live?
Al Green in his church.
Who is an artist or band totally outside the realm of the music you play on your show that people might be surprised to know you love?
There is no artist outside the realm of music that I play on my show. I like Gilbert O'Sullivan. Surprised?
What is your best childhood memory?
Two: The first time I had blueberry pie, it was in Hanover, New Hampshire at the Hanover Inn before the renovation. Also meeting John Kennedy in the cabinet room at the White House, November 11, 1963. In that order.
What event in your life would you say has shaped you the most as a person?
Two again: Seeing my wife for the first time at my best friend's wedding. Being present at the homebirth of my son and his bath with his mom immediately afterward.
If you could choose, what time period in the past would you most want to travel back to and visit?
I'm black, so going back to the past is less interesting to me.
Do you have a favorite restaurant in town that you always made sure to take guests/visitors to when we were all still eating safely at restaurants?
I'm a pretty good cook, so I'd prefer to have them come over. There are a couple of Cuban Restaurants we like, Habana in Costa Mesa, and Felix Continental Cafe in the City of Orange,
What in your life brings you the most joy?
I really am happiest when I help people, and when I share a new idea, tune, or taste with them. I am uber happiest when family and/or friends and I become meshed in joyful presence.
Lightning Round:
Dog or Cat? Manatee
Morning Person or Night Owl? Night owl, the later the better.
City or Country? Both. Anywhere but the suburbs, (where I live).
Beach or Mountains? Both. I live 15 minutes to the beach and an hour to the mountains.
Watch TV or Read A Book? Podcasts
Sunny or Rainy? Passing clouds
Dine (when it was a thing) or Delivery? Dine, dine, dine
Pants or Shorts? Cargo pants. The more pockets the better, and wide-wale corduroy.
Warm or Cold drinks? Oolong tea, real coffee, and exquisite red wine at no more than $10 a bottle.
Given all of our time now spent at home, do you have any current favorite shows you're enjoying/binging? How about a movie (new or old) that you've watched recently that you loved?
Guilty pleasure, "Zomboat" on HULU. The Miles Davis doc. "Birth of the Cool" on Netflix is good, as is "Unorthodox". My wife I and enjoyed binge watching "Stumptown" and really loved all the permutations of the Inspector Morse series set in Oxford, especially "Endeavour". I recommend "Little Fires Everywhere".
No movies lately.
Finally, and most importantly… where is the first place you want to go again that is currently closed due to the pandemic?
We were planning to go to the Big Ears Festival in Knoxville Tennessee, an extraordinary aggregation of cross-genre brilliance in March. I can't wait to go when it can happen again.