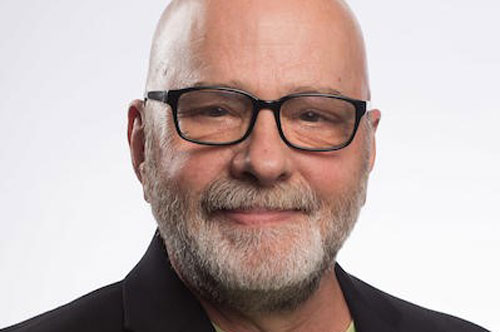 September Genre DJ of the Month (Jazz):
Gary Walker
WBGO Newark

How did WBGO get started and how did you first hear about it?
WBGO's license was purchased from the Newark Board of Education, where the 88.3 FM frequency was used for study at home. The start of WBGO as a Jazz & News source is recognized as April 9, 1979.
How long have you been at WBGO? What is your history there and what duties do you have there now?
Moving to New York from the Cleveland area in 1982, I went looking for some part time work in radio, which when coupled with a love of jazz, led me to Newark, where WBGO was transitioning from taped programming to live on weekends. Working Saturday Mornings from 6-10AM, my 4:30 AM commute from Midtown Manhattan to the studio was usually on a Path Train full of drunks, hookers and party people either going home or looking for the next good time. It was almost as good as the Daily News. Since 1984 I have been the full time Morning Jazz Host, and Music Director since 1990.
What sorts of things does WBGO do to connect with listeners as the New York area's only jazz station?
Connecting with our audience is a mix of live events, interviews, performance sessions, along with the attitude that the world of jazz is already all around us. It's our job to point that out. Another strong belief is that jazz is not a museum piece. A performance may have originated in 1935, but you reacting to it in 2019 makes it modern. Young artists get good exposure here, through performance and coverage on our website (wbgo.org) very creatively handled by former New York Times jazz writer, and author, Nate Chinen.
What has been your favorite release of 2019 thus far?
I actually have Four – Catherine Russell, "Alone Together" (sets the bar for the soulful storyteller); Etienne Charles, "Carnival" (the modern Caribbean/Jazz infusing continues to demonstrate the global inspiration of this music); Branford Marsalis, "The Secret Between The Shadow & The Soul" ( the synergy yet individualism of a 20 + year group is a special listen and a never forget in performance); Dave Stryker, "Eight Track III" (Once again, reimagining classic Pop and R & B tunes keeps things fresh, and the sense memory may open the door for new jazz fans to come inside).
Do you have a favorite artist or album you never get tired of listening to?
The obvious choices of John Coltrane and Miles Davis are solid. I'm also drawn to the vibe work of Cal Tjader, and the constant invention of guitarist Russell Malone.
Which artist/band has put on the best show you've ever seen live?
Aside from the James Brown shows I attended as a Texas teen in the mid & late 60's, Ray Charles & B.B. King together with the Philip Morris Superband at The Apollo in November 1990 is a night that demands remembering.
Who is an artist or band outside the realm of jazz that people might be surprised to know you love?
Any 1960's Motown has a huge hold on me, as well as a number of rock bands, including original Fleetwood Mac, 10CC, Nazz & Buffalo Springfield.
What is your best childhood memory?
So many GREAT childhood memories; drawing piano keys on a desk sized piece of paper so I could "Play Along" to Jerry Lee Lewis records…(never did take lessons, damnit); grade school sports, first summer camp, first realization that girls were actually pretty cool.
What event in your life would you say has shaped you the most as a person?
The birth of my son, Nate in 1990, proudly one of the most insightful, observant, irreverent, funny people I know.
If you could choose, what time period in the past would you most want to travel back to and visit?
I was born in 1949, so went through the 50's, 60's (my Dad even owed some drive-in restaurants), 70's….can't touch that!
What in your life brings you the most joy?
Feeling BIGTIME fortunate, my work, friends (real ones not facebook) and family allow me to give and receive boo koo amounts of good feelings.
Lightning Round:
Dog or Cat?  Cat
Morning Person or Night Owl?  Morning Person
City or Country?  Country
Beach or Mountains?  Mountains
Watch TV or Read a Book?  Read a book
Sunny or Rainy?  Sunny
Dine or Delivery?  Delivery
Beard or Clean Shaven?  Beard
Pants or Shorts?  Pants
Do you have any current favorite TV show obsessions?
Although I have tooooo many choices, I find myself constantly drawn to docs and biopics on Netflix.
Finally, and most importantly… mixing mayo and ketchup as a dip: condiment nirvana or retch-worthy blasphemy?
18 years ago I was hustled mayo and ketchup as Russian dressing in a restaurant near my apartment. I have not been back. I wish the ice weasels would visit them.