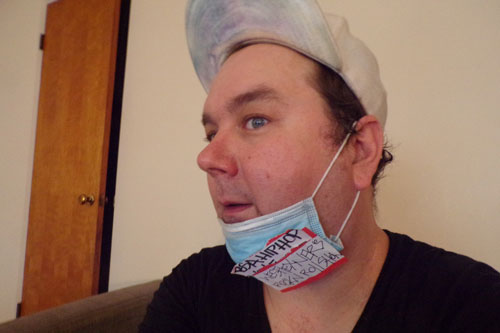 Genre DJ of the Month:
Wes Flexner
WCRS Columbus
How long have you been involved with WCRS and how did you first hear about the station?
One year. I've written for the Columbus Free Press for seven years. WCRS is the community radio station affiliated with the Free Press. The Free Press was founded by people who were against wars and fought for human rights which includes women, weed smokers, minorities and gay people. In 2020, wcrsfm.org gives hip-hop bboys, punk rockers, techno weirds, and reggae soundsystems a platform in-between left wing information.
You host/program two shows on WCRS? Tell us about them!
BSA Hip Hop is Thursdays at 7 pm Columbus, Ohio 92.7/98.3 wcrsfm.org.
I'm a hip hop fan. This includes: The LQ/Rooftop, Bobbito Stretch Armstrong, Wake Up Show, Baker Boys, Shady Aftermath, the Roc, Time Travel,, Def Jux, The Roots on Fallon with Tyler, and Mos Def. You're listening to someone who loves rap music. My joke is skateboarding is BBoying for people who didn't breakdance because skateboarding was an alternative to having to talk every human who liked the same things as them.
Wes Flexner's Rock N Roll Show is Wednesdays at 7pm Columbus, Ohio. 92.7 / 98.3 wcrsfm.org.
We give you the feeling of sitting in a room while your friends write rap while a producer mines for records, and you're noticing the Roy Ayers samples. Then you leave to visit a female: The female plays you rock music you've never heard. You realize she is cooler than you except you're cooler than all the men she knows. Air America meets Coast to Coast if I was an Adult Swim cartoon is the banter.
What was your favorite release of 2019?
Common's newest album. The Chicago rapper is tangible because Columbus is in the Midwest. I can remember Mane BSA sending me flix and hitting up ChiRockNation. Common shouting out ChiRockNation and UAC is Hip Hop. Common working with A-Trak in 2019 and respecting John Lewis and Maya Angelou is BBoy Stuff Authentic. RIP MANE.
Is there any music slated for release before 2020 ends that you are particularly excited about?
Run The Jewels and Public Enemy are pretty zeitgeist for the 911 meets 1992 LA Rebellion stage we are in. Kendrick Lamar Presents the Chronic 2020 would excite me. He probably won't call the next album the Chronic 2020 but if he did I'm sure people would still like it.
Do you have a favorite artist or album you never get tired of listening to?
Clipse.
Which artist/band has put on the best show you've ever seen live?
I'll give you a statement about one of the better people in music.
Killer Mike did an all-ages show in Columbus, Ohio. It wasn't late. I took my sibling with Down syndrome to the show. Killer Mike gave a powerful but intimate performance. It was the combination of charisma, sound and banter that a fan hopes the human they spent 6 months to 10 years of their life listening to delivers. Killer Mike rocked with an understanding contextually Killer Mike could reach each individual. After the show, he talked to my sibling like someone he knew. My sibling was included.
Think about your first concert: Did the performer make a point to talk to you after the show? When I saw Killer Mike on the Atlanta news trying to make sure the responses to the police killing were productive, I thought: That man talked to someone I care about like he lived next door to him, and was his friend. This is why Hip Hop and punk were better when we were kids. It felt like being 14 years old, and a straight edge punk singer tells you to believe in yourself.
Another person I would like to mention: DJ PRZM live at Bernie's Distillery solidified all overlaps Def Jux,and RocaFella had with thrash metal and booty house while playing a Mobb Deep ft. Kool G Rap record. RIP DJ PRZM.
Who is an artist or band totally outside the realm of the music you play on your shows that people might be surprised to know you love?
I constantly contemplate when I should pitch a Southern Rap Show. While people wouldn't be surprised if I made a southern rap show, it's a statement of just because I like BDP doesn't mean I hate Kevin Gates.
What is your best childhood memory?
My dad playing Psychedelic Rock in the car is a better memory. When you're younger, you think you father is a square. After a parent passes away, later you get to know them. You think about a man driving his son around listening to the Electric Prunes, Bob Dylan, Iron Butterfly, and Jefferson Airplane while his son talks about wanting a hamburger and that classic rock isn't what 4th graders think is cool.
After laughing at yourself, you think I'm not mad at Hip Hop radio in 2020 but Rock N Roll radio could improve in 2020.
What event in your life would you say has shaped you the most as a person?
Reading the Autobiography of Malcolm X before watching Wild Style.
Do you have a favorite restaurant in Columbus that you always made sure to take guests/visitors to when we were all still eating safely at restaurants?
North Star Café's Vegan burger is one of the better vegan burgers I've eaten. The process of ordering food at the counter makes the place unpretentious for people who don't normally like health food or vegans. The veggie burger transcends.
What in your life brings you the most joy?
Positive Energy Activates Constant Elevation
Lightning Round:
Dog or Cat?  Cat with a Dog
Morning Person or Night Owl?  4:59 am
City or Country?  City
Beach or Mountains? Beach
Watch TV or Read A Book? Movie
Sunny or Rainy? Sunny
Dine (when it was a thing) or Delivery? Dine
Pants or Shorts? Used never wear shorts. Thanks to women who made boxers regular instead of looking like a trenchcoat flasher.
Warm or Cold drinks? I drink when it's warm or cold.
Given all of our time now spent at home, do you have any current favorite shows you're enjoying/binging? How about a movie (new or old) that you've watched recently that you loved?
Other Music Documentary was fun. My friend Mahssa worked there. She would let me chill there until she got off work when my feet were sore from walking around NYC. You don't think about sleeping on your friend's couch until they make a movie about one of the settings.
Other Music sold experimental music of every genre. The store helped punk bands become TV on The Radio and Vampire Weekend. The movie makes you question if a movie should be made about the content of store, or the people who shop there. That's not a critique of the clientele. Where is marketing: Do you want to know about a place that sold krautrock or the most famous band that liked krautrock?
Finally, what do you miss most about your pre-pandemic life?
Concerts.