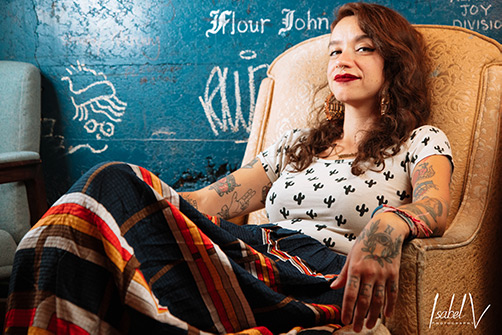 NACC Interview with:
Bruce Trujillo
Host / Assistant Program Director,
Indie 102.3 (Colorado Public Radio)
How long have you been involved with Colorado Public Radio and what are your duties as Assistant Program Director? What would you say your favorite part of your job is?
I started working at Colorado Public Radio's new music service, OpenAir in 2016, and started as the Programming Assistant, which fit really well – it was kind of a catch all for whatever needed to be done around the station. Primarily, though, it was running our in-studio sessions, and that continues to be one of my main job duties (although now they're Sessions: At Home, of course). In 2019, we rebranded as Indie 102.3. I am the evening host Monday through Saturday, I host 3 specialty shows focusing on Latin-made music, local tunes, and live concert recordings. I also help facilitate specialty programming, aid in partnerships, and run our promotions, among other things. My favorite part of my job is connecting with our artists – locally and internationally – for interviews, premieres, special performances and, when we can, events.
In addition to being the station's Assistant Program Director, you are in charge of reporting the station's World programming. How do you decide what music is added to CPR's World programming?
I report our World Charts mostly in support of my show, Especial. It's an hour-long exploration of Latin-made music from around the Americas and Colorado, that airs Wednesday nights at 10, and Sundays at 6p. Of course there are a lot of sounds and influences that go into what is generally described as "Latin," and that's the point of the show – to break down stereotypes in music made by folks who are generally labelled as such. More distance seems to be created when we label musicians a certain thing based on where they're from or the color of their skin, and artists tend to get left out when they're making and creating sounds that will ultimately influence more popular and "digestible" music, simply because they're populated into a "world," "urban," or "Latin" category. On
What was your favorite release of the past year or so?
A close tie between Lido Pimienta's debut full-length, Miss Colombia, and Chicano Batman's return with Invisible People. Excellent storytelling and sonic depth in both.
Are there any upcoming releases that you are particularly excited about?
I'm excited to hear CHAI's sophomore album WINK, out on May 21.
Do you have a favorite artist or album you never get tired of listening to?
The Beatles will always be my favorite, and my favorite album by them changes almost weekly.
Which artist/band has put on the best show you've ever seen live?
Ever is a difficult one, but within the past few years – Combo Chimbita played my favorite venue in Denver, the Hi Dive. This was right around the release of Ahomale in 2019. I got to see them last year in San Francisco with Y La Bamba as well, but that first performance – wow. They don't need to rely on anything but their music and stage presence. Carolina Oliveros' voice is more than enough to keep an audience enraptured, and coupled with the Prince of Queens and the rest of the band – well. It's hypnotizing.
Who is an artist or band totally outside the realm of the music you play at CPR that people might be surprised to know you love?
I'm getting back into 90s hip hop, R&B, and pop lately – it's that nostalgia thing in the face of so much change going on. Lately I've been into TLC, Destiny's Child, and SPECIFICALLY Baduizm by Erykah Badu.
What is your best childhood memory?
I distinctly remember my parents giving me their old boombox (my dad upgraded to a 5 disc changer). I think I was in third or fourth grade? They got me a few blank tapes and let me tape any of their CDs – first was Elton John's Madman Across The Water.
What event in your life would you say has shaped you the most as a person?
I'd say it's more of an accumulation of many things – there's nothing specific I can point to that has made me who I am, but a long (sometimes winding) path of many things and people that have helped shape me.
If you could choose, what time period in the past would you most want to travel back to and visit?
1491, pre-colonization in the Western Hemisphere.
Do you have a favorite restaurant in Denver (dine-in or take out) that you recommend people try?
In my house, we've been bouncing back and forth between Emmanuel's Bakery in Globeville and Chulada's on the Northside – 40th and Federal. Both do dine-in and take-out right now. Also #Poke in Lakewood is delicious and affordable.
What in your life brings you the most joy?
Being with and uplifting community in whatever I can – of course live music was a major part of that, and now we've had to get creative. One thing that's been able to keep a lot of this alive is a new project I co-founded called Colorful Colorado Collaborations, which brings together BIPOC musicians and businesses in Colorado for a truly unique live stream. We partner local musicians with a business to create a new product and release a new musical project, which culminates in a live-stream event with interviews and a live performance. We're starting our second season next month and I can't wait.
Also my dog.
Lightning Round:
Dog or Cat? Dog
Morning Person or Night Owl? Night owl
City or Country? City (mostly)
Beach or Mountains? Mountains
Watch TV or Read A Book? Read
Sunny or Rainy? Sunny
Restaurant or Home Cooking? Home cooking
Pants or Shorts? Shorts
Warm or Cold drinks? Generally cold, but always have coffee around.
Given all of our time now spent at home, do you have any current favorite shows you're enjoying/binging? How about a movie (new or old) that you've watched recently that you loved?
"Rompan Todo: La Historia del Rock en América Latina," has been interesting; also, of course, "The Queens Gambit." Honestly I've been watching a lot of throwback TV, primarily "The Golden Girls."
Finally, what is the first thing you plan to do when our lives get as back to normal as they can that you aren't able to do now due to the pandemic?
We'll see how live music comes back – as much as that's always been a major part of my life, I don't know how comfortable I'll be around crowds like that once we're able to go back out. I would love to start traveling again, as well. I think like a lot of folks, I had two major trips cancelled in 2020, including taking my partner to Paris for the first time, and re-visiting Mexico City. One day!