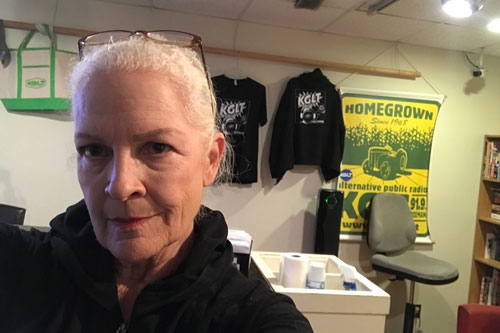 Genre MD of the Month:
Ellen King-Rodgers
KGLT Bozeman
How long have you been involved with KGLT and how did you first hear about the station?
I have been with KGLT since 2001. A friend in animal rescue told me about the Apprentice Class and it had always been a dream of mine to be a DJ.
You are currently the station's World MD, but you were also the station GM in the past. In your opinion, what's the key to running a successful Non-Comm radio station?
The keys are great entertainment, solid, friendly and respectful customer and business relationships, great production, close knit staff, great dj's, great volunteer base, stay focused, find funding, and work your ass off.
You host Ellen's World on Tuesdays. Tell us about your show and how you decide what music to play.
I love rhythm, great voices, instrumental layering and simple sounds too. Every country has artists sharing their special talents and I want to share them with the listeners. So, I'm in touch with promoters and labels and have developed great relationships all over the world. The collection was pretty vast at KGLT before I came along 20 years ago and I built on that.
What has been your favorite album released so far in 2021?
The MD likes The Los Sundowns and I get off on Lucas Santtana "3 Sessions in a Greenhouse".
Do you have a favorite artist or album you never get tired of listening to?
I have favorite songs artists sing: Eso Que tu Haces by Lido Pimiento, Diego el Cigala singing with Lila Downs, La Santa Cecilia singing with Mon la Ferte, The Temptations, Beatles, Stones. I appreciate a lot of artists, a long list.
Which artist/band has put on the best live show you've ever seen?
Well, the Beatles, Lyle Lovett, and Bob Dylan, Hendrix, Steve Earle, the Permians
Who is an artist or band totally outside the realm of the music you play on KGLT that people might be surprised to know you love?
Tim Hardin
What are you most looking forward to doing/or have already done again that you hadn't been able to do during the pandemic?
Be at a table partying and eating with a bunch of friends.
What event in your life would you say has shaped you the most as a person?
Being born in Detroit to my parents.
If you could choose, what time period in the past would you most want to travel back to and visit?
Let's see, when was the world not racist. How about 2050.
Do you have a favorite restaurant in town (dine-in or take out) that you recommend people try?
Blackbird, Blacksmith, Pizza Campania, Montana Ale Works, MacKenzie River, Nova, Feed in Bozeman. On Broadway in Helena,
What in your life brings you the most joy?
Home, nature, New York, Italy, animals, humor, socializing, helping out.
Lightning Round:
Dog or Cat? Any animal
Morning Person or Night Owl? Morning
City or Country? Both
Beach or Mountains? Mountains
Watch TV or Read A Book? TV
Sunny or Rainy? Sunny
Restaurant or Home Cooking? Home
Pants or Shorts? Pants
Warm or Cold drinks? Cold
Do you have any current favorite shows you're enjoying/binging?
MIDNIGHT DINER and The Mayor.
How about a movie (new or old) that you've watched recently that you loved?
Color Out of Space, Promising Young Woman
Finally: What is the best piece of advice someone has given you or that you have given someone else?
Don't apologize if you did your best in a dysfunctional work environment. You are a gem.