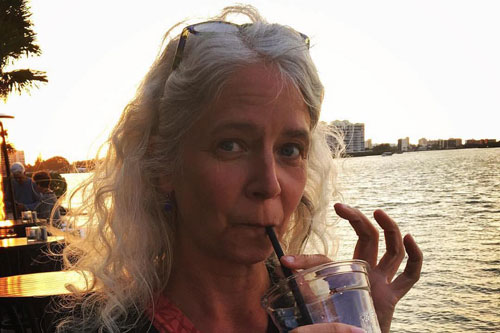 Genre DJ of the Month :
Linda Fahey
Folk Alley
How long have you been involved with Folk Alley and how did you first hear about the service?
I've been with Folk Alley since 2005. My friend, David Tamulevich – who is a booking agent and John Gorka's manager, as well as a musician himself – told me WKSU was looking to hire someone to "run Folk Alley" and that I should check it out. They had just launched Folk Alley in 2003, so I've been involved with its growth and evolution for 15 of its 17 years.
What goes into programming Folk Alley? How do you decide what music to feature?
It's all about the mix for us. Our number one goal is to have a deep and wide eclectic mix of traditional folk, contemporary singer/songwriters, bluegrass/newgrass, old-time, Celtic, roots, Americana, international music, AAA, indie-folk, folk-rock. We don't twang too hard, but the occasional alt-Country tune gets in there too. We play music by our "musical heroes" as well as a hefty dose of new and up-and-coming artists. Each hour of Folk Alley is carefully programmed with that overall mix in mind, so no matter who the host/DJ is at any given time, the mix is fairly consistent, i.e. we don't have "specialty genre shows" programmed throughout the day/week. The music that gets featured needs to fit into the vibe that we envision for our listeners. It's eclectic, but also, we strive to have a degree of continuity. Even if a particular song you hear makes you scratch your head and say, "that's not folk music," you can pick up the roots or the thread that ties it together.
What is your personal favorite current release?
Bonny Light Horseman! Hands down. They were the last live concert I saw before the pandemic ruined all of our fun. The Mammals' new album, 'Nonet' is right up there at the top too.
Is there any music slated for release later in 2020 that you are particularly excited about?
Can't wait for Chastity Brown's new one to be released; also, Amythyst Kiah and Kris Delmhorst.
Do you have a favorite artist or album you never get tired of listening to?
Favorite artists I never get tired of listening to are: Mavis Staples because she makes me feel like everything is going to be okay. To me, she embodies everything that is good about people and what we should strive for; also, John Prine, Bonnie Raitt, and Jerry Garcia. New favorites are Anna Tivel and Jeffrey Martin.
Which artist/band has put on the best live show you've ever seen?
Wow, I've been fortunate to see so many memorable shows! The most recent "best live show" was easily Rhiannon Giddens & Francesco Turrisi last year at the Flynn in Burlington, VT. I'm generally in awe of everything Rhiannon does. This show with Francesco blew me away.
Who is an artist or band totally outside the realm of the music you play on Folk Alley that people might be surprised to know you love?
'70s Aerosmith and Morphine (I grew up in the Boston area, what can I say.) Also, I really love Charlie Christian!
What is your best childhood memory?
Hanging out/doing chores with my grandfather on his horse farm. He taught me how to drive when I was 12.
What event in your life would you say has shaped you the most as a person?
Hard question. Mostly I would say, as a kid, my parents were really great at letting me make certain decisions on my own – "to follow my own drummer" (thanks Mom) – and that ultimately empowered me to follow my own path and intuition into adulthood.
If you could choose, what time period in the past would you most want to travel back to and visit?
Early 2020, when we could travel freely and weren't worried about dying on a ventilator.
Do you have a favorite restaurant in town that you always made sure to take guests/visitors to when we were all still eating safely at restaurants?
YES! The Fiddlehead Bistro in Saranac Lake, NY.
What in your life brings you the most joy?
Walking in the woods with my dog.
Lightning Round:
Dog or Cat? Both – but if I have to pick one…Dog
Morning Person or Night Owl? Night Owl
City or Country? Country
Beach or Mountains? Mountains
Watch TV or Read A Book? TV but only if it's baseball, Rachel Maddow, or Stephen Corbert.
Sunny or Rainy? Sunny
Dine (when it was a thing) or Delivery? Dine
Pants or Shorts? Shorts
Warm or Cold drinks? Warm
Do you have any current favorite TV shows you're enjoying/binging?
Nope. How about a movie (new or old) that you've watched recently that you loved? I think the last movie I watched that I really loved was, 'The Shape of Water.'
Finally, and most importantly… where is the first place you want to go again that is currently closed due to the pandemic?
A Tedeschi-Trucks concert!!