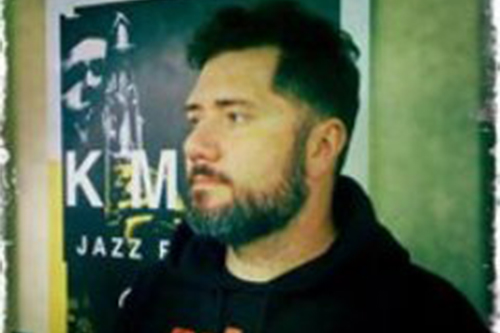 Interview With:
Mark Rini
GROOV Marketing
Tell us a bit about the career path that led to where you are now.
I was working as a bartender in the early 90's with my now business partner Josh Ellman. Josh was playing in a Soul/Funk band with a saxophonist named Ynes Zavala, who was working for GROOV at the time. Through Ynes, Josh met GROOV founder Neil Gorov, who offered Josh a job. Josh and I had become good friends by then and at some point and about a year later, Josh scored me an interview with Neil. GROOV had just acquired the Blue Note account, so they needed even more help. Neil and I clicked immediately and he offered me a job on the spot. Nothing glamorous, mailroom duties, fetching office supplies and grabbing lunch for the office. A few months later Neil had me calling CMJ Jazz reporters and from that time on I became more of a promoter and less of an errand boy. Right around 2001, Neil decided he was done with the music industry and was moving to Australia, so Josh and I bought him out. Here we are 20 years later.
What is your favorite experience you've had in your career? Perhaps a musical idol you got to meet? A festival you were able to attend? A project you were involved with promoting?
We've had the opportunity to meet and work with so many legendary artists. Over the years I've had one on one time with artists like Gregory Porter, Charles Lloyd, Terry Gibbs and the late Gerald Wilson as I drove them around to radio stations for interviews. I got a chance to meet Joel Dorn and John Sinclair at a CMJ panel, which was mighty cool. I booked a club in Whitter, CA for a couple for years in the late 90's. We had Banyan in a few times, which is Stephen Perkins, Nels Cline, Mike Watt and Willie Waldman. Hanging with those guys in the green room was a blast. I also booked John Doe from X, and Trulio Disgracious which featured Angelo and Norwood from Fishbone. Norwood and I sat at the bar and shared a very good bottle of tequila (the spot was a cantina) so that night was wild.
As far as projects, there's almost too many to mention. The Thelonious Monk Quartet with John Coltrane Carnegie Hall concert from 1957 is up there, as is John Coltrane's Blue Train, which Blue Note reissued in 1998 as 'The Ultimate Blue Train.' We ended up getting a gold record for that one.
What have been some challenges (and perhaps any solutions to them) you've faced promoting music during this pandemic?
It's been trying to gauge where someone's head is at while we've adapted to a new way of promoting music. You must be mindful of how much pressure you are putting on someone, as you don't know what they are dealing with in their personal lives.
One of the silver linings to this mess is that some of our contacts that have been resistant to using downloads have realized that it's not as daunting as they once thought. I'd love to see CDs go away in the next few years, but in the Jazz format I don't know if that's possible.
What band/artist or style of music outside the realm of college/community radio would people be most intrigued to hear you love?
I grew up on music from the SST label. Meat Puppets, Husker Du, Black Flag, Saccharine Trust, Dinosaur Jr. and especially the Minutemen. I know these bands WERE college radio in the 80's and early 90's, but some find it strange that a Jazz promoter still listens to all these bands religiously. Also, I'm a big fan of Motown, James Brown, Curtis Mayfield, Shuggie Otis, Bill Withers and a lot of old soul and rare funk, which is what I played mostly on my radio show on KMHD in Portland (on hiatus since Covid hit.)
What job do you think you would have if you weren't in this industry?
I really enjoy being in the woods and mountains, so maybe something like being a park ranger. Certainly nothing with a lot of desk time.
What destination would you most like to visit and why?
My ancestry is Italian and Irish, so I'd very much like to visit Italy/Sicily and Ireland. Africa would be another dream trip.
You just won 10 million dollars. What are you going to do with it?
Make sure my Pop is set up and finish the 32 Chevy Coupe he's been restoring. I'd love to have a modest waterfront cabin somewhere on the Puget Sound. I love to fish, so a boat as well.
First and foremost though, I'd want to figure out a way to help some of the musicians who've really taken a hit during the pandemic and the best way, as I see it, would be to make sure the clubs are going to survive. Hearing that The Jazz Standard in NYC is shutting its doors for good is heart breaking. I fear they won't be the last. Perhaps I'd open a club of my own.
Entertainment Time: What is/are your current favorite TV obsession(s)?  What's a great movie (new or old) you've watched recently? What is your current favorite album?
I don't watch a ton of TV shows, but recently got sucked into The Queen's Gambit and binged the whole season in two days. Absolutely brilliant. The soundtrack is great as well. As far as movies, I watched Barfly a few nights ago, which is an all-time favorite. Really loving the latest Kokoroko and Budos Band releases. Both bands are staples of my radio show. Run the Jewels 4 is still in heavy rotation in my living room. It doesn't come out until February, but I've been listening to pianist Cameron Graves' upcoming release 'Seven'. He's a monster player & composer with such a fresh sound.
Do you (or did you when dining out was safer) have a favorite restaurant in town to take out-of-town guests to?
I live in a small(ish) town, but we do have a Sushi joint called Toro Sushi, which I like quite a bit. If I'm going in to PDX, I'm probably going to be searching out a Ramen or Pho place. My go to is a place called Marukin Ramen, which I'd usually hit before checking out a gig at The Doug Fir.
You're stranded on a desert island (or in your own home!)  What five well known people (dead or alive) would you like to have there with you?
George Carlin, Steve Irwin, D. Boon, Les Stroud and David Bowie. My dog Roxy is coming as well!