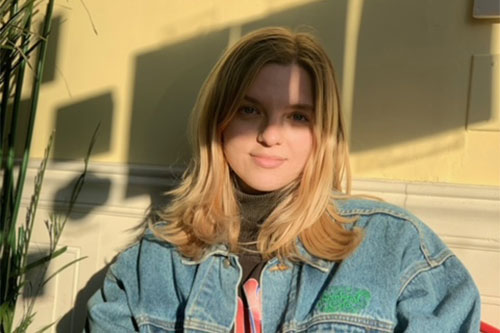 Industry Interview with:
Emma Toney
Beggars Group
Tell us a bit about the career path that led to where you are now.
I started my career in music while I was in high school. I volunteered my time to run socials and sell merch. I come from a 'fan girl' background which definitely expedited my passion for the industry. I start a fan update Twitter account for my favorite artist while I was just in middle school, which eventually lead to me working as apart of their team. During college I worked multiple internships at labels where I fell deeper in love with the industry. My first job after college was an assistant to an agent at APA Agency. I loved working the touring side of things, but ultimately I knew I belonged on the label side of things.
If we're not mistaken, you just started at Beggars recently. What has been your favorite part of the job so far?
Working at Beggars is a dream come true! I raised myself on their roster growing up, all of the artists are so very important to me. I've been a huge fan of Lucy Dacus for years. 'Brando' was my first big radio release as radio coordinator, then 'Home Video' album release. It was so special to celebrate the success of the album with the Beggars family that I'm now apart of.
What is your favorite experience you've had in your career so far? Perhaps a musical idol you got to meet? A festival you were able to attend? A project you were involved with promoting?
Pre-Covid I flew out to Chicago for Lollapalooza. It was my first trip for work, we were there to sign a few bands my boss had her eye on and I got to see The Strokes. That weekend was something I wish I could tell my teenage self about, she would not believe it.
What band/artist or style of music outside the realm of college/community radio would people be most intrigued to hear you love?
I love Nicki Minaj. I am a Barb, but aren't we all? I also love One Direction but that's less shocking.
What job do you think you would have if you weren't in this industry?
In-between music internships throughout college I worked with children! I would definitely be in some sort of education field.
What destination would you most like to visit and why?
I want nothing more than to be tucked away in the middle of nowhere Scotland. There is really no reason why, its just pretty. It has always been my escape plan.
You just won 10 million dollars. What are you going to do with it?
The obvious answer is to move to the middle of nowhere, Scotland. Realistically, I would feel guilty in possession of that amount of money and donate the majority of it once my family & close friends are taken care of. Or maybe get myself a nice loft in the West Village. Dreams!
Entertainment Time: What is/are your current favorite TV obsession(s)? What's a great movie (new or old) you've watched recently? What is your current favorite album?
THE GOSSIP GIRL REBOOT! I can't get enough, completely obsessed.
Film – Superbad. I accidentally catch myself watching it every month when I can't find anything else to watch, never gets old.
Album – I can't pick just one but I've had 'Home Video – Lucy Dacus, 'Movveys' – Slow Pulp and 'The Baby' – Samia on repeat all summer.
Do you (or did you when dining out was safer) have a favorite restaurant in town to take out-of-town guests to?
Whenever someone is visiting from out of town I insist that they get pizza. My favorite slices are Paulie Gees in Brooklyn, Joe's Pizza or Champion Pizza (I stand by it being one of my top 3 slices in the city).
You're stranded on a desert island (or in your own home!) What five well known people (dead or alive) would you like to have there with you?
Liam & Noel Gallagher – for the entertainment and to give my best sab at getting the band back together. Koko the gorilla – just to bring back to life. Shaq- counting on him to save us. Mr Rogers – emotional support and to get Oasis back together.