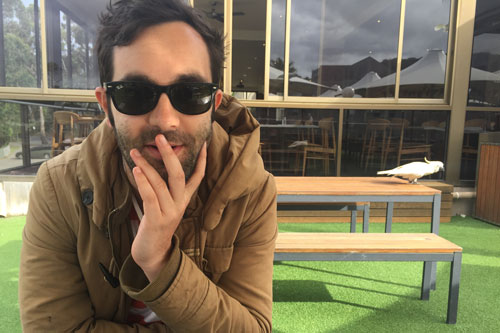 Interview with:
James Adair
Moniker Promo
Tell us a bit about the career path that led to where you are now at Moniker Promo
I'm from Australia and was at University studying Economics, which I hated so I thought what was the most furthest thing away from Economics… Music. My brother's friend brother was managing Australian band Jet at the time and thought that would be a great job. So I started interning with him, and learnt the management trade, where I was managing some very successful Australian acts. My younger Australian acts I managed wanted to get exposure in the US, so i decided to take them to college / non-commercial radio myself. I then got seduced by the wealth of opportunities in Norther America, that I moved over, I teamed up wth my friend Tyler Treves at Moniker Promo who promotes to Alternative Specialty and committed to radio promotions from there.
Why does college/community radio matter in today's fragmented environment?
My youth was listening to Triple J in Australia, but what I love about the college / community format, is the sheer amount of radio stations in North America. If one station passes on your act, it's not the end of the world, the next station 50 miles down the road will jump on board and play your music. It opens up so many touring routes for acts.
.What is your favorite experience you've had in your career? Perhaps a musical idol you got to meet? A festival you were able to attend? A project you were involved with promoting?
The first band i ever managed was The Fearless Vampire Killers, some of the support opportunities we got from when I was first starting off were amazing. We toured with The Hives, Kasabian, The Mars Volta. Meeting some of my all time favourite bands, and watching them side of stage was amazing.
What band/artist or style of music outside the realm of college/community would people be most intrigued to hear you love?
I have a guilty pleasure of late 90's early 2000's pop.
What job do you think you would you be doing if you weren't in this industry?
Run a small dive bar.
What destination would you most like to visit and why?
I always wanted to visit New York City, before i moved over. Didn't disappoint!
You just won a million dollars. What are you going to do with it?
Did I win it on Survivor? I would be basking in my victory of being the Sole Survivor.
What is/are your current favorite TV obsession(s)?
See above…Afterlife is good too.
When friends come to town, what is your favorite restaurant you take them to?
I'm of no fixed address so I don't have a "town" but my favourite bar I've ever been to is Mr Sorelys in NY. They only sell 2 types of beer. Light and Dark. To mop up the beer they put saw dust on the floor. I think from memory its the longest continuous running bar in NY. To give you an idea of the decor, that move Gangs of New York did their press photos there.
You're stranded on a desert island. What five well known people (dead or alive) would you like to have there with you?
Mr Bean, Michael Jackson, James Corden, Princess Dianna and Kevin Hart.