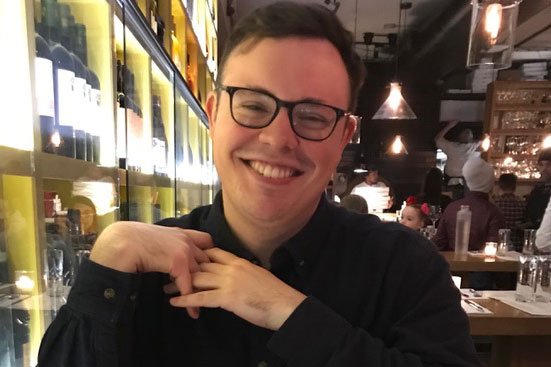 Interview with:
Trevor Morrison
co-sign
Tell us a bit about the career path that led to where you are now.
I started this journey as DJ and Music Director at UConn's radio station WHUS for four and two years respectively, then joined AAM's radio promo team in NYC after graduating in 2015 (yay!), but was laid off the following year when the company shuttered the department (boo!). Later in 2016 I was picked up by Tell All Your Friends PR to kickstart their radio sector, eventually managing the entire department on my own in early 2017. In mid-2017, co-sign reached out to me to potentially fill a spot in their team. I always appreciated co-sign's bold, genre-breaking roster when I was a Music Director, so I was incredibly excited at the opportunity. Thankfully I've been here for almost three years, with one year as the "head" of college/community radio promotion, and I'm having a blast. During all this I've also ran my own personal music blog Warm Visions (warmvisions.net), which has REALLY kept me up to date with all things new in terms of music.
What is your favorite experience you've had in your career? Perhaps a musical idol you got to meet? A festival you were able to attend? A project you were involved with promoting?
As a diehard music fan and hopeless nerd, the fact that I've had the opportunity to work with and promote the works of so many artists I've loved for years has been incredibly surreal. Promoting Joanna Newsom's Divers in 2015 & seeing her on that tour was a life highlight. Bringing Hand Habits' first record to radio in 2017, getting KEXP to play it, and getting it in the top half of the chart on my own was awesome. Plus, regularly getting traditionally indie rock & pop-fueled stations to play non-western music is always thrilling. Aside from the work part, going down to North Carolina last summer for Merge Records' 30th Anniversary with my coworker Christine was super memorable. Take me back!!
What have been some new challenges (and perhaps any solutions to them) you've faced promoting music during this pandemic?
One of my favorite things about this job is talking to people on the phone and explaining the stories of the artists/albums to music directors and programmers, hearing how the MDs can relate to or be interested by said artists, and just generally shooting the cuss with them. Sharing and talking about music with folks is just the best. Because no one is in the office to take calls and e-tracking is king right now, the storytelling aspect of the job has more or less been stripped away. That being said… if anyone wants to do cell tracking, let me know. Now I'm trying to keep all my emails jovial and personable, like I'm talking on the phone, but also very clear and concise with downloads and relevant information about the artists. When I was an MD I definitely didn't want to read a big block of text in an email, so I get it. The feedback I have received has been positive, so that has me encouraged to continue plunging forward in this time of impenetrable darkness with stupid puns in my emails.
What band/artist or style of music outside the realm of college/community radio would people be most intrigued to hear you love?
I was in a traveling fiddle collective in high school, so bluegrass and all types of traditional folk music, American or otherwise, still strikes a soft spot in my heart
What job do you think you would have if you weren't in this industry?
If I could do it all again, I would have gone to school for marine biology + worked somewhere relating to ocean science or sea life conservation. BUT if I have to be in this current timeline with my Communications degree, probably going to grad school for library or archival science and working at a university.
What destination would you most like to visit and why?
Vacationing around Japan has been a dream of mine since I was a kid. Lots of great record stores to troll around in, lots of little collectibles to buy, hot springs to relax in, and tons of great restaurants + snacks to try.
You just won a million dollars. What are you going to do with it?
Honestly all I can think about regarding money right now is donating it to those that need it, like doctors, artists, venues & restaurants, so I'd say a hefty chunk of the money would be donations. Otherwise I'd see what my family + partner needs, ask my smarter friends what to invest in and maybe buy myself one or two records I've had on my Discogs wantlist.
With stay-at-home orders and social distancing, what is/are your current favorite TV obsession(s)? What's a great movie (new or old) you've watched recently? What is your current favorite album?
I've been watching the current season of RuPaul's Drag Race, which has been fun. I also recently finished Steven Universe + Steven Universe Future, along with miniseries Over The Garden Wall. I highly recommend both even if you're not usually into animation, especially Over The Garden Wall during Halloween times. For music, the Charli XCX album she made entirely during quarantine came out the day I'm writing this and I think I've already listened to it four or five times. It's incredible.
Back when hosting out-of-town guests was still a thing, what was your favorite restaurant in town to take them to?
I'd say vegan cafe Brooklyn Whiskers in Bushwick. It's got GREAT pastries and sandwiches, the coffee is good and the atmosphere is so lovely & full of light. It's my partner and I's favorite place to go in the city. But for those who can't live without meat, Vanessa's Dumplings is wonderful and you can get a great bang for your buck there.
You're stranded on a desert island (or in your own home!) What five well known people (dead or alive) would you like to have there with you?
The thought of transporting people I idolize to a deserted island or small apartment to be stuck with a goober like me is giving me a lot of anxiety, but off the top I'd say Nick Cave, Arthur Russell, Prince, Liz Harris and Dolly Parton. I'm so, so sorry.