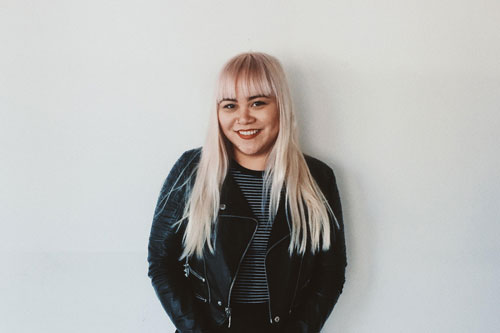 Interview With:
Janelle Abad
Dangerbird Records
Tell us a bit about the career path that led to where you are now.
I got my "professional" start at Texas State's campus station in San Marcos, TX – KTSW 89.9. I had a 2 year term as Music Director with a short time period in the middle where I dabbled in the Local MD role. Allison Johnson, the Music Director my Freshman and Sophomore year took me under her wing and really encouraged me step up to the role after she graduated.
As Music Director I was doing what I've never known I've always wanted to do. I also DJ'd, designed graphics, started KTSW's Spotify account, interviewed a few of my favorite artists, booked a SXSW showcase, shot music festivals, helped the station's rebranding process and so much more. My experience as an MD, especially attending CMJ (2015) and CBI (2016), opened my eyes to the reality of a profession in the music industry by being able to develop long lasting friendships with people in the community.
I also was a Radio Promo intern at Glassnote Records for about a year. Ending up at Dangerbird was fate… I connected with Francie Chang (at Dangerbird) because she was a former Radio intern at Glassnote as well. Francie and Jenni Sperendeo (also a radio queen!) took me under their wing here as a Dangerbird intern prior to graduating in May 2017 and fortunately was hired on towards the latter half of the year. The rest is history!
Why does college/community radio matter in today's fragmented environment?
College radio is radio/broadcasting in its purest form. It's the most human form of listening to curated music. It comes with mis-pronunciations, that really really obscure show that only plays Death Grips' side project's B-sides at 3 in the morning, counting how many times you say "um" in your aircheck… all while playing the music that makes you sob and smile alongside your best of friends. It's also the only place I can hear Dvorak, Willie Nelson, A Tribe Called Quest and Frankie Cosmos all in the same hour. There is so much music out there! College Radio keeps it interesting and honest. It matters.
What is your favorite experience you've had in your career? Perhaps a musical idol you got to meet? A festival you were able to attend? A project you were involved with promoting?
Some of my favorite memories were covering music festivals (ACL, Fun Fun Fun, Sound on Sound, Float Fest, CMJ, SXSW) when I was in college. One of my hobbies/other passions is photography, specifically live concert photography. I've shared the photo pit with some of my all-time favorite photographers, which was always a surreal moment for me. Another highlight would be organizing a female-empowering mini festival called Play Like A Grrrl last year with a couple of lady friends that I love collaborating with. It was a great reminder of how many inspiring women I'm constantly surrounded by.
What band/artist outside the realm of college/community radio would people be surprised to hear you love?
Ah that's tough! Does Kimbra count? I'm a huge fan of anything she does. I could probably write a thesis on her discography if I really wanted to. Otherwise, probably Rihanna. I had "Bitch Better Have My Money" as my morning alarm for a while haha.
What job do you think you would you be doing if you weren't a promoter?
I've always said that I'd love to open/run my own venue… maybe one day I'll actually do it! Non-music industry wise though I'd probably end up somewhere in the news broadcasting field. My major (Electronic Media) was a crash course on how to be a news anchor so that'd be the most realistic route.
Do you think college/community radio will ever actually be an all-digital format? And if so, when?
I think there's definitely a chance, but not as fast as I hear some say. My guess if it does, the last station to make the switch will be 30-40 years from now? The appeal for cassettes and vinyl are making a comeback (especially in the college/non-comm market), so if everyone does go digital, maybe terrestrial college/community radio will be revived later on as more of an aesthetic appeal. But who really knows what will happen??
You just won a million dollars. What are you going to do with it?
1. Cry tears of joy.
2. Put some in my savings.
3. Pay off all my debts.
4. Give some to my parents
5. Put some towards my two little sisters' college funds
6. Build a studio/venue
7. Donate the rest
What is/are your current favorite TV obsession(s)? What was your favorite movie of 2017?
I'm a few episodes away from finishing re-watching Buffy the Vampire Slayer, but I don't want it to end (again) so I'm re-watching the 4400 on Netflix. It's a sci-fi drama from 2004 that my mom and I used to watch when she'd come home from work.
I'm really bad at keeping up with movie releases! I think I only went to a theatre like four times last year… but out of those four the most memorable one was It. Friends have been recommending Lady Bird and Baby Driver to me though.
If someone came to town, what is your favorite restaurant you'd take them to?
If they're from outside of Texas I usually make sure to make a stop at Whataburger. Honey butter = life. Sit-down restaurant wise I'd probably take them to 888 in South Austin. It's the perfect asian restaurant: decent prices, gigantic servings, fast service, huge menu where everything is delicious. What more could you ask for?
You're stranded on a desert island.
What five well known people (dead or alive) would you like to have there with you?
Justin Timberlake
Lance Bass
JC Chasez
Joey Fatone
That other guy?
(to fulfill my 5 year old dreams before I probably die)