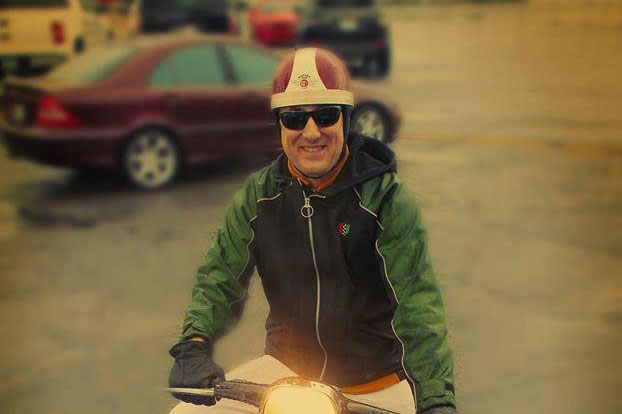 Interview with:
Joshua Ellman
Groov Marketing
Tell us a bit about the career path that led to where you are now.
I was singing in a Funk/Soul Band in the early 90's that had a complete horn section. We gigged around LA for several years and at the time I was actually Bartending with now business partner Mark Rini. Our Tenor Sax player asked if I wanted part time work calling radio stations as he thought I had a knack with people and knew my love for music. The owner of Groov Marketing at the time was then Industry Veteran Neil Gorov. He helped nurture my skills as a promoter and before I knew it was making calls to AAA, Blues, World and College Radio + attending Gavin Conferences. Back in those days, we had a roster of independent Labels that are either no longer around or presently producing very few releases.  Postcards, Kokopelli, Virgin Point Blank, MaxJazz, House of Blues, JVC all come to mind.
As I progressed I started calling Jazz Radio and Groov acquired an account with Blue Note Records. We were working the early careers of Cassandra Wilson, Kurt Elling, Charlie Hunter, Medeski Martin & Wood, Dianne Reeves, Norah Jones and many others…
Why does college/community radio matter in today's fragmented environment?
I think College Radio will always be relevant, regardless of the choices people have to listen to their favorite music. There's a connection there. I'm convinced it's what keeps the ideal of new, creative music alive. Even more so is the ability to maintain listeners at the local level. College radio develops and gives the tastemakers to the world that keep their audience entertained and educated at the same time.
What is your favorite experience you've had in your career? Perhaps a musical idol you got to meet? A festival you were able to attend? A project you were involved with promoting?
I've lived in Los Angeles most of my life. When Oasis had their first tour in 94' and played the Whiskey A Go Go, I didn't have tickets and it ws a sold out show… BUT… I attended a Record Release party across
the street at the Bel Age Hotel. Long story short I chatted with Noel Gallagher for what seemed like half an hour and he put a friend and I on the guest list.
Another time the James Taylor Quartet played at the Roxy. We hung out with the band afterwards and chatted extensively with Graham Day of The Prisoners who was playing guitar for that tour. I'll admit that was really damn cool.
On the promotion side, in the 90's we worked the Blue Note Cover Series which included Fareed Haque's interpretation of Crosby, Stills, Nash & Young's Deju Vu.  The label presented a Showcase at the House of Blues in Hollywood that also included Charlie Hunter doing Bob Marley's "Natty Dread" and Everette Harp performing Marvin Gaye's "What's Going On."  It was a fantastic gig! What made it interesting is that Fareed Haque was in a party mood. He ended up jumping in my car with Mark and my now wife Vickie and we headed to The 3 of Clubs Bar on Santa Monica & Vine. It was a pretty wild night.
What band/artist outside the realm of Jazz & World college/community radio would people be surprised to hear you love?
I don't think anyone would be surprised, as I love all types of music. However, before promoting and getting into Jazz I would go to Mod/Ska shows as a kid/young adult. Fenders Ball Room in Long Beach was a regular hangout where we would see Fishbone and No Doubt play all the time. I also have an affinity for Power Pop and Northern Soul.
What job do you think you would you be doing if you weren't a promoter?
Toughie…. Mark would like me to say doing Window Treatments with my Father however, I always had a thing for the weather. Early on I fancied being a Meteorologist.
What destination would you most like to visit and why?
I'd like to go back to London and hit Ronnie Scott's and the 100 Club as I missed them my first trip there.
You just won a million dollars. What are you going to do with it?
I'd like to say open a Tiki Bar in my community of Eagle Rock, CA but being a family man we'd probably upgrade the house and put in a Tiki Bar there!
What is/are your current favorite TV obsession(s)?  What is the best movie you have seen so far this year?
John Oliver, Bill Maher, Peaky Blinders, The Goldbergs, Game Of Thrones, Westworld, Stranger Things, Walking Dead, Godless…. Favorite movie thus far would have to be (Last Year) was Hostiles. Really brutal but very well done!
When friends come to town, what is your favorite restaurant you take them to?
Casa Bianca Pizza Pie here in Eagle Rock has incredible thin crust pizza and if we are feeling swanky The Dal Rae in Pico Rivera is a Steakhouse that still makes and serves Caesar Salads tableside.  Both places have been around since the 60's.
You're stranded on a desert island. What five well known people (dead or alive) would you like to have there with you?
Dave Dee, Dozy, Beaky, Mick & Tich