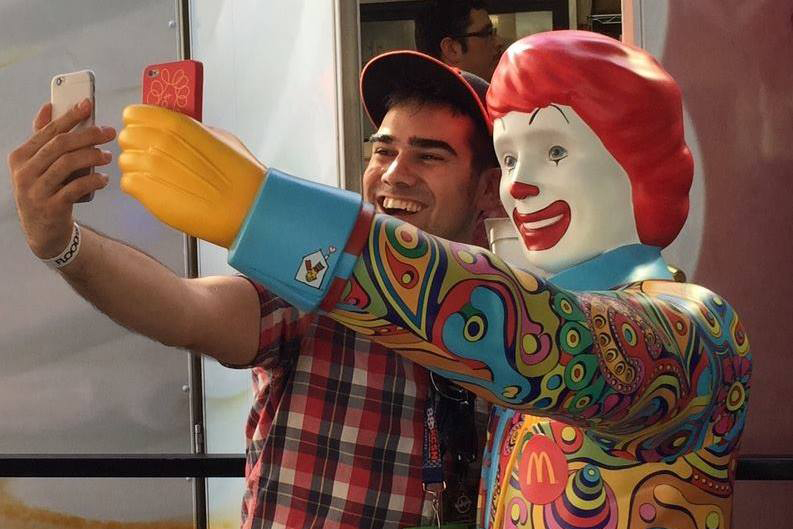 Interview With:
Oscar Zubia Jr.
The Planetary Group
Tell us a bit about the career path that led to where you are now.
Growing up I was always consuming music, weather it was flipping through Bay Area radio stations, dancing to Daft Punk on MTV after school, or crowd surfing at Warped Tour (the biggest thing to happen every summer when I moved to New Mexico), I always needed to know what was new and good. While I was in high school, a few of my older friends had shows at KRUX, New Mexico State's student-run radio station, and I used to tune-in and visit the station all the time. Once I started going to NMSU, I started DJing and scored the assistant music director position! A couple of months into the job I moved up to head MD with very little training and made the position my own juggling my radio show (CMJ Countdown), hundreds of CDs a week, and tons of phone calls from record reps. I must have done a good job right off the bat because my first year I was nominated for the CMJ Marathon's Music Director Summit panel! I went to CMJ every year, developed and kept relationships with my reps, and scored a job at Planetary in L.A. a year after graduation. I've been at Planetary for the past 7 years and now head up the radio department where we sling records to college, non-comm, and commercial specialty radio.
Why does college/community radio matter in today's fragmented environment?
Since the beginning radio has mattered and continues to do so because of the people behind it, real music fans. Yes, one can consume music in so may different ways nowadays, but there's nothing like someone gushing about new music that makes you want to be a part of something. Music tends to speak for itself and nothing gets by these stations, they program the best for their listeners, take chances and champion what they feel embodies their sound, and genuinely break new artists. People will always rise above algorithms because they make us feel things when they're passionate about the music.
What is your favorite experience you've had in your career? Perhaps a musical idol you got to meet? A festival you were able to attend? A project you were involved with promoting?
I've done a ton of cool things during my time at Planetary but if I had to pick one, I'd say it was going across the pond to the Great Escape festival! I'd done CMJ in NYC and SXSW a few times but the Great Escape was a more smaller, more manageable, and organized festival where I saw tons of bands in tiny clubs, and even got to watch one of our artists, Courtney Barnett, in the big dome before hanging out in the green room with the whole crew! I LOVE music festivals and this one just took the cake.
What band/artist outside the realm of college/community radio would people be surprised to hear you love?
I'm not very secretive about what I like and its no surprise that I listen to a ton of pop music, my favorite being Britney Spears. I've seen her like 4 times including Kimmel and Vegas. On the other spectrum I live for Joanna Newsom, I would even workout to Have One On Me when it came out, I couldn't stop listening to it.
What job do you think you would you be doing if you weren't a promoter?
I honestly have NO CLUE what I would do. There's tons of things I like but none as much as music. Living in L.A. there are lots of cool jobs so I guess I could jump into another entertainment sector, I don't know.
Do you think college/community radio will ever actually be an all-digital format? And if so, when?
I honestly don't think it will ever be truly digital. KRUX was digital even when I started there but we would always put CDs on the shelf in the studio. There's nothing like holding the CD, looking at the artwork, and overall exploring the project the way the artist intended, that's how people fall in love.
You just won a million dollars. What are you going to do with it?
I was just talking about this the other day and I said I'd buy a house in the middle of L.A. before realizing that wouldn't even be close to enough in the neighborhood I was looking at. I'd still buy property somewhere, real estate is always on the up and up.
What TV show are you obsessed with atm? Or are you one of 'those people' that doesn't watch TV?
I actually didn't use to watch TV when I was in college but now its all I do. During the fall I'll keep up with all the comedies on ABC (I have a short attention span and half-hour shows are up my alley), whatever's new on Netflix (Master of None, Kimmy Schmidt, etc.), and of course anything on HBO. Sometimes I get overwhelmed and end up just scrolling through Simpsons World on FX, anything from seasons 2-12.
If someone came to town, what is your favorite restaurant you'd take them to?
I'd want to take them to Howlin' Rays but not everyone is down to wait over 2 hours for the most incredible Nashville hot chicken sandwich in L.A. For a minimal wait I'd probably take them to our favorite neighborhood spot Beer Belly, they have amazing food, a great beer selection, and I can walk there.
You're stranded on a desert island. What five well known people (dead or alive) would you like to have there with you?
Hmm, the five well known people I'd take with me on a desert island would be Leo DiCaprio because of yachts and you'd need someone to be by you when you're on the door, Britney Spears, Reese Witherspoon, my girl J.Lo, and Ezra Koenig (shouts out to the Crisis Crew!)