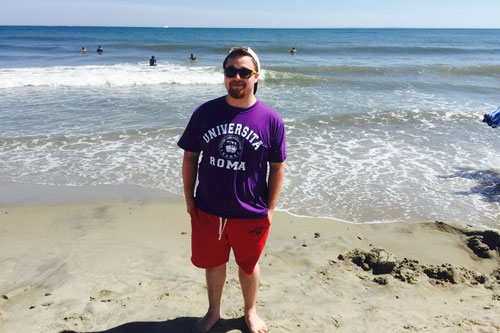 Interview with:
Dom Paolo
Pirate! Promotions
Tell us a bit about the career path that led to where you are now.
My grandfather was a legendary accordion teacher. I started learning accordion under his direction, but eventually swapped over to the flute. I quickly realized music was where I wanted to be. As my middle and high school years went by, I found myself really drawn to our side of the industry. I would be at concerts two to three times a week, helping street teams, and doing any sort of promo I could to help the bands I liked grow. I ended up studying music education, but wanted to keep one foot on each side, so as soon as I got to the University of New Hampshire I became a DJ at WUNH. I quickly became the music director there, and held that position for nearly four years. I made a lot of great friends in the radio promo realm, and after graduating, I reconnected with Steve at Pirate! Promotions and started working here soon after.
What is your favorite experience you've had in your career? Perhaps a musical idol you got to meet? A festival you were able to attend? A project you were involved with promoting?
One artist that meant a lot to me over the years was The Ready Set. He was playing a show just outside of Boston, and I was given the opportunity to be on the crew for the show. I helped with a lot of the behind-the-scenes activities and got to hang out with the rest of the team for the night. I had him write a line down on paper from one of his songs that always inspired me, and a week later I had it tattooed on my arm. Any time I feel a little lost in this industry, that lyric helps reignite my passion. I'll never forget that day.
What have been some challenges (and perhaps any solutions to them) you've faced promoting music during this pandemic?
We've always been in the business of emails and phone calls, but getting to finally meet in-person with stations at conferences or concerts really helped turn those relationships into friendships. Not having that has been tough this year, and sometimes makes it hard to connect with people, especially when these stations suddenly have a bunch of their own challenges to overcome internally that consumes their time.
What band/artist or style of music outside the realm of college/community radio would people be most intrigued to hear you love?
I am a sucker for feel-good, upbeat, cheeky pop music. I'm unashamed to admit some of my go-to artists are Maroon 5, Owl City, Dua Lipa, Years & Years, and the like.
What job do you think you would have if you weren't in this industry?
I graduated with a degree in music education, so probably teaching music in a high school somewhere. Or at least conducting an ensemble of sorts.
What destination would you most like to visit and why?
I have already been to Vienna, Austria before, but I would love nothing more than to go back. The food, the music, the culture – it was all so incredible!
You just won 10 million dollars. What are you going to do with it?
First, I'd pay off my student loans and build a house in Maine with my girlfriend. Second, I'd give back to those that have been by my side when I needed it most. Lastly, I would donate a large portion. I've always wanted to fund a scholarship for passionate high schoolers looking to pursue radio or music in general as a career.
Entertainment Time: What is/are your current favorite TV obsession(s)? What's a great movie (new or old) you've watched recently? What is your current favorite album?
I just binged the entirety of Schitt's Creek on Netflix in like four days, and I really look forward to the new episode of Superstore each week. Both shows are unbelievably funny. The Office is always my go-to when I'm bored though. For music, I still find myself gravitating towards the new PVRIS album when I need something to listen to, or any of Chloe Moriondo's most recent singles.
Do you (or did you when dining out was safer) have a favorite restaurant in town to take out-of-town guests to?
It's a little bit of a drive from where I live, but there's an incredible breakfast place called The Big Bean in Newmarket, New Hampshire that I love taking people to.
You're stranded on a desert island (or in your own home!) What five well known people (dead or alive) would you like to have there with you?
Regis Philbin, Lauren Graham, Barack Obama, Rainn Wilson, and Emma Watson.