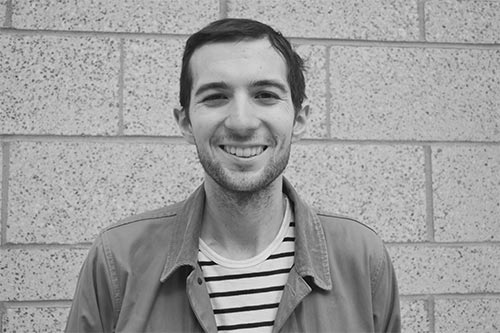 Interview with:
Terence Praet
General Manager, Distiller Promo
Tell us a bit about the career path that led to where you are now.
I became a DJ at WSPN during my first semester at Skidmore in upstate New York. As a deeply shy kid, I couldn't have told you why I wanted to be a DJ. It just the thing I knew I needed to do. Reflecting on it, I'm still not entirely sure what drew me to it, but I'm sure getting to play my music on the radio played a part.
The next year I became the station's librarian and was elected head music director my senior year. Christine Sanley was my contact at Distiller, and she brought me on as an intern after I graduated. I've been here ever since.
Why does college/community radio matter in today's fragmented environment?
College and community radio provide unique opportunities to everyone involved. On the broadcasting side, DJs have more freedom to focus on music that interests them. People can share their weird obsession with the world. Rather than hearing the same 40 songs every two hours, as a listener you often don't know what you're going to get, and that can be a really fun experience.
Conversely, you get shows that build real followings and become institutions. Thinking back to WSPN, I remember the station had an iconic show dedicated to metal music. That show has been airing for over two decades and has hundreds of fans. That is something that only really happens in college and community radio.
What is your favorite experience you've had in your career? Perhaps a musical idol you got to meet? A festival you were able to attend? A project you were involved with promoting?
Pretty shortly after I started working at Distiller, contacting CMJ World & RPM reporters became one of my primary tasks. At the time, I wasn't familiar with much music outside of the rock tradition, and I had no idea what I was getting into. Promoting music to those formats opened my eyes (ears?) to a host of artists and musical styles from around the world that I doubt I'd have encountered otherwise. Getting to hear and share the music of artists like Ballaké Sissoko, Juana Molina, and Konono Nº 1
What band/artist outside the realm of college/community radio would people be surprised to hear you love?
Katrina and the Waves. Their earlier work at least, if I can say that without being a complete stereotype. The band's self-titled album is filled with power pop gems (including, of course, "Walking on Sunshine"). Also, the lead guitarist from The Soft Boys, a band no one will be surprised to hear I love, is the primary songwriter and lead guitarist.
What job do you think you would you be doing if you weren't a promoter?
I write a little on the side, and if I weren't working as a promoter, I'd plan to focus on that.
What destination would you most like to visit and why?
My family watched a lot of nature documentaries when I was a kid, and we always talked about going to the Galápagos Islands. We never did take a trip there, but I would still love to see them.
You just won a million dollars. What are you going to do with it?
Buy a million things from the dollar store.
What is/are your current favorite TV obsession(s)? What was your favorite movie of 2017?
Halt and Catch Fire is my main TV obsession at the moment. The series just ended last fall, and I would rank it among the best I've seen. Recently, I've also been obsessed with the upcoming adaptation of Good Omens. It's based on a novel co-written by Neil Gaiman and Terry Pratchett, and Gaiman wrote the screenplay for the show.
Speaking of adaptations, I really enjoyed Annihilation. It's not a 2017 movie, but it's one of the few I've seen in the past year. All five members of the main cast do a stellar job, and the sound design and music choices are add to the atmosphere.
When friends come to town, what is your favorite restaurant you take them to?
I'm lucky to have one of Portland's best bars within a ten minute walk of my apartment, so when friends visit, Saraveza is where we go. The beer on draft is constantly rotating, and I can't remember the last time I had a bad beer there. It also has a veritable library of bottles and cans available and delicious food.
You're stranded on a desert island. What five well known people (dead or alive) would you like to have there with you?
Gilligan
The skipper, too,
The millionaire
And his wife
The movie star
The Professor and Mary Ann