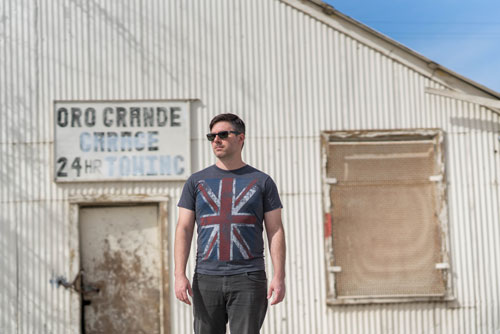 Interview with:
James Holland
Airplay Junkie
Tell us a bit about the career path that led to where you are now.
I've been a musician since I was 13 and have been in plenty of bands with lofty aspirations. None of those bands really made any waves and, when my last serious band folded, I decided to get into the music business. In 2011, I moved to LA, did a bunch of internships, some more reputable than others, and ended up getting hired to do Alternative Specialty at a company called Substance Co. (RIP). I ended up leaving that company to start Airplay Junkie at the end of 2013.
Why does college/community radio matter in today's fragmented environment?
College and community radio is actively excited about new music, new artists, and sharing music that might not be heard elsewhere. Not only do they provide one of the most accessible ways for artists to get their music out there but it's one of the few ways for an artist to have a presence in individual markets across North America. If you're going to play St. Louis or Denver, it's those local stations that will make a difference to who gets excited and who knows about the shows. Our fragmented environment just means you need to need to act locally to get your music heard. Artists and labels have to take the most grassroots approach to getting heard and those types of stations are the way for that to happen.
What is your favorite experience you've had in your career? Perhaps a musical idol you got to meet? A festival you were able to attend? A project you were involved with promoting?
I have a few that I like to share. I was able to promote Robert DeLong to specialty radio when he was unsigned and playing residencies in Echo Park and seeing his trajectory has been amazing. One of my first clients when I started Airplay Junkie was a really cool, quirky UK band called Beaty Heart who came to the US in support of Jungle. I got to watch a good portion of the show from backstage.
What band/artist completely outside the realm of college/community radio would people be surprised to hear you love?
I'm not sure if it's really outside the realm of college/community radio but I love those last two mixtapes from Charlie XCX.
What job do you think you would you be doing if you weren't a promoter?
Probably something else in the music industry. I've been a teacher, worked in life insurance, done presentations on Medicare, and a hundred other things. I'd rather work in music.
What destination would you most like to visit and why?
I've been seriously considering visiting Vietnam. It's supposed to be amazing, somewhat untouched by the level of tourism you see in the rest of Southeast Asia and there's so much more to Vietnamese cuisine than we get here. Also, look up Ha Long Bay. It looks amazing.
You just won a million dollars. What are you going to do with it?
I can work remotely so… Also, I would probably find a way to blow a bunch of money on guitar stuff.
What is/are your current favorite TV obsession(s)? What's the best movie you've seen this year?
I've really been enjoying Glow lately and burned through The Sinner pretty quickly as well. I haven't been digging too deep with movies this year beyond superhero movies but I'm really looking forward to Bad Times at The El Royale.
When friends come to town, what is your favorite restaurant you take them to?
There's so much here that it's hard to choose. Guelaguetza is a fantastic Oaxacan restaurant, Shin-sen-Gumi in Little Tokyo is a fave and, of course, LA has probably the best Koreatown outside of Korea.
You're stranded on a desert island. What five well known people (dead or alive) would you hope to have there with you?
Bjork, Gilda Radner, Anthony Bourdain, Ben Franklin, Jimi Hendrix