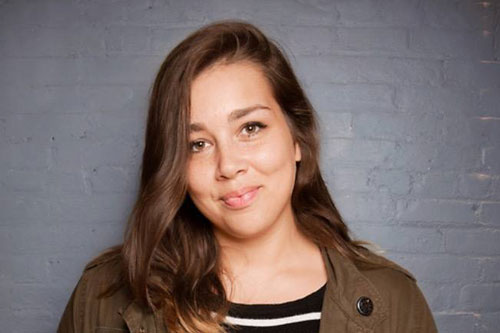 Community Interview with:
Jordan Howard
The Syndicate
Tell us a bit about the career path that led to where you are now.
I started working at my college station, KRNU (Lincoln, NE) Sophomore year of college, as well as this bar venue called Vega, back in Lincoln. After that, I interned with The Syndicate summer of 2015, kept in contact with everyone until I graduated college and then moved to New Jersey to work at The Syndicate upon graduating in August of 2017!
Why does college/community radio matter in today's fragmented environment?
For me, when I was back at my own station, college radio made the idea of consuming and absorbing music more exciting – as being at my station felt more independent than everything else going on. Being able to provide independent and local artists with a means to get their music out there really inspired me to keep going and to keep trying to help my own community. Being involved with your own local music scene, is really where you should start, ya know? I think one of the most important things about college and community radio is artist development, and where better to start than in your own community? Fast forward to now, I'm still working hands on with new artists and bands to make sure they are connecting with new fans and listeners at radio so that they are able to sustain a long-lasting connection with their audiences!
What is your favorite experience you've had in your career? Perhaps a musical idol you got to meet? A festival you were able to attend? A project you were involved with promoting?
Aside from all of the amazing artists that I get to work with on a daily basis, meeting Billy Corgan and Noel Gallagher was pretty unreal. I never thought I'd ever meet any of my 90s idols…so that has been pretty cool. Getting to work with any of the artists and projects that I have been a part of has been such a great experience as well.
What band/artist outside the realm of college/community radio would people be surprised to hear you love?
Hootie & The Blowfish and Ska music – be surprised or not!!!
What job do you think you would you be doing if you weren't a promoter?
The whole reason I changed my major from Forensic Science freshman year of college was because I knew that I couldn't ignore my obsession with music and my interest with the music industry itself. So, if I wasn't a promoter, I would probably be doing something else within the industry! (and also still be living in Nebraska!)
What destination would you most like to visit and why?
My grandma was from Guam, so I think it would be really cool to visit her birthplace. Otherwise, I've always wanted to visit Australia ever since I watched Mary Kate & Ashley's "Our Lips Are Sealed".
You just won a million dollars. What are you going to do with it?
I've actually thought about this recently. First, I would pay off any debt that I had, and then allocate money to friends and family so that they are able to pay off debt/purchase anything they've been needing, etc. THEN I would donate a good amount to charities AND THEN maybe I would buy the Crocs company if I had enough funding left.
What is/are your current favorite TV obsession(s)?
I watch Tommy Boy and Encino Man like every weekend. Otherwise, I'm a big fan of like South Park, American Dad, Beavis and Butthead (obviously) and music/rock docs.
When friends come to town, what is your favorite restaurant you take them to?
White Mana (Jersey City, NJ) – a historical landmark that was introduced during the 1939 NYC World's Fair with exceptionally good (and cheap) sliders and cheese fries!!!
You're stranded on a desert island. What five well known people (dead or alive) would you like to have there with you?
Courtney Barnett
Kim Deal
Chris Farley
My Mom
Eddie Vedder