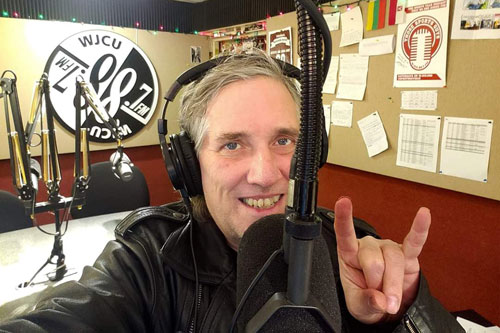 Genre DJ of the Month (Metal):
Bill Peters
WJCU Metal Director : Cleveland, OH
How long have you been involved with WJCU and how did you first hear about the station?

This is my 38th year hosting my Friday night Metal On Metal radio show. I have a pretty big audience tuning in each week from all around the world. I started way back when dinosaurs roamed the earth. (laughs) There was no internet streaming then, just our local radio signal. The station's call letters were WUJC in those days. I've had the same general time slot all these years. I never planned to be on the air this long. It just kind of happened. Some people in the industry have told me it's the longest running heavy metal show in the history of radio. I don't know, I just do it because I like this kind of music so much. It's always been a labor of love for me. I'm just a fan like anyone else. It was never about being a professional career DJ or anything.


I first heard about the station after discovering the left end of the radio dial shortly after graduating high school. By chance, I stumbled upon Cleveland State University's WCSB 89.3 FM. They had two heavy metal shows on Friday I started listening to every week. Eventually, this led me a little further down the dial to John Carroll University's WUJC 88.7 FM. They had a Saturday morning hard rock and heavy metal show I began tuning into each week. I would call in requests to both stations regularly. The DJ from WUJC, Mitch Capka, eventually invited me to stop by the station while he was on the air to do a 30-minute guest DJ appearance. I was really surprised he offered this to me. I brought some of my import New Wave Of British Heavy Metal records, which were very underground at the time. The phone lines lit up like a Christmas tree! People were asking for more information about the bands I was playing. I fell in love with radio right then and there. I decided I wanted to be a DJ too. The rest is history!
You host the program Metal On Metal, tell us about it! (When is it on? Do you have specific metal you focus on or does anything go? etc.)
My show is currently on every Friday night from 6:30 p.m. to 9:30 p.m. I like to feature new bands or new music from old bands. Of course, I also mix in some older stuff as well. It seems as though my younger listeners love getting turned on to the older 70s and 80s bands (many of whom were not even born when these records were first being released), while my older listeners love finding out about the younger new bands. I only play music I personally like on the show, which covers a wide assortment of different sounds and styles. I grew up in an era when there were no subgenres. Metal was just metal – all united under one umbrella. I liked it better like that.
What was your favorite release of 2019?
That's a tough question. There were so many good releases. It's impossible for me to pick just one. I buy so much music. Ha! You have no idea. Off the top of my head, Grand Magus "Wolf God", Kryptos "Afterburner", The Rods "Brotherhood Of Metal" and Idle Hands "Mana" come to mind. More well-known bands like Amon Amarth, Death Angel, Overkill and Sabaton all put out solid albums too. I really liked Olathia's "Snake Charmer". They are one of our local Cleveland bands. Oh wait, can't forget about the comeback album from 70s hard rockers Angel . It was nice to finally hear some new music from those guys again. I remember seeing them live back in the 70s. Their stage show was incredible! I'm sure there are many more albums I am missing but that can give you some idea at least.
Is there any music slated for release before 2020 ends that you are particularly excited about?
I am really looking forward to the new album from New Wave Of British Heavy Metal legends Raven. It's called "Metal City" and is due out in September. The band has stated it's 'fast and crazy', just the way I like Raven to sound! I'm a huge fan of the NWOBHM era (1979-1983). I collected all the singles, albums, magazines, etc. as it was happening. It was such an exciting time to be a metal fan. So many bands were putting out music D.I.Y. style. The number of releases was staggering. I recently picked up a book by renowned author Martin Popoff called "Smokin' Values: A Headbanger's Guide To 900 NWOBHM Records". It's an excellent read and will give you a list of exactly how many releases actually came out during that time period. It was tough keeping up! I was working two jobs so I could afford to buy all those expensive imports.


Alice Cooper, Armored Saint and Blue Oyster Cult also have new studio albums scheduled I am excited about. Night Demon, one of my favorite bands, should have a full-length on the way in the not too distant future as well. They've released several singles of new music so far this year.
Do you have a favorite artist or album you never get tired of listening to?
Well, my all-time favorite artist is Alice Cooper. The very first record I ever bought was "School's Out" B/W "Gutter Cut" on a 45 single back in 1972. I heard the song on the radio and loved it but wondered why the female singer named Alice sounded so much like a guy. Unbeknownst to me at the time, Alice was not a girl! I didn't find this fact out until a short time later when I saw a special issue of 16 Magazine called "Freak Rock" in the grocery store while out shopping with my mom. The magazine featured Alice on the cover in full horror garb. The inside pages detailed the band's outrageous stage show with a ton of awesome photos. I was shocked to say the least! Not only was 'Alice' not a girl, he was also this scary looking crazed monster man on stage. It was just so freakin' cool, especially to a 12-year old kid like myself. I was a fan for life from that point on! The music Alice recorded with the original Alice Cooper band is still my favorite to this day. I never get tired of hearing those classic albums. I just listened to "Billion Dollar Babies" before we did this interview. I have a Platinum Sales Award plague for that album hanging on my wall from my 27- years working at the Warner Music Group.
Which artist/band has put on the best show you've ever seen live?
I guess I'm partial to Alice Cooper. I've seen him so many times. All his shows are outstanding. One in particular that stands out I attended was his 2013 Wacken Open Air festival performance in Germany. The show was filmed and recorded for a live release. Another Cooper show in 1978 comes to mind. Alice had a giant video screen on stage. He would jump in and out of the video action throughout the show. You'd see him running in the movie and then as he got closer the real Alice would jump out onto the stage being chased by whoever was after him in the video. He would then jump back into the video screen and appear in the movie. It was very state-of-the-art for the time and entertaining to watch. Unfortunately, I was too young to see the original band perform.
I've had the opportunity to meet all of the original A.C. band members over the years, including Alice himself on many occasions. I was very nervous when I first met Alice in 1986 at promotional radio lunch. I was hoping he wouldn't be a jerk. (laughs). Fortunately he wasn't. He was so cool. These guys were my childhood idols. My bedroom walls were plastered with concert posters of them. Never in my wildest dreams at that time would I have ever have imagined I would not only meet them one day in person but also become friends with some of them too. It's just so surreal. They are all super nice people. I've introduced them to my wife and kids. Alice is one of my daughter's favorite artists.

 I've been to literally hundreds and hundreds of shows, probably thousands actually. The first Metallica show in Cleveland deserves to be mentioned too. They were on their Kill 'Em All tour in 1983. It was an amazing high-energy show! I had never seen a band play that fast before. I was standing in the front row in front of Cliff Burton completely blown away. I met the guys after the show. Some of the radio I.D.'s they did for my radio show appear on the "Kill 'Em All" box set. A short time later I ended up working with Metallica at my Warner job. They got signed to our Elektra label.
Who is an artist or band totally outside the realm of the music you play on your show that people might be surprised to know you love?
I have snuck in many strange non heavy metal selections on my radio show over the years but oddly enough the one that garnered the most controversial reaction from my listeners was the night I played Jethro Tull. Their 1979 "Stormwatch" album is my personal favorite from Tull's extensive catalog. It's also their heaviest album, in my opinion. A 40th anniversary box set was released last year that I purchased so I thought I'd mix in a couple of previously unreleased live tracks from it one night. I picked out the two heaviest songs. Surprisingly, it did not go over well with some of my listeners. Not sure exactly why though. Trust me, I've played a lot stranger stuff before that didn't generate even a whisper. Maybe it has something to do with that whole "Best Metal Band" Grammy award thing from many years ago. That's a long time to hold a grudge! (laughs)
What is your best childhood memory?
I loved my childhood. I grew up on the west side of Cleveland. Those were the happiest times of my life. A music related childhood memory I have is playing DJ for the kids in the neighborhood. I had a stereo in my upstairs bedroom with speakers by the window overlooking our driveway. The kids would gather there to listen to music I would play. I would play 45s I had bought. You could get second hand used jukebox copies for only 35 cents. What I enjoyed the most was not playing the songs on the A-sides everyone knew, but spinning the more obscure B-sides. I loved turning my friends on to new music they had never heard even back then as a young kid, which I still do today on my radio show.
What event in your life would you say has shaped you the most as a person?
Not an event per se. My mom is the one who made me the person I am today. She instilled all that is good in me at a young age and has always been my biggest fan and supporter. She's my hero!
If you could choose, what time period in the past would you most want to travel back to and visit?
Take me back to Mayberry in the 60s. I want to hang out with Andy and Barney. Life was so much simpler and stress free then.
Do you have a favorite restaurant in Cleveland (dine-in or take out) that you recommend people try?
Melt Bar and Grilled. They have many locations throughout the area. Owner Matt Fish is a big metal fan. He loves Kiss and Motörhead. He grew up listening to my radio show. I corrupted him at a young age! (laughs) Melt feature unique gourmet grilled cheese sandwiches. They even have a sandwich on their menu called the Metal On Metal Mighty Macaroni Melt. It's my favorite! There's also a local ice cream shop called Chill that created a popular ice cream flavor named in honor of my radio show. The ice cream is black and leaves your tongue black after licking it! It's soooo metal!!! Chill says it's one of their best sellers and usually sells out quickly.
What in your life brings you the most joy?
Music, Hiking and Family.
Lightning Round:
Dog or Cat? Cat
Morning Person or Night Owl? Both. I don't sleep very much.
City or Country? Country
Beach or Mountains? Mountains
Watch TV or Read A Book? An equal balance of both.
Sunny or Rainy? Rainy
Restaurant or Home Cooking? Home Cooking
Pants or Shorts? Pants
Warm or Cold drinks? Cold
Given all of our time now spent at home, do you have any current favorite shows you're enjoying/binging? How about a movie (new or old) that you've watched recently that you loved?
Oh no, I was afraid you were going to ask that question. I'm not much of a movie watcher but love documentaries and old TV shows. Here's a few current favorites: Ancient Aliens, Survivorman, How The Universe Works, Finding Bigfoot, Man vs. Wild, Ice Road Truckers, Dark Shadows (original TV series), Andy Griffith, Star Trek (original TV series), Bewitched, Sea Of Tranquility (w/Pete Pardo) and Anton Petrov's science/astronomy/space show What Da Math? on YouTube, any space, mountain climbing or music documentaries. I do not live a normal life for a guy my age! (laughs).
Finally, what do you miss most about your pre-pandemic life?
I reconnected with hiking a few years ago thanks to a suggestion from my mom. I love being out with nature. It's really helped lift my spirits. We have a lot of cool parks and nature preserves in this area to explore. I usually hike alone so I guess as it turns out and unbeknownst to me at the time I picked the perfect hobby to have during a pandemic! I haven't slowed down at all. The longest I have hiked in a single day without stopping is a little over 18 miles. Of course I miss going to concerts and seeing friends, as most of us do, but not much else has changed. My heart goes out to all those who have suffered or lost a loved one during this pandemic. Hopefully better days are ahead.