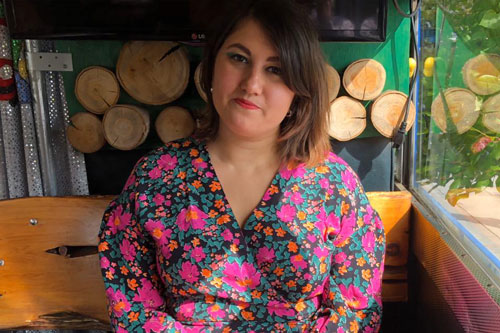 INDUSTRY INTERVIEW WITH:
Michelle Feghali
Sub Pop
Tell us a bit about the career path that led to where you are now.
In college I started out majoring in Psychology and Modern Dance and got to know a lot of the artists I love now while searching for songs to put my dance choreography to. Once I joined my college radio station though it was all over. After a year of working at WDBM (Michigan State) and a trip with them to CMJ in NYC, I happily became their Music Director. I kept strong relationships with the promoters and after college I got a gig at NJ-based marketing agency The Syndicate, where I soon after joined their radio promotions team. I spent three years promoting to College and Non-Commercial radio with The Syndicate and I'm so happy I did! The team there taught me so much and I wouldn't be where I am today without them. After The Syndicate I moved to Seattle, WA to become the Radio Promotions Manager at Sub Pop Records. I've been here in Seattle since the end of 2017 and they haven't fired me yet, so I guess I'm doing alright! Whaddup Beach House fans?!?!
What is your favorite experience you've had in your career? Perhaps a musical idol you got to meet? A festival you were able to attend? A project you were involved with promoting?
I have been way too fortunate in my career thus far. It's hard to choose which experience is my favorite. In college though, I went to RiotFest in Chicago with a photo pass to the festival. I got drunk and went to the photo pit, in front of the crowd, to take photos of Wu Tang Clan. I was so hyped I stopped taking photos and just starting yelling to them that I loved them and they yelled back and brought me on stage after to hang. They were too cool. I'll never forget that.
What have been some new challenges (and perhaps any solutions to them) you've faced promoting music during this pandemic?
This year has been a struggle for everyone, I'm sure. My biggest challenge has been getting folks interested in new music. Normally we have SXSW, Non-Commvention, SummitFest, and other music events to get face-to-face time with stations and our artists, but without those events programmers are forced to learn about new music through my conversations with them over email/phone, any press we can get for them, and from live sessions they see online. I'm not really sure there is a solution to this problem, to be completely real. I think the new artists just have to do their best to stay active online and I just have to do my best to showcase artists over the internet the best ways I can.
What band/artist or style of music outside the realm of college/community radio would people be most intrigued to hear you love?
It's really hard for me to get outside of the "college radio" realm – every type of music seems to fit in there in some shape or form. My personal favorite artists are Aldous Harding, Alex G, Sharon Van Etten, Beirut, and Frank Ocean… to name a few!
What job do you think you would have if you weren't in this industry?
100% would be an actress and screenwriter. I still think about leaving radio promo world and moving to LA to become *a big Hollywood star*, but who needs another one of those these days, right?
What destination would you most like to visit and why?
I'd love to go to India. I'm big into meditation and yoga and I hear they do a lot of that there.
You just won a million dollars. What are you going to do with it?
At this point… pay off my debts and give the rest to people who need it. There's too many less fortunate than me in this world. I just want to stay afloat and help others get to that point as well. If I had some money left over maybe I'd open up a coffee/record/dog shop where you can drink good coffee, listen to records, and hang out with the dogs that live there. Why not, that sounds cool, right?
What is/are your current favorite TV obsession(s)?   What's a great movie (new or old) you've watched recently?
I wouldn't say I'm obsessed with anything I'm watching on TV right now, although I did really get into that show, Midnight Gospel, from the creator of Adventure Time. Really though, I'm mostly watching documentaries and movies that will educate me. I recently watched the movies Just Mercy and 13th – I HIGHLY recommend anyone reading this to check those out.
What is your current favorite album?
Ooof.. favorite album of all time is tough. I normally go with Frank Ocean's Channel Orange. That record is flawless. I'm currently listening to a lot of clipping. recently though.
Back when hosting out-of-town guests was more common, what was your favorite restaurant in town you'd wish to take them to?
I love the restaurant Homer in Seattle! Everyone come visit me, when it's safe, and we can all go there!! They serve up some of the best Middle Eastern food in the city.
You're stranded on a desert island (or in your own home!)  What five well known people (dead or alive) would you like to have there with you?
What a tough question! Would love to have Donald Glover there with me – love him. Maybe Snoop Dogg too? Let's add in Martha Stewart, Trevor Noah, and Anthony Bourdain. That's a CREW right there!!