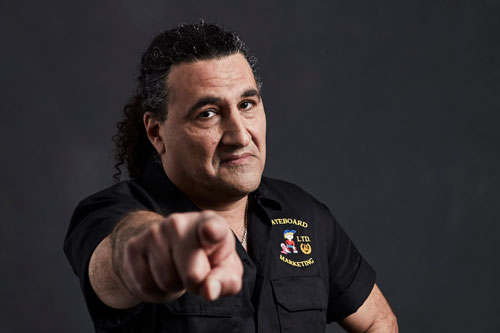 Interview with:
Munsey
Skateboard Marketing Ltd.
Tell us a bit about the career path that led to where you are now.
I started out as a guitar player in a thrash band and worked in a recording studio. That was the early 80's and there was a lot happening with artists. We never got signed so I did what most people do and went back to school. From there I had my studio gig but started in college radio. My first station was WCWP FM in Greenvale, NY. I was the side kick for the top 10 at10 on Sunday nights. From there I transferred to City Univ Of New York in Queens. I got the MD/PD gig for WQCC. In order to do a national promo gig, you really need to have a full background in radio so you know how it works. I was lucky to land a part time gig at CMJ Media in 1986. That gave me the whole picture of radio and records. It was an experience that any 20 year old needs to learn from.
In 1987 I landed another part time gig at Combat-In Effect Records in Hollis, Queens. I was there for a year and worked after class and got to know the inner workings of record promotion, distro and publicity. When they were bought by Sony the staff was let go except a few people. All of this was vital to landing the Dir National Metal Promotion gig at PolyGram Records in 1989. It's all a stepping stone and it's how you pivot yourself within the industry to advance your career. I had the knowhow to set up the labels first metal radio department. It was a lot of work but was one of the best gigs a 24 year old can have.
In 1991 many of the staff were cut lose including myself. So Johnny Barbis and Sky Daniels said here's what you do. "Work Indy until you decide what you want to do. So I started the company in August 1991. There is a special thanks to KRZQ's Chris Payne for actually coming up with the name for us by a casual conversation. This August Skateboard celebrates our 27th Anniversary.
What role does college & community radio play in promoting Heavy/Metal/Loud Rock music?
College and community radio are the backbone of what we do. Yes the commercial and syndicated stations are also just as important. But college on the other hand is more diversified in having the freedom to play what commercial stations can't. So as a key starting point for artist development, they are major players in helping build the story and have solid artist branding. Without them you wouldn't have rock stars and a industry that believes in building careers for new bands.
What is your favorite experience you've had in your career? Perhaps a musical idol you got to meet? A festival you were able to attend? A project you were involved with promoting?
I've been blessed to have so many so it's hard to really pick one. But one of my most memorable highlights was meeting and then interviewing Ronnie James Dio in 1986. Him and Wendy later became my mentors when I started the company. If there's one person outside of Lemmy that I miss the most it's Ronnie.
What band/artist outside the realm of the Heavy/Metal/Loud Rock world would people be surprised to hear you love?
Yes it's crazy but I do really dig some old school alternative like Dump Truck and Joy Division. I'm also a big Zeppelin fan too.
What job do you think you would you be doing if you weren't a promoter?
Well I'd probably be either a fireman or conservation dept.
What destination would you most like to visit and why?
I always wanted to go to Africa and look at the vast amount of wildlife. It always looks totally amazing when I watch Natgo. It just looks like one of the coolest things you can do!
You just won a million dollars. What are you going to do with it?
Put it in the bank and keep working records!
What is/are your current favorite TV obsession(s)?  What was your favorite movie of 2018 so far?
I am a Law & Order junkie, I can sit and watch it all day and never get tired of it.
When friends come to town, what is your favorite restaurant you take them to?
The local pub that has metal on the jukebox and stellar burgers. Or unless we go to Duffs in Brooklyn to drink.
You're stranded on a desert island. What five well known people (dead or alive) would you like to have there with you?
Elvis, Lemmy, Ronnie James Dio and Wendy and Todd Singerman.