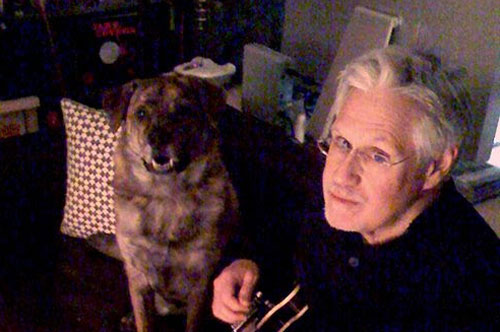 Interview with:
Peter Hay
Twin Vision
Tell us a bit about the career path that led to where you are now.
I graduated from Seton Hall with a degree in Communication Arts and immediately got a job as an A&R staffer and publicity copy writer at London Records, where I worked for eight years with artists like ZZ Top, Dave Edmunds, Al Green among others. I learned every aspect of the business during this time and professionally associated with some of the music businesses' most legendary luminaries, characters with storied pasts from the '30s, '40s, '50s and '60s.
Twin Vision emerged from my experiences running independent labels (including my own, called NEO Records). These indie label adventures included working for Genya Raven's Polish Records, a punk/new wave imprint where I dealt Cheetah Chrome of the Dead Boys, and lots bands that emerged from the peak NYC's CBGB's era. I then went on to sundry other labels whose tortured histories included promotion and marketing of reissues, imports, all kinds of dance music, jazz and blues. I took all my acquired indie label wisdom and bulging database and began to farm out my services as a consultant.
In the early 90's, as technology made it possible for artists to record and release music without a major label, and with the emergence of the indie-friendly radio formats like AAA and Americana, Twin Vision was born. I boiled down my consultancy to just working these radio areas along with college radio which I had always done. I've been lucky over the years to attract great staffers (a number of whom went on to start their own successful companies). In the late 90's I hired a young woman named Sali Z who was music director at a college station in Cleveland. She worked for us for a couple of years and then about 15 years ago came back and headed the college department here. There is no one who knows more about college radio than Sali, I'm fortunate to work with her over these many years.
Why does non-commercial & college radio matter in today's fragmented environment?
Non-comm/college radio's key virtue is that it is still a geographical outpost to support developing artists. Good stations relate to their listener's community and sensibilities while providing adventurous playlist curation.
DJs garner followings by putting together good sets, making significant new discoveries and by being the listener's informed music buddy. A music buddy not only turns the listener on to new music, conveying details about it along the way, but also has a feel for life in the listeners region. This is the difference that makes the difference and its why people still develop a radio habit as part of their choices for getting new music.
When the artist has a gig in the listening area, they will already be recognizable and have credence with the kind of audience that would go to a show and follow their releases. This radio-artist symbiotic relationship is the cornerstone of new and independent artist development. From our point of view, this is the raison d'etre for college/non-comm radio.
What is your favorite experience you've had in your career? Perhaps a musical idol you got to meet? A festival you were able to attend? A project you were involved with promoting?
There are some music experiences that grab deeply to the core; unlike anything you're experienced, shocking in the moment, informing the way you listen ever after. In my first month in the business, the record company sent me to see an unknown band in a small club in Houston. From the first note, the band shook the building and everyone in it. The band was ZZ Top and I worked closely with them for the next 4 years as they went on to sell millions of albums and fill stadiums.
I have to mention one other experience. I became friends with the arranger/composer, Angelo Badalamenti. Along with David Lynch, he created all the music in Twin Peaks. David and Angelo hired me to promote those first Twin Peaks records. Strange and beautiful music that was turned down everywhere until it wasn't. A teeth-cutting promotion journey for me and thrilling to be working for such remarkable and revolutionary artists.
What band/artist completely outside the realm of college/community radio would people be surprised to hear you love?
The classic singers who work the American Songbook (e.g. Sinatra, Nat King Cole, Louis Armstrong, Mel Torme, Ella)
What job do you think you would you be doing if you weren't a promoter?
High School or College Teacher
What destination would you most like to visit and why?
Morocco, because my first visit still resonates with me many years later (the people, the desert, the food).
You just won a million dollars. What are you going to do with it?
Start a record label, and generate awareness and funds for certain charitable causes. The artist and label would become partners and chose the charity.
What is/are your current favorite TV obsession(s)? What's the best movie you've seen this year?
Better Call Saul, High Maintenance, Broad City, Blackkklansman
When friends come to NYC, what is your favorite restaurant you take them to?
Katz's (if they eat meat). If not, Bella Gioia for Italian in Brooklyn
You're stranded on a desert island. What five well known people (dead or alive) would you hope to have there with you?
Pete Hamill, Peter O'Toole, John Lennon, Obama, Helen Mirren