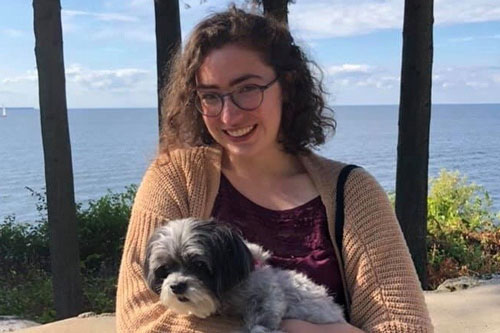 Industry Interview with:
Tori Benes
Tiger Bomb Promo
Tell us a bit about the career path that led to where you are now.
My love of radio sprouted at WUOG, University of Georgia's station! I DJed there for four years and served as a music director for two. I started interning at Tiger Bomb during my third year in school and continued to do so in varying capacities throughout the rest of my college career. I also learned loads about the music industry through internships at Polyvinyl, Riot Act Media, and Arrowhawk Records (I still help out at the latter). I was offered a position upon my graduation and I've been at Tiger Bomb ever since!
What is your favorite experience you've had in your career? Perhaps a musical idol you got to meet? A festival you were able to attend? A project you were involved with promoting?
As I write this, we're just kicking off the campaign for Sufjan Stevens' The Ascension! Sufjan Stevens is my favorite artist of all time, so it has been a dream come true to be a part of the team to bring this record to radio! I'm in a constant state of tears of joy :') Tenci's My Heart Is An Open Field and Merce Lemon's Moonth have also been such meaningful projects to me! Both artists' work feels deeply woven into my emotional being and it has brought me the purest bliss to share their full-length debuts with my sweet pals at radio. Ultimately the music directors make this job though! I consider so many music directors close friends and I feel so fortunate to get to talk to my friends about music each day as my job! The music directors are the greatest gift :')
What have been some new challenges (and perhaps any solutions to them) you've faced promoting music during this pandemic?
The biggest challenge has been keeping up to date with which stations and music directors have the capabilities to operate and how they'd like to communicate right now. Folks are as enthusiastic about music as ever though, so it's been heartwarming to see how radio has rallied to support their communities and independent artists in this time. Most of the changes have come from the station side, and I'm so proud and thankful of how radio continues to adapt.
What band/artist or style of music outside the realm of college/community radio would people be most intrigued to hear you love?
I'm a huge Madonna fan. Ray of Light is an immaculate album!
What job do you think you would have if you weren't in this industry?
In an alternate reality where I enjoy science, I'd be a veterinarian or work in wildlife conservation. In our current reality, I could see myself working in a role connected to sustainability or at a non profit.
What destination would you most like to visit and why?
I've always wanted to visit South Africa! I have childhood friends that live there so I'd love to see them, and I of course would be stoked to see the wildlife.
You just won a million dollars. What are you going to do with it?
I'm going to buy a pair of pastel tie dye crocs (I've wanted a pair for ages and just can't justify spending money on Crocs in 2020) and save a little for a rainy day, but I'd donate the majority.
Entertainment Time: What is/are your current favorite TV obsession(s)? What's a great movie (new or old) you've watched recently? What is your current favorite album?
I've been watching Buffy the Vampire Slayer for the first time and I truly am in deep! I have a long history of enjoying vampire media, so I was definitely susceptible to the show's premise and charm, but I'm also really excited about how queer of a show it is. I didn't expect that! I think the last movie I saw was Becoming John Malkovich and it is potentially the weirdest movie I've ever seen. As for music, that changes on the daily, but Sufjan Stevens' The Ascension, Thanya Iyer's Kind, Lomelda's Hannah, and Stereolab's discography have all been in my heavy rotation as of recent.
Back when dining out was more common, what was your favorite restaurant in town to take out-of-town guests to?
Hi-Lo all the way. They have the most amazing tempeh sandwiches and the only fries that matter in this town. Not to mention great drinks.
You're stranded on a desert island (or in your own home!) What five well known people (dead or alive) would you like to have there with you?
Four of my closest friends (they are well known in their respective spheres) and then Bear Gyrlls to keep us alive.