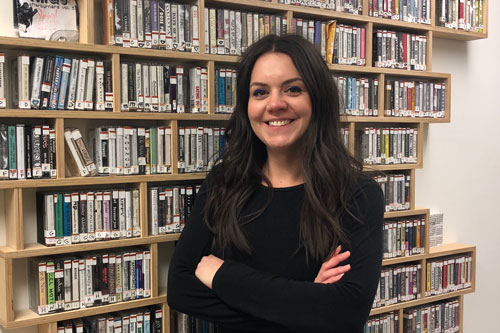 April MD of the Month:
Hayley Muir
CJSW 90.9 — Calgary, AB
Listen to NACC's MD Takeover on Spotify!

How did CJSW get started and how did you first hear about it?
CJSW's history dates back to 1955, before the University of Calgary even had a campus. The Calgary branch of the University of Alberta ran a 15-minute program that would evolve into a radio club when the Calgary campus opened in 1960. Those folks built a small station in a basement on campus and when the University of Calgary was officially established in 1966 the radio club relocated to MacEwan Hall, when it was built in 1967. After a broadcast license denial in 1974, an almost shutdown in 1980, and a successful license application in 1985, CJSW is still Calgary's only Campus and Community Radio Station and broadcasts from a big beautiful space on the third floor of MacEwan Hall. I think I first heard of CJSW in high school through friends and since I didn't know a lot about alternative kinds of music at the time, I didn't recognize much of the stuff they played. My music education came later in life when I started working at CJSW as a University student and then I became a really dedicated listener.
How long have you been at CJSW?  What is your history there?
 
Last year was my 10th anniversary at CJSW. I started in 2009 when I got a summer job at the station coordinating special events. I landed an on-air slot shortly after that and while my summer contract ended, I'd eventually end up back on staff as the Office and Volunteer Coordinator in 2010. I've been on air for the better part of 10 years, hosting various shows over the years. I'm currently the Friday morning host of Soul Food, and I spin lots of vintage soul and funk, afrobeat and disco. I came on as the Music Director in March last year and it's been an absolute pleasure to be back on staff.
With the current pandemic of COVID-19, what is your station doing to make sure you keep staff safe while still supporting the livelihood of musicians who rely on stations like yours to support their new releases?
 
What a weird time, hey? All the staff at CJSW are doing incredible work keeping things moving and staying updated with what's happening on campus and around Calgary. We're all mostly working remotely, and I'm continuing to get new releases out to our programmers. I sadly had to cancel or reschedule any on-air live performances for the next while, but I've been editing past live sessions into one-hour "concerts" we can air when a programmer can't do their show. We also do a bi-monthly mailout of local releases that musicians drop off to us, so we're continuing to do that, as well as a digital version of it so we can get local music out across the country. We're constantly brainstorming with each other about new ways we can support musicians, so it's an evolving conversation. Gotta get creative!
Is there any music slated for release in 2020 that you are most excited about?
I'm really excited for new Moses Sumney in May, Lido Pimienta, some Sam Cooke reissues. Maybe finally a new Rihanna album … we need it now more than ever!
Do you have a favorite artist or album you never get tired of listening to?
Any and all Talking Heads album! There was a Marvin Gaye release last year that I listen to probably once a week. Ella In Berlin.
Which artist/band has put on the best show you've ever seen live?
Some highlights over the years for bigger artists would be Prince and Beyonce, of course! I caught a Questlove DJ set here in Calgary a few years ago that was one of the most fun shows I've been to. Sudan Archives, Basia Bulat, The Coathangers, Hailu Mergia.
Who is an artist or band outside the realm of what gets played on CJSW that people might be surprised to know you love?
Toto! Hold The Line is one of my favourite songs of all time. Also Doug and The Slugs.
What is your best childhood memory?
We moved around quite a bit when I was younger, so coming back to Calgary every summer to see family and friends was always a highlight.
What event in your life would you say has shaped you the most as a person?
Absolutely getting involved at CJSW! It opened me up to a huge world of music, but it also got me involved in my local music community in a way that I hadn't been before. Lots of the things I've worked on over the years – my own band The Shiverettes, and Femme Wave, a feminist arts festival I'm the co-founder of – probably wouldn't have come into existence without my becoming involved with CJSW.
If you could choose, what time period in the past would you most want to travel back to and visit?
I'd probably opt to travel to the future and see what kind of world we're all living in! But if that's not an option I'd say the 1960s so I could see my favourite soul musicians live.
Do you have a favorite restaurant in Calgary that you always make sure to take guests/visitors to?
We've got a lot of really great local breweries that I recommend often. Dandy Brewing has the best beer and a killer menu. Ten Foot Henry is number one for fellow vegetarians. And Tubby Dog is always a good place for visitors because it's wacky and fun and you get an entire tray of french fries.
What in your life brings you the most joy?
People and music! I'm a pretty social, extroverted person so I've been struggling with this new covid-reality we're in, but it's also been a cool reminder of how much joy human interaction really brings me.
Lightning Round:
Dog or Cat?  Don't tell my cat, but dogs
Morning Person or Night Owl?  Both, but probably more so mornings
City or Country?  City
Beach or Mountains?  Beach
Watch TV or Read A Book?  Both! Depends how my attention span is that day.
Sunny or Rainy?  Sunny
Dine or Delivery? Dine
Beard or Clean Shaven?  A well groomed beard
Pants or Shorts?  Shorts
Do you have any current favorite TV show obsessions?
I've watched every episode of Schitt's Creek multiple times, so it's for sure my favourite. A good friend recently recommended Drive To Survive, a Netflix series about Formula 1 racing, and it's surprisingly delightful for someone who's never given Formula 1 a second thought. Very outside of my normal TV interests, some intense action, very attractive men who are competitive, sure, but also pretty vulnerable and emotional on screen. It's great!
Finally, and most importantly… with many of us forced to spend a lot more time at home, what is an indoor activity (aside from watching TV) that you could suggest as a way to pass the time?
I've been cooking and baking quite a bit. Listening to the radio because there's always a friend there. Honestly, I'm still figuring this out myself. I don't have many hobbies that are solitary, indoor activities so I'm learning. I have a few things on my to-do list … journal, drawing, yoga, etc. I do turn off the news and put my phone down for a dinner time dance party every day. I'd suggest throwing on Tavares "Heaven Must Be Missing An Angel" and just going for it.