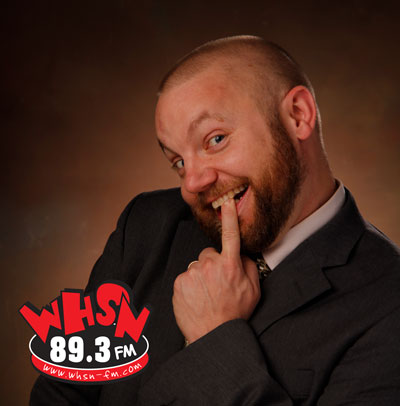 AUGUST MD of the MONTH:
Mark Nason,
WHSN 89.3 FM Bangor
What are you most proud of accomplishing/changing at WHSN since you became MD?
Without a doubt, my most proud moment for WHSN as a whole (not just in music) in the fall of 2016 when WHSN was nominated for Noncommercial station of the year by the National Association of Broadcasters as part of the annual Marconi awards. We didn't win (that honor went to WSOU that year) but, as cliché as it sounds, it truly was an honor to be nominated.
How did you first hear about WHSN?
I attended the (then) New England School of Broadcasting on the campus of (then) Husson College. 20+ years later I now manage WHSN in the Wildey Communication Center at the New England School of Communications at Husson University!
How long have you been at WHSN? What is your history there?
First as a student in the mid 90s then in 98 I came back as an employee, assisting the then Station Manager with operational duties. Since 2000 I have been Station Manager while also assuming duties in music and teaching courses at Husson University in the fields of communications and radio broadcasting.
How does WHSN make itself known throughout Bangor? What sort of things do you do to connect with the community?
In addition to terrestrial, streaming, and social media, WHSN is proud to work with local arts organizations and nonprofits to promote culture and support worthwhile causes in the Bangor area. For 12 years we hosted an annual concert to benefit the Greater New England Chapter of the National MS Society, we host 2 annual American Red Cross Blood Drives, and we passionately support local music.
What do you love most/dislike most about Bangor?
Bangor is Maine's 3rd largest city yet everywhere you turn it feels like a small town. Add to that the close-knit relationships in the community and you'll find that you love it here.
What artist/band have you heard for the first time this year that has impressed you the most?
Good question. First one that comes to mind is Walker Lukens on Modern Outsider.
What still-to-come 2017 album release are you most looking forward to?
The debut EP from Maine band The Very Reverend (check out their single "Leash"). I'm also looking forward to the new album from Torres in September.
Do you have a favorite artist or album you never get tired of listening to?
As a lifelong music fan there are albums I'll never tire of (The Lemonheads' It's A Shame About Ray for instance) but three albums from this year that I've been hooked on are Easy by The Weeks and Beth Ditto's new solo album, Fake Sugar. Dan Auerbach's new solo LP Waiting On A Song is another winner.
What is the best live show you have ever seen?

Best is subjective of course but one of the most memorable shows I've ever seen was Reverend Horton Heat with Th' Legendary Shack Shakers opening up. Another memorable one was seeing Radiohead open for Alanis Morissette on the Jagged Little Pill tour (yup).
What's the best gift anyone has ever given you?
Tough question. I have many things with sentimental value but it's some of my "what am I ever going to do with this" gifts that I have in my office that usual pique someone's interest (like my 1985 hand-painted ceramic statue of Gizmo from Gremlins)…I have a lot of weird stuff in my office.
Do you have a favorite restaurant in town you always make sure to take guests/visitors to?

We have a lot of great local casual and fine dining options in Bangor (so much good food) but if someone was only in town for one night, I'd take them to the local, legendary truck stop, Dysarts, and get the 18 wheeler (an 18-scoop ice cream sundae).
What's the one thing you can't do without?

My daily five cups of coffee (preferably from my giant 20oz "Super Dad" mug)
Lightning Round:
Dog or Cat? Dog (although I don't have one)
Coke or Pepsi? Coffee
Morning Person or Night Owl? I just turned 40 so it's safe to say my body wakes up way too early…and I'm usually too exhausted to stay up all night
City or Country? Country
Mountain or Beach? 
Neither. Home with my wife and kids
Dine or Delivery?
 Cook it myself
Beard or Clean Shaven? Beard (but trimmed, otherwise I look like a mountain man)
Pants or Shorts? Pants
Do you have a current favorite TV show obsession?

Not presently although I'm enjoying the final season of AMC's Turn
And finally, and most importantly, do you enjoy pie alone or does it need whipped cream and/or ice cream?

I have a massive sweet tooth, so I'll take it by itself or with whipped cream, ice cream or EVERYTHING!