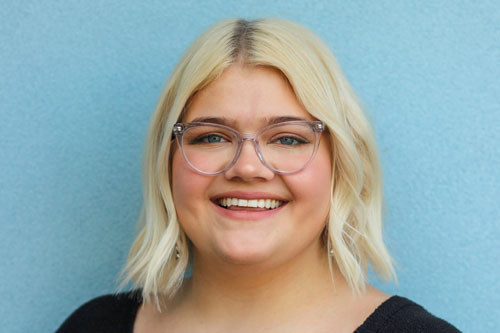 July MD of the Month:
Brynn Griffiths
Aggie Radio 92.3 KBLU, Logan, UT
Listen to NACC's MD Takeover on Spotify!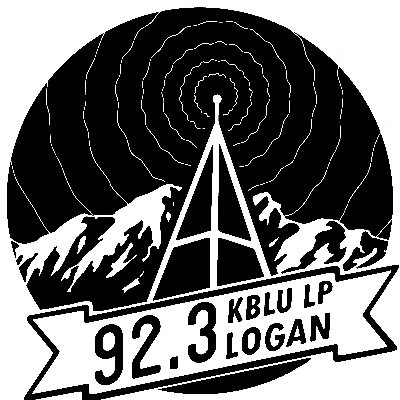 How did KBLU/Aggie Radio get started and how did you first hear about it?
Aggie Radio was first founded under another title in the year 1950, as an on-campus AM station. By 1963, the station shifted to FM and was broadcasting to the whole of Cache Valley by 1967. Back in 2016, Aggie Radio officially launched the station under its current call sign of KBLU and our permanent studio is now located in the Taggart Student Center on campus. I first heard about KBLU from a new friend, and our current station manager, Sierra. I have always been very involved with music, and when I finally got to campus, I decided that Aggie Radio would be the best place for me to put my love for music to good use.
How long have you been at KBLU/Aggie Radio? What is your history there?
I have been with Aggie Radio for one year. I started on our Music Selection Committee, reviewing music for the station and working with our then MD and my best friend, Lydia. I wanted to do more for the station, so when the position for Music Director opened up I jumped on the opportunity. I have been working as our Music Director since May.
What sorts of things do you do as music director to encourage DJs to play the new music you are sent by labels and promoters?
The current pandemic has made broadcasting pretty difficult for our DJs. But given these unfortunate circumstances, I make sure to catalog everything so our DJs have the information they need to play the music we are sent. I also make monthly Spotify playlists to encourage our DJs and our listeners to familiarize themselves with the music we are playing.
Is there any music slated for release coming up this year that you are most excited about?
I am really looking forward to the new Twin Peaks EP this month, as well as Matt Berninger's album that is releasing in October.
Do you have a favorite artist or album you never get tired of listening to?
I feel like I have a new favorite artist all the time, but I think that Phoebe Bridgers is somebody that I could listen to forever and never get bored. I played her first album "Stranger in the Alps" to death and I still listen to it often and with the same love I had when it was first released.
Which artist/band has put on the best show you've ever seen live?
Seeing BROCKHAMPTON live was an out-of-body experience. Their incredible live performance coupled with a perfectly unhinged crowd made it one of the most exciting concerts I have ever been to. Also, seeing boygenius (Phoebe Bridgers, Lucy Dacus, Julien Baker) was one of the most therapeutic concert experiences. The music was amazing and there was a degree of reverence in the crowd that made the whole experience feel that much more special.
Who is an artist or band totally outside the realm of the music you play on KBLU that people might be surprised to know you love?
I listen to a myriad of genres but I think that Charli XCX and 100 gecs are some of my most unusual favorites at the moment. I think the recent rise of hyper-pop is not something I would have expected myself to love, but the more I hear, the more I love.
What is your best childhood memory?
For my fourteenth birthday I was able to visit an educational wildlife sanctuary and interact with some of my favorite animals. Sloths and lemurs are some of my favorite animals, and this particular sanctuary had both of them which sparked so much joy in my little teenage heart. I have always loved animals, so that opportunity is something I still hold with such fondness.
What event in your life would you say has shaped you the most as a person?
I think moving to Logan for school has changed me for the better. Before I transferred to Utah State I was miserable and not being true to myself in any sense. Moving away from the places that brought me a lot of hardship, in turn, brought me the most happiness and has allowed me to grow beyond what I thought was possible. I feel like a walking cliche when I say that moving to another city changed my life, but starting over allowed me to open myself up to new relationships and to find the community I needed to be a part of.
If you could choose any time period in the past to travel back to and visit, what would it be and why?
Honestly I would love to revisit the 70's, for the sole purpose of experiencing the music and wearing the clothes. I get so excited about hearing new releases from my favorite artists, and I would love to experience that feeling with the discography of artists like Queen and Fleetwood Mac. I would also love the opportunity to fill my closet with all of the wild patterns and colors that made 70s fashion so distinctive.
Do you have a favorite restaurant in town that you always make sure to take guests/visitors to (or you did when you felt safe eating at a restaurant and having visitors)?
Tandoori Oven! It is the best Indian food you can get in the area.
What in your life brings you the most joy?
My friends and family. I always feel more like myself when I am around those I love and am able to make them laugh or feel happy.
Lightning Round:
Dog or Cat? Dogs
Morning Person or Night Owl? Night owl. I simply cannot go to bed before midnight.
City or Country? City
Beach or Mountains? Mountains
Watch TV or Read A Book? Watch TV, even though I should probably read
Sunny or Rainy? Rainy
Dine or Delivery? Delivery
Pants or Shorts? Pants
Warm or Cold drinks? Cold drinks
Do you have any current favorite shows you're enjoying/binging? How about a movie (new or old) that you've watched recently that you loved?
I am currently rewatching "Criminal Minds" for the 6th time in my life, which has been providing me plenty of entertainment in quarantine. I also recently watched "Booksmart" for the first time, and it knocked my socks off completely.
Finally, and most importantly… where is the first place you want to go again that is currently still closed due to the pandemic?
The movie theater. To me, there is nothing more healing than going to a movie alone to enjoy copious amounts of popcorn and new film release. I miss it so much.