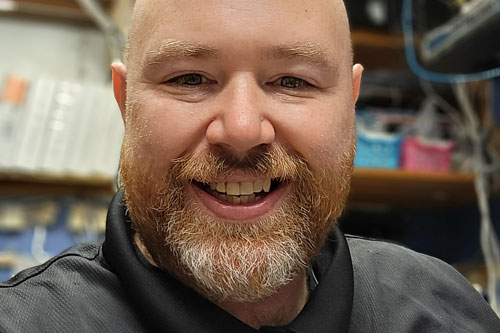 December 2021 MD of the Month:
Jeff Szczesniak
WDWN Auburn, NY
Listen to NACC's MD Takeover on Spotify!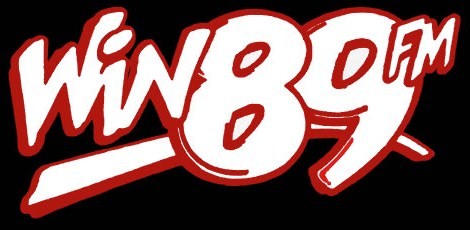 How long have you two been involved with WDWN and how did you first hear about the station?
After a few years of working and trying to figure stuff out after high school I enrolled at Cayuga Community College for Audio/Radio Production in the Fall of 1998. I wanted to learn how to record bands/music at first, but also got involved at WDWN by doing radio programs and production work for the station. That is when I became aware how radio plays such an important role of breaking in bands/artists and how the music industry & radio are intertwined and networked. People really do pay attention to the charts! I graduated and finished school, so I then volunteered for a few years at WDWN and eventually got hired on as an Instructional Assistant. I then worked my way up to the Station Advisor which I still am today since 2005. I am the PD/MD and the main contact here at the station to help maintain continuity which is very important in keeping your station established.
What advice can you offer other MDs as the best way to get their DJs to play the new music your station receives and how you get your on-air staff to play the new music you receive.
When we train new DJs at WDWN, we have them follow a format we have in place which is mainly artists from the NACC 200 to help explain the relevance of breaking in newer artists. This kind of helps with opening the doors for music discovery. But honestly, the tools are in front of you with the NACC Chart, encourage them follow the trends of the specific genre charts as well that configure to their programs. The charts are compiled from radio stations who are very similar to your station.
What is the part of your job you love the most?
I really do love searching and finding new music especially when you come across a song that changes your whole mood for that day. I mean you listen to it like 4 times in a row and forget about everything else in the world. Then you share it on social media, I am seriously guilty for that.
What has been your favorite album released in 2021?
Wildhund by Lantlôs on Prophecy Productions
https://lantlos.bandcamp.com/album/wildhund
Do you have a favorite artist or album you never get tired of listening to?
My favorite band of all time is Gentle Giant!
Which artist/band has put on the best live show you've ever seen? Have you attended a live show recently now that tours are beginning to happen?  If so, how was it seeing live music again?
I have not been to a live show since 2019, I am hoping that changes soon and I have seen many shows over the years that were so remarkable just so unbelievably good. But the one I will mention is from October 2000, it was during the World Series between the Yankees and the Mets. The band Cursive was playing in Buffalo, it was a few months after the Domestica album was released and after the show we met the guys and connected because they were going to play in Syracuse in like 3 days. The next night they called us from the road because they couldn't get across the border for a show in Montreal. So, they ended up staying at our house and we asked if we could form a band to open for their show in Syracuse. They said sure and the next day they went to Providence to open for Sunny Day Real Estate. They came back up to play in Syracuse and our band opened for them called Subway Series in which I played drums and we played 2 songs that we wrote in 2 days. Then Cursive took the stage and played a set for a small crowd and then took requests. It was such an amazing show!!!
Who is an artist or band totally outside the realm of the music you play on WDWN that people might be surprised to know you love?
This is a hard question for me, because I try to incorporate multi genres into WDWN and crossover a lot of artists. Not many people know this about me but I really dig the band America.
If you had the power to instantly change one thing going on in the world at the moment, what would it be?
I would like ideals & practices of civility to go viral in this world!
What event in your life would you say has shaped you the most as a person?
For me there is a long list of events and to answer this question properly, I might have to dwell on this and start a podcast. It really all comes down to how you can deal with adversity & prosperity to really shape and define yourself.
If you could choose, what time period in the past would you most want to travel back to visit and why?
I would go back 100 years to the Roaring Twenties. At that time a global pandemic, the Spanish Flu was ending. It was also the birth of Public Radio Broadcasting, Women's Suffrage, Jazz, Talkies, Penicillin and a surging economy which created an era of Mass Consumerism. Remember history repeats itself!
Do you have a favorite restaurant in town (dine-in or take out) that you recommend people try?
Since the pandemic I haven't been doing much frequenting out as I would like to, but whenever they have Smoked Pulled Pork Sandwiches or Smoked Pit Beef sandwiches at the Thirsty Pug I always try to get one and enjoy some great craft beer as well!!!
https://www.thirstypug.com/
What in your life brings you the most joy?
As cheesy as it sounds, Rest & Relaxation at the moment
Lightning Round:
Dog or Cat? Dog
Morning Person or Night Owl? Night Owl
City or Country? City
Beach or Mountains? Mountains
Watch TV or Read A Book? Watch TV
Sunny or Rainy? SNOW
Restaurant or Home Cooking? Restaurant
Pants or Shorts? Shorts
Warm or Cold Drinks? Cold Drinks
Do you have any current favorite shows you're enjoying/binging?  How about a movie (new or old) that you've watched recently that you loved?
Squid Games was the last show I watched and the newest movie I saw was Dune which I have both enjoyed. But during the pandemic a regular in my viewing habits has been Death Wish 3!
With it being the holiday season, what is a favorite memory you have or what do you most look forward to about this time of year?
When I was like 9 or 10 I asked my parents for a big jar of Polish dill pickles, I really wanted that has a gift and it was number one on my Christmas list. So, on Christmas day I got a gallon jar of pickles wrapped and placed under the tree. The jar lasted me about 2 days and I was a happy holiday camper!