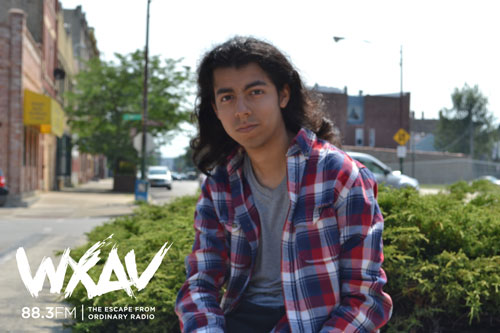 August MD of the Month:
Eddie Chavez
WXAV 88.3 FM, Chicago
Listen to NACC's MD Takeover on Spotify!

Tell us about WXAV. How it got started and how you first heard about it.
WXAV is a College Radio Station located on the south side of Chicago that has been broadcasting for over 25 years. I first found out about WXAV at my freshman orientation when a good friend of mine suggested I check out their information booth. The guy standing there would later turn out to be my future boss Peter Kreten, the station manager.
How long have you been at WXAV? What is your history there?
I've stayed with WXAV since freshman year. At first I was a volunteer learning the ropes of the station. I was always hanging around the station helping out with little things and then about half a year later a management position opened up. It's been one of the best things to happen in my life.
What makes WXAV unique in the Chicago radio landscape?
What makes WXAV special is that we are always trying something new. The Chicago radio stations that I listen to have stuck to the same formula for as long as I can remember. Our broadcasts from two years ago sound different to what we air today. I think this is because of the rotation of new people coming in and breathing new life to the broadcast. Being a college radio also allows us to have freedom and try new things.
What is your favorite album of 2018 so far?
My favorite album of 2018 so far is Golden Hour by Kacey Musgraves. That album is so solid front to back. I'm surprised more people aren't raving about it. It's been the soundtrack to my summer.
Do you have a favorite artist or album you never get tired of listening to?
One band that I will never get enough of is The Beatles. I've been listening to them since 5th grade, and I haven't stopped since! It is safe to say I am kind of obsessed about them.
What is your favorite live show you have ever attended?
My all time favorite live show that I attended was Paul McCartney in 2014. He was my first ever concert and, as a huge Beatles fan, I was beyond psyched. The second he came on stage I turned into one of the many screaming fans of the Beatlemania era. I was singing along to every song, I was crying, I was laughing; it was the best show of my life.
Who is an artist or band outside the realm of college radio that people might be surprised to know you love?
I don't know if Daft Punk counts but I'm going to say Daft Punk. I'm still waiting for their next tour, if it ever happens.
What was your favorite toy growing up?
I used to be obsessed with toy trains when I was younger. I watched Thomas the Tank Engine all the time and I was fascinated with trains. I think that is why I prefer to take the "L" when commuting around Chicago!
What event in your life would you say shaped you the most as a person?
In 7th grade my music teacher recognized my musical potential and encouraged me to keep pursuing music. I think that marked a significant moment in my life where I realized I had a talent that I could truly express myself in.
If you could choose, what time period in the past would you most want to travel back to and visit and why?
If I could travel back to any period in time it would be the 1960's. I would love to see The Beatles and the Original Woodstock.
Do you have a favorite restaurant in Chicago you always make sure to take guests/visitors to?
I have two restaurants that I always try to take visitors. For tacos, it would be "Los Comales." You can never go wrong with them and they have multiple locations around the city. And for our signature Chicago Deep Dish pizza I would recommend "Gino's East." Don't listen to what anyone else says!
What's the best advice anyone has ever given you?
The best advice that I have gotten comes from my late grandfather. He always told me "Echale Ganas" which roughly means "do it with feeling/do it with will." I apply those words with everything I do at WXAV and my life.
Lightning Round:
Dog or Cat?  Dog
Cold drinks or hot ones?  Cold Drinks
Morning Person or Night Owl?  Night Owl
City or Country?  City Person
Watch TV or Read A Book?  Watch TV
Winter or Summer?  Summer
Dine or Delivery?  Delivery
Fly or drive?  Drive
Pants or Shorts?  Pants
Do you have any current favorite TV show obsessions?
Shameless. It shows the many sides of Chicago that I haven't seen any other show do.
Finally, and most importantly: Does the thought of dipping french fries in a milk shake entice or disgust you?
Entice, last weekend I ordered Fries and a Shake to do exactly this!