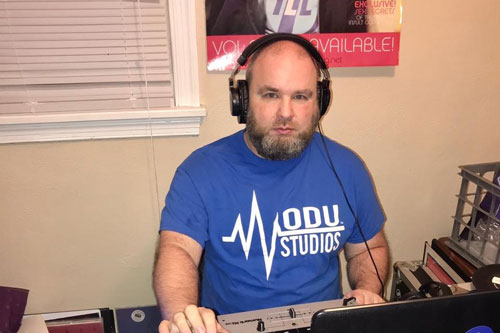 February 2021 MD of the Month:
Dave Blevins
WODU Studios
Listen to NACC's MD Takeover on Spotify!
How long have you been involved with WODU and how did you first hear about the station?
I transferred to ODU from a local community college for my junior year in Fall 2019. I had always wanted to have a radio show, but as an introvert I always held myself back. Fortunately, my girlfriend (now wife) told me that I had a "radio voice" and gave me that extra push I needed. So, I went for it and ended up hosting three different shows: a music about themes, an old school hip-hop show and a punk/hardcore/local music show.
Our music director slot was unfilled in the early months of 2020, so I worked diligently as an under-director in revamping the station's music department, this led to my promotion to the MD in March 2020. I first heard about the station in the early 1990s as a teenager, on a clear night you could pick up their AM signal where I lived two cities over, hearing stuff like Mudhoney Basehead, and Fugazi. So here I am 30 years later as the music director.
Getting DJs to seek out and play the new music you are sent can be challenging. What are some of the ways you work to get your on-air staff to play new music during their shows?
I listen to their shows and send a few songs I think will fit into their format based on the genres they are spinning.
What have been some of the biggest obstacles your station has faced during the pandemic and how have you dealt with them?
Ironically, I was on a train on the way to visit my wife during spring break brainstorming how to broadcast my shows remotely and upload songs to our rotation without being in the studio. We were only broadcasting our shows on YouTube and were not on air 24/7 so we decided to go fully digital where we could record remotely and manage the rotation. So, in a way we were already prepared once the campus shutdown in late March. The biggest obstacle once the campus partially reopened in Fall 2020 was attracting new members and adding new shows. There is a 50/50 split of online and in person classes currently and trying to recruit new members via Zoom has been a hard sell. I want to give credit to our GM Erica, Operations Director Sam, Promo Director Kiannah, Sports Director Jalen, Gaming Director Bryce, and Video Director Jenna for keeping things relevant at WODU. A special shoutout goes to our Engineer Sierra for getting our studio up and running again this past semester.
What was your favorite album released in 2020?
This is a loaded question, there was a lot of great albums last year. My favorite song was Caroline Rose's "Feel the Way I Want', but I guess my favorite album of 2020 was Bully – "SUGAREGG" and The Beths "Jump Rope Gazers".
Do you have a favorite artist or album you never get tired of listening to?
Beastie Boys – Check Your Head, it has so many different genres on it and it introduced me to punk, jazz, funk, etc. It shaped my music preferences as a 15-year-old.
Which artist/band has put on the best show you have ever seen live?
I will answer with Beastie Boys again. I was fortunate enough to have seen them seven times between 1992-2008. I miss them. Fishbone is another awesome live band. Honorable mentions for Clutch, Minus the Bear, and Phantogram.
Who is an artist or band totally outside the realm of the music you play on WODU that people might be surprised to know you love?
I married a Latina, and she has introduced to salsa icons like Celia Cruz, Hector LaVoe and bachata. I think Phil Collins and Phil Collins era Genesis might surprise some people; I also dig a little Punjabi music.
What are you most looking forward to in 2021? Could be musically, personally, or professionally.
I am looking forward to new albums by The Hold Steady and Murphy's Law. I should be finished with my undergraduate degrees in History and Geography this year if all goes well.
What event in your life would you say has shaped you the most as a person?
The birth of my daughter in 2006 has really shaped me the most. Also, my 20-year career in the U.S. Navy from 1997-2017 and meeting my wife at the end of 2017 have also contributed to who I have become.
If you could choose what time period in the past would you most want to travel back to and visit?
Ironically, my favorite movie is Back to The Future so I would love to travel back in time. I would love to visit the NYC hip-hop scene in the early 80's and the mid-late 80's. The New York Hardcore (NYHC) scene, but I would especially love to visit the Seattle music scene between 1990-1992. Hopefully, the space-time continuum will not be altered.
Do you have a favorite restaurant in Norfolk (dine-in or take out) that you recommend people try?
Chorizo Mexican Eatery is a really great place for authentic Mexican cuisine. Everything is made fresh by Chef Ro, "nothing out of a can." As a bonus it is only a block away from the ODU Campus. If someone is craving gourmet burgers, I recommend 80/20 Burger Bar. Taphouse Grill has great food and great live shows before the pandemic. I would also recommend the food at Torch Bistro where I host trivia every Thursday.
What in your life brings you the most joy?
Whenever I pick up my daughter, she always tells me about a new song she has found (new to her) and plays it for me, last week it was "The Killing Moon" – Echo & The Bunnymen, my face lit up when she played it. She has also discovered "Too Many Creeps" by Bush Tetras as well as songs by Joy Division and New Order. She is 15 and discovering the same kind of music I was at that age. My wife Cyndi also brings me joy by just being in my life.
Lightning Round:
Dog or Cat? Both, my wife and I have a shar-pei lab mix, and we just recently added two kittens to our home. We were not cat people until now.
Morning Person or Night Owl? Night owl
City or Country? City…my favorite cities are Seattle, Philadelphia, and Tampa.
Beach or Mountains? Both
Watch TV or Read A Book? Both
Sunny or Rainy? Sunny
Restaurant or Home Cooking? Home cooking. My wife makes really great Latin/South American food.
Pants or Shorts? Shorts
Warm or Cold drinks? Cold drinks – Dr. Pepper and water
Given all our time now spent at home, do you have any current favorite shows you are enjoying/binging? How about a movie (new or old) that you have watched recently that you loved?
As far as shows: Cobra Kai was excellent. I almost subscribed to YouTube for it a few years ago, so it was well worth the wait! Ozark is another great series and I just finished BoJack Horseman. The most recent movie I watched and loved was Outside the Wire.
Finally, what do you miss most about your pre-pandemic life?
Concerts, hardcore shows, and going to baseball games. Live music is so therapeutic, so I miss that. Having the Minor League Baseball season cancelled last year was exceptionally hard since Norfolk is home to a AAA team. I usually attend about 20 games per season. I am also a huge fan of the Seattle Mariners and Washington Nationals, so I really missed having the distraction of watching games from April-July. Ironically, my wife and I attended the last Washington Wizards game open to the public back in March, the day before everything shut down. So yes, I really miss live entertainment whether it is music or sports. Attending classes and conferences via Zoom has taken a toll on my 20/20 vision, I have resorted to wearing glasses (blue light blocking) for the first time in my life while using a computer, otherwise after a few hours the screen is blurry and I'll get a migraine so I miss attending classes and events in person.