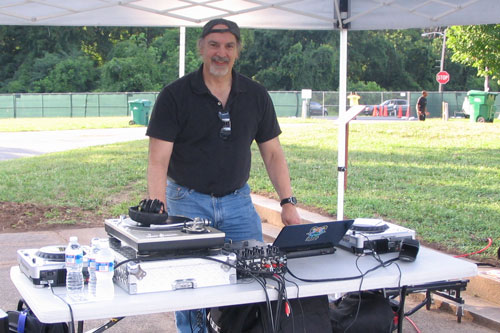 Genre DJ of the Month:
John Diliberto
Echoes
Tell us about ECHOES. How did it get started and what sort of music do you focus on?
ECHOES, is a daily two-hour music soundscape, distributed by Public Radio International. We started in 1989 with a grant from the Corporation for Public Broadcasting. Our focus is on chill music wherever we find it from ambient and electronic to singer-songwriters and dream-pop with frequent stops at jazz, rock, and contemporary classical.
How many stations does it air on and what size audience do you estimate listens to the show?
Echoes is currently heard on over 100 radio stations across the country including New York City, Philadelphia, Cincinnati, Baltimore, St. Louis, Hawaii and Orlando. Echoes is also on the web, with streaming 24/7 and on demand audio. We have 165,000 listeners (Nielsen Spring 2017).
In addition to hosting ECHOES, what other sorts of work do you do?
Echoes is pretty much it. I used to do a lot of writing in Billboard, Musician, Pulse, Downbeat, Jazziz and more as well as liner notes.
What was your favorite album of 2018?
An Abandoned Orchid House by Talitha Rise. I can't believe everybody missed this one, especially TripleA. Think Nicks-Buckingham era Fleetwood Mac meets Fairport Convention with great production and world music touches from Martyn Barker of Shriekback.
Do you have a favorite artist or album you never get tired of listening to?
Too many. Jimi Hendrix, Electric Ladyland.
What is the best live show you have ever attended?
My first concert, Jimi Hendrix in 1968 at the Carousel Theater,Framingham, MA, set that bar way high, but my fave concert in 2018 was Nils Frahm at Union Transfer, Philly. Mesmerizing and brilliant.
Who is an artist or band completely outside the realm of the music you play on ECHOES that people might be surprised to know you love?
I listen to a lot of jazz and rock so: Sun Ra, John Coltrane, John Zorn, Dandy Warhols, Black Angels.
What is your favorite childhood memory?
At five years old, sitting with my kiddie record player with the 10 penny stylus and playing Debbie Reynolds singing "Tammy's In Love" and crying.
What event/or individual in your life would you say shaped you the most as a person?
My father.
If you could choose, what time period in the past would you most want to travel back to and visit and why?
I never travel backwards. Always future forward.
Do you have a favorite nearby restaurant you always make sure to take guests/visitors to?
Ron's Bar and Grill. Has a good vibe in the bar and a menu to please diverse palettes.
What's the best advice anyone has ever given you?
I see this question all the time when others are interviewed and I can never think what I'd answer. Right now I'd go with Clint Eastwood's advice: Don't let the old man in.
Lightning Round:
Dog or Cat? Nothing against cats, but I'll go with my two dogs, Mason and Paisley.
Cold drinks or hot ones? Whichever has the most alcohol.
Morning Person or Night Owl? Time has no meaning for me.
City or Country? Depends on the City and Country
Watch TV or Read A Book? Both
Winter or Summer? Spring
Dine or Delivery? Food, like everything in life, is best fresh out of the oven.
Fly or drive? People say I'm flying when I drive.
Pants or Shorts? Levis and Cargo.
Do you have any current favorite TV show obsessions? What was the best movie you saw in 2018?
Battlestar Galactica. That Portlandia episode about it could've been written about me. Best movie: Black Panther, but I didn't see a lot of films this year.
Finally, what was your favorite part about the holidays that just came and went?
Spending time with my lovely wife and family. Awwwwww!