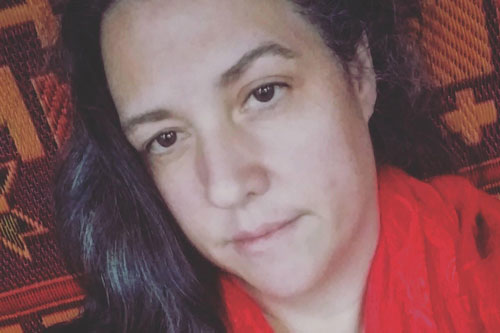 June Genre DJ of the Month:
Jodi Gianakopoulos
Triton College Radio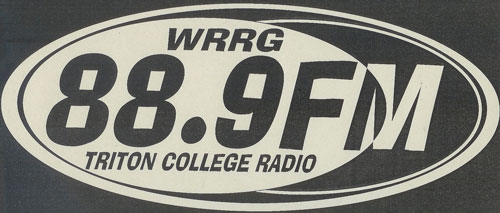 Tell us about WRRG. How it got started and how you first heard about it.
Triton started in 1965. WRRG started in 1975. 10 watts at the time.
Triton Radio started as a club. After about six months, the college received some equipment and a got a license to become a radio station. Although the launch of Triton Radio was in May of 1975, the first official air date is unknown.
At some point in the 80's we became 100 watts. Signal became stereo in the late 90's. We started streaming around the mid 2000's?
How long have you been at WRRG? What is your history there?
I started as a frequent guest on a funky jazz and soul show at the station in 2005. The show was called PROGNOSIS.
What excites you most about world music?
I would say that because I have a degree in Cultural Anthropology, the process of contextualizing really excites me with all different styles. The commonalities and differences of music types, where they come from, who makes them, and with what instruments are where I find endless enjoyment.
Is there a specific kind of world music you play on your show?
I try to express myself with the show. I enjoy both very traditional and ancient music as well as new releases and super new styles. I especially love collaborative styles, where people try new things but use their cultural traditions as platforms to jump from. I really enjoy playing new releases and staying aware of emerging artists and trends. But I also really enjoy exploring my collection and finding themes to bring in each show. I do shows with artist/label retrospects, some feature specific instruments, like "African guitar" or "female vocals" or "accordions from around the world," "Caribbean," "reggae reggae," "uk dub," "bellydance," "Arab orchestra," "music of the orient," "punk from around the world," "stringed instruments." I also like to challenge myself by blindly grabbing handfuls of records or CDs and just winging it. I call those shows "grab and go." I love exploring and presenting my collection!!
You have our curiosity piqued with some of the other places in your signature. Tell us about The Old School Records and DJ Mama G Entertainment.
I am a retail music veteran, The Old School Records is the record store I partner with, founded in 2003. DJ MAMA G Entertainment is a blanket name I give to all of my side projects involving live music or DJ gigs. I love to do the music for events and book bands, artists, and authors for the shop!
What would you say has changed the most over the years as an owner of a record store?
The resurgence of vinyl has been a big one, for us it was a constant that my partner and I always considered essential. Initially, the shop was for "vinyl junkies", collectors, DJs and dealers from all over the world. It became a place for people to BECOME record shoppers, collectors and enthusiasts. When I was most active in the business, I was surrounded by people who often knew more than me about different styles and genres….DJs and hardcore collectors with specialized tastes. They taught me intense amounts about music!! I am so grateful, as I already knew so much. NOW, it's more of a teaching atmosphere, with younger generations wanting to learn from us.
Do you have a favorite artist or album you never get tired of listening to?
Ha ha, so many. Fela Kuti and The Butthole Surfers, let's start there….and Charles Mingus.
What would be your dream concert to attend? (Venue and artist)
There's a scene in the movie Latcho Drom…It's in Egypt and involves bellydancers, stringed instruments, handclapping and story telling vocals backed by community call and response type singing…all done in the light of a roaring fire. That would be my first thought!
Who is an artist or band outside the realm of college radio/world music that people might be surprised to know you love?
People who know my music tastes know I have few boundaries. I surprise people with my love of METAL!
What is your best childhood memory?
My backyard was a big city park.
What event in your life would you say shaped you the most as a person?
Discovering punk rock/Visiting Japan.
If you could choose, what time period in the past would you most want to travel back to and visit and why?
Etruscan/Minoan period in the Mediterranean. I adore the art.
Do you have a favorite restaurant in Chicago you always make sure to take guests/visitors to?
I, of course, have a few. All cheap and family owned. Dong Ky in Vietnamtown. Ghareeb Nawaz on Devon. Jibaritos Y Mas in Logan Square.
What's the best advice anyone has ever given you?
Eat the elephant a bite at a time.
Do you have any current favorite TV show obsessions?
I don't watch TV! Only the occasional TCM or AMC/Baseball/Bloomberg.
What is the best movie you've seen so far in 2018?
Not many yet. Drive In season is coming, though. I loved seeing Bloodlight and Bami, the Grace Jones documentary.
Lightning Round:
Dog or Cat? dog
Coffee or Tea? coffee
Morning Person or Night Owl? Night owl
City or Country? City
Watch TV or Read A Book? Book
Sunny or Rainy? Sunny
Dine or Delivery? Take Out
Winter or Summer? Summer
Pants or Shorts? Pants