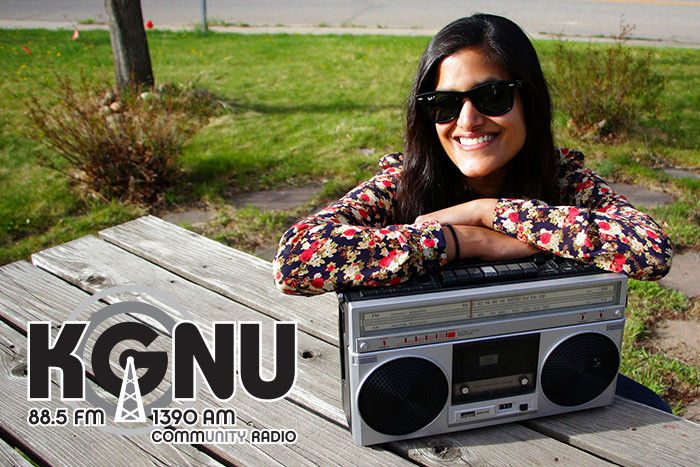 JULY MD OF THE MONTH:
Indra Raj,
KGNU Boulder
How did you first hear about KGNU?
I grew up in Boulder, and KGNU is a well-known and recognized station in this area, so I've known about it since I was pretty young.
How long have you been at KGNU? What is your history there?
I just started as MD at KGNU in February of this year. I've been a fan of the station for many years, and have mainly been involved as a listener since I only recently returned to Boulder.
What are you most proud of accomplishing/changing at KGNU since you became MD?
I'm still relatively new, so I'm still working on a lot of things. That said, I'm really excited about the potential for our online music site, AfterFM.com, and the opportunity it gives us to present different kinds of programming from what we normally have on air.
How does KGNU make itself known throughout Boulder? What sort of things do you do to connect with the community?
KGNU gets a lot of recognition in this area because of our alternative approach to presenting news and music programming, and a lot of people get to know us through friends and by word of mouth. That said, we are also deeply committed to getting out and participating in community events and festivals so people can get to know us, but also so we can support other community organization and non-profits in the area that align with our mission. We also present our own music festivals and events each year, including a bluegrass festival, a Mardi Gras party, quarterly music showcases, live remote broadcasts, and so much more!
What do you love most/dislike most about Boulder?
I love, love, love the weather and copious amount of sun in Boulder, as well as the immediate access I have to great outdoor activities all throughout the year.
On the other side of things, I worry about the lack of racial diversity in Boulder.
What artist/band have you heard for the first time this year that has impressed you the most?
Jay Som wasn't really on my radar until this year, and her album Everybody Works is excellent from front to back. She's a really good example of why the DIY music scene is important and allows great musicians to create great music, regardless of their access to fancy studios and equipment.
What still-to-come 2017 album release are you most looking forward to?

I have to say I'm pretty psyched for the new Grizzly Bear album. It's been a minute since they last released anything, so the anticipation is real! And I'm always impressed with the complexity in their music. They are great songwriters.
Do you have a favorite artist or album you always come back to and love listening to?
Anyone who knows anything about me musically knows that I am a huge Radiohead fan and always will be. I always love returning to their music because no matter how many times I hear the same Radiohead song, I will always hear something new and interesting each time I listen. They have taken so many risks as musicians and artists over the years and it's hard not to respect their immense contribution to where we are in music today.
What is the best live show you have ever seen?
Tough question! Riffing off the last question, I'd have to say the Radiohead concert at the 1st Bank Center in CO right after they released The King of Limbs. It's so hard to catch them live, so I was so psyched when I finally got a ticket to the show and even more excited at how excellent it was. They totally killed it. And it helped me get more into The King of Limbs, which is definitely meant to be heard live (and that became very apparent during the show).
What's the one thing you can't do without?
Cheese.
What's the best gift anyone has ever given you?
Any gift is the best gift! I know that seems like a lame answer, but I really mean it!
What is your favorite food or meal?
Again, cheese. I also love Mexican food!
Do you have a current favorite TV show obsession?
I've been watching The Handmaid's Tale and think it is awesome. I love stories about alternate realities. They tend to really bring out the quintessential human condition, which I always find interesting.
Lightning Round:

Dog or Cat? Dog. Duh.
Coke or Pepsi? Coke.
Morning Person or Night Owl? Neither!
City or Country? A little of both, though if I had to choose, I guess I'd say country.
Watch TV or Read A Book? Watch TV, though I wish it was more of the latter!
Mountain or Beach? Mountain!
Dine or Delivery? Dine!
Hipster or Nerd? Ugh – neither.
Beard or Clean Shaven? Beard!
Pants or Shorts? Pantsssss.
And finally, and most importantly, is there such a thing as too much frosting on a cake?
Ab. So. Lute. Ly. Not.