June MD of the Month:
Brian Bourgoin
WCNI New London
Listen to NACC's MD Takeover on Spotify!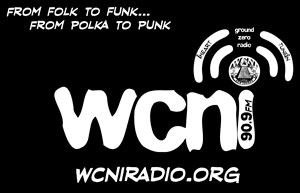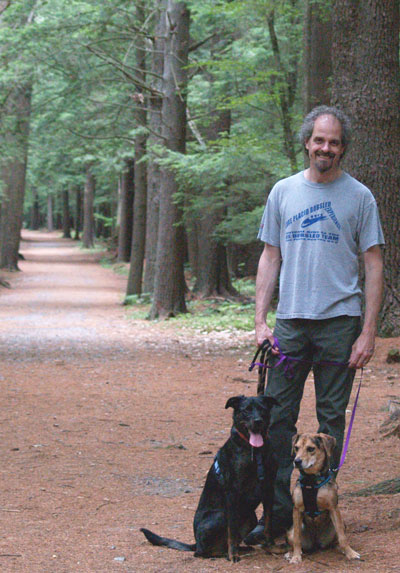 Tell us about WCNI.  How did it get started and how did you first hear about it?
WCNI is a non-profit freeform radio station located on the campus of Connecticut College broadcasting at 90.9FM in Southeastern CT and streaming online to the rest of the world. Our mix of volunteer community members and college students play a mix of music that ranges "from folk to funk…from polka to punk". We have a very eclectic blend of community members and students, a true island of misfit toys that have a shared passion for music and enjoy bringing that to airwaves on our gloriously analog mixing board. Our motto of "for the love of music!" is spot on. WCNI started in the 1950's as a small 10W college dormitory station. We grew in the 1970's to a "massive" 500w station and developed a strong local New London, CT listenership. In the 90's we upped our power to 3KW that reached most of Southeastern CT and Rhode Island and remain one of the few freeform & independent stations in the area. We have also upped our online presence and now stream online at wcniradio.org as well as on iheartRadio and TuneInn. If you grew up in Southeastern CT, in one way or another you have heard, listened to or at least saw a WCNI bumper sticker.
How long have you been at WCNI?  What is your history there?
I had been a WCNI listener for years and switched "day" jobs and met a co-worker who was a WCNI DJ. Through talking about the station, I ended up training and trying a radio show for fun, it seems to have stuck 15 years later. I started in 2004 hosting a show in time slot of 6-9AM on Saturdays, which I still do weekly. I wanted to host a roots/rock/Americana show to feature newer releases, but that is just one part of my music appreciation. My interest is in all genres of music – especially new releases which lead me to the voted-in role of the Station's Music Director about 10 years ago. I try to bring a fresh mix of new releases for the other DJ's at the station and promote new music in all genres – good music is good music!
As music director, how do you get your on-air staff to check out and play the new music you receive?
We have a digital library which is constantly updated and current, and almost all music we receive is first ripped to our library.  We are an active weekly reporting station to the NAAC Chart (Indie Rock, Blues, Americana, working on Jazz and World as well), the AMA Chart as well as a few other specialty charts. I find that for new and emerging artists, old fashioned CD's with a brief review sticker on the shelf get the most attention from our DJs. New Release Shelves in the studio are maintained for the NAAC indie rock top30 music that is about 3 months or less and we do the same for Roots, Blues and Heavy Rock. I directly work with a review team for Rock and America music as well as the specialty Music directors (Blues, Jazz, & Metal), so all music we decide to add to our library is reviewed. I also post a weekly list in the studio for all new releases and point out the week's recommended "play this" releases.
What has been your favorite release of 2019 thus far?
A TOP pick is tough, especially after only a few months of settling into an album (I think of them like a pair of old jeans that takes time to really fit and appreciate).  But if pinned down, I would say the new Kelly Finnigan, Budos Band or Bright Light Social Hour are in the running.
Do you have a favorite artist or album you never get tired of listening to?
Yeah, that would be Neil Young's Ragged Glory (or just about any of his other Crazy Horse albums), or The Sheepdogs entire catalog which sound like a greatest hits of all music you listened to during a keg party.
Which artist/band has put on the best show you've ever seen live?
Great question and next to impossible to really do justice since there are so many and best ones are a bit hazy!  Fred Eaglesmith, Richard Lloyd, Bettye Lavette, Wilco, The Tubes come to mind, but a couple recent rise to the top – Sheepdogs in NYC this past fall and The Sadies in Rhode Island last year.
Who is an artist or band outside the realm of college radio that people might be surprised to know you love?
Willie Nelson!
What is your best childhood memory?
As a child of the 70's it's gotta be Pop Rocks or Saturday morning cartoons!
What event in your life would you say has shaped you the most as a person?
Music! Getting my first 45 LP and latching onto that vibe from the music and wanting to hear more (ahem, it was Steve Martin "King Tut"…I was seven!). That has not changed after all these years, every Tuesday charting and new bunch of music to hear is something I look forward to every week!
If you could choose, what time period in the past would you most want to travel back to and visit?
The late 1800's in the southwest to meet Sergio Leone's The Man with No Name. I start every show and open the radio station on Saturday at 6AM with the theme from The Good, The Bad and The Ugly.
Do you have a favorite restaurant in town that you always make sure to take guests/visitors to?
We have a few good pizza places (being close, 40 minutes from New Haven), there are a lot of very popular options. Napolitano's is a sleeper in New London and is tops around here! However, I am spoiled since the real deal is right in my own kitchen and my wife (who is also WCNI board member and DJ) cooks up some great food – her from-scratch chili with a roasted blend of 7 peppers and homemade corn bread are tough to beat.
What in your life brings you the most joy?
My wife and dogs…and pine trees
Lightning Round:
Dog or Cat?  Dog
Coffee or Tea?  Beer!
Morning Person or Night Owl?  Morning
City or Country?  Country, lost in the woods
Watch TV or Read A Book?  Watch TV
Sunny or Rainy?  Sunny
Dine or Delivery?  Dine-in, unless we are in the mood for some pizza
Beard or Clean Shaven?  Beard, bury the razor
Pants or Shorts?  Shorts or Carhartt pants
Do you have any current favorite TV show obsessions?
I recently discovered and have watched all of the Canadian TV show Corner Gas (feeding my New Brunswick heritage!)
Finally, and most importantly: Cilantro… incredibly tasty addition to your meal or devil weed?
Impossible to have good Mexican stir fry or salsa without it. It won't grow in our shady yard, we have tried!