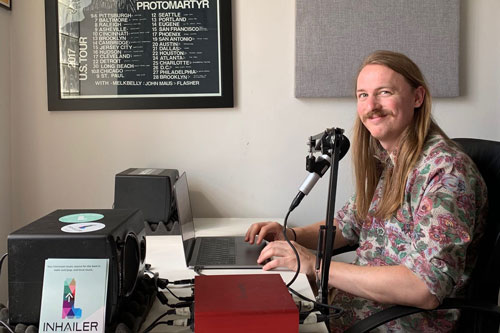 November MD of the Month:
Nils Illokken
Inhailer Radio
Listen to NACC's MD Takeover on Spotify!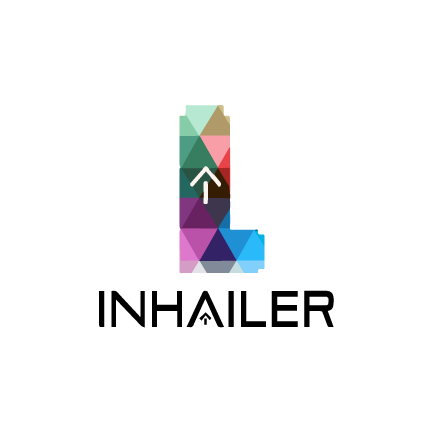 Tell us about Inhailer Radio. How did it get started and how did you first hear about it?
Inhailer Radio began a little over two years ago when we lost a beloved college/community station called WNKU. They were a great asset to our music scene and had recently changed format to move a little more towards indie music while still playing their folky roots. They were the only station that played local music in their regular rotation and were becoming a staple of the Cincinnati music scene. The school decided to sell the station/tower to the Bible Broadcasting Network without going after any other possible leads. Our founder Coran Stetter was one of the local bands featured by WNKU and was just starting to see their impact on the local music scene when it all went down. He thought he could save the station and through both in-person and social media efforts, realized it was a pipe dream. What did come out of it though was a realization that with all the talented people he had connected with or already knew, he could start his own station. The name Inhailer comes from two parts: 1. Hail – To cheer enthusiastically. 2. An Inhaler is a device used to help users catch their breath. Put them together and you get Inhailer Radio. We want to be that station that the people of Cincinnati and beyond are not only excited for, but that they can rely on. We're a station focused solely on music and music discovery.
How long have you been at Inhailer Radio? What is your history there?
I started with Inhailer about 6 months into their founding, so I've been there about a year and a half now. I graduated from Ohio University in 2016 and still hadn't found much work in my field. I was the MD at WOUB and found my love for radio there and I was trying to find work in that field but with not much luck. On Christmas Day 2017 I was checking out the Cincinnati subreddit and there was a post which contained a stream of WNKU's final Holiday stream. A user commented that they were a DJ at this new online independent station and they had a great eclectic Christmas mix happening. I reached out to him and he told me to contact Coran and gave me the info. I promptly did and met with him and a few others at our original space where we discussed my history in radio and what my role could possibly be. I started as a two nights a week DJ and then soon after, our M-F 11-3 DJ had to move out of the area and I had the time and the love for music and decided to take them up on that. We then realized my skills and connections and knowledge would be best suited to take over the Music Director position as well.
As an internet station how do you balance catering to your local Cincinnati audience while trying to bring in listeners around the world?
As an internet only station, there are struggles with getting the word out and convincing people how easy it is to listen. As times change and so does technology, it's getting easier to get people to use Inhailer as a resource in their daily life. Sure, we're not on the dial but that doesn't mean you can't stream us through an unused radio signal with an adaptor or use an aux cord. With time though, it's getting easier as more and more people recognize our name and the good press keeps coming. As far as balancing our local audience with listeners from all around the world, we try to focus heavily on the music discovery aspect. We definitely push local and regional shows but we play music from all over the world across various genres. KEXP is my sole inspiration for how I work as a MD and DJ and I would love to get to a place of sustainability where we can start to bring more artists in for in-studios, help book independent music, etc.
One amazing thing we had the opportunity to do to get listeners from all over the world was premiering The Voidz newest single. We were one of a handful of stations to get to premiere this and an Instagram post I made on our social media got screenshotted and shared all over the place. Now, in my haste, I messed up the date of the premiere, I tagged a Mac Demarco meme account (He produced it) and I didn't put the time zone because I didn't expect anyone outside of Cincinnati to notice or care. I was in NYC at the time seeing Haruomi Hosono and woke up hungover to the news of it being all over reddit. I had to hungover (and in the bathroom of our airbnb) try to fix everything. It was amazing watching the numbers grow so quickly and to get responses from all around the world about the premiere, even if it was sort of a sh*t show.
What has been your favorite release of 2019 thus far?
SAULT – 5 came absolutely out of nowhere and has been on repeat for me ever since. It's the perfect blend of soul, funk and post-punk and I can't wait to see where they go from here.
Vampire Weekend – Father of the Bride, Nilufer Yanya – Miss Universe, Aldous Harding – Designer, and Kindness – Something Like A War are all close as well.
Do you have a favorite artist or album you never get tired of listening to?
Of Montreal – Hissing Fauna, Are You The Destroyer? Is THE album that fully got me into indie music and I'll forever be grateful for that. Darkside – Psychic is something I can also always put on and never get sick of, as well as The Avalanches – Since I Left You.
Which artist/band has put on the best show you've ever seen live?
Bon Iver. Hands down. I saw him perform two sets at Bonnaroo 2018 and I've seen him every chance I can get since. He puts so much into the music and the live performance and each show has some unique version of one of their songs. The emotion that I heard and felt during 'Woods' at Bonnaroo still gives me chills.
Who is an artist or band outside the realm of what your station plays that people might be surprised to know you love?
I grew up on pop-punk and screamo. I went to Warped Tour for 7 years and I still have a secret love for a lot of those acts. Specifically AFI – Decemberunderground, the first CD I ever bought and an album that still gets me pumped.
What is your best childhood memory?
Man, this question is harder than I thought it would be. I'm suddenly forgetting anything that's ever happened during my childhood. I would have to say having the privilege to go to Norway multiple times growing up to visit my dad's side. All of them still live in Norway so it's always great to go and experience the beauty of Norway and see my large but distant family.
What event in your life would you say has shaped you the most as a person?
Getting the chance to work in college radio really helped expand my worldview, my music tastes and my personality in a way. It got me to NYC for the first time where I met all kinds of other MD's and record promoters, plus it got me to where I am now, the Music Director at a rising independent radio station.
If you could choose, what time period in the past would you most want to travel back to and visit?
I would kill to have been around for the 80's music scene. Stop Making Sense-era Talking Heads, Hounds of Love-era Kate Bush, Disintegration-era The Cure, I can go on.
Do you have a favorite restaurant in Cincinnati that you always make sure to take guests/visitors to?
Kung Food Chu's AmerAsia in Covington, KY right across the river from Cincinnati. Incredible Taiwainese food with some truly unique options, an incredible draft and bottles and cans selection and bad kung-fu movies above the bar. All that AND good music playing.
What in your life brings you the most joy?
Listening to good music, watching weird comedy (Tim & Eric and everything related), playing video games and traveling to new cities and eating good food.
Lightning Round:
Dog or Cat?  Cats! I have two, Gimli and Gandalf
Morning Person or Night Owl? Definitely a night owl
City or Country? City with the country/hiking being accessible still
Beach or Mountains? Mountains
Watch TV or Read A Book? It used to be reading, but as I work more and get busier, TV
Sunny or Rainy? Rainy
Dine or Delivery? Delivery
Beard or Clean Shaven? Mustache only! (It's the only thing I can actually grow)
Pants or Shorts? Pants
Do you have any current favorite TV show obsessions?
I'm watching 30 Rock for the first time finally and it's amazing. I don't know what took me so long.
Finally, and most importantly… with Thanksgiving coming are you pro or anti cranberry sauce and if pro, do you prefer whole berry or the jellied kind that slurps out of a can?
All kinds of jelly is just wrong. You're taking a superior version of something (jam or preserves) and ruining it! Get that jellied stuff out of here, real cranberry sauce all the way.