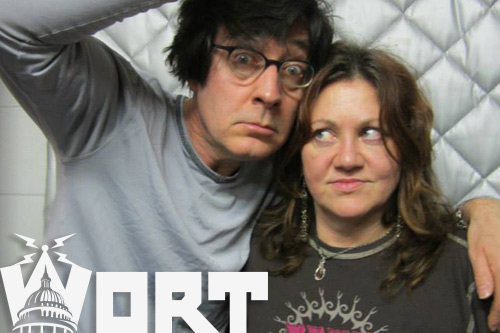 November MD of the Month
Sybil Augustine
WORT, Madison WI
How did you first hear about WORT?
In the mid 80's a friend took me to dinner to pick my brain for a radio job they were applying for. A decade later I ended up in that job myself.
How long have you been at WORT? What is your history there?
I was hired as General Manager/Program Director in 1991-92. The station went through an upheaval and in 1995 was reorganized as a staff collective. I applied to be Music Director and I've been here ever since.
What are you most proud of accomplishing/changing at WORT?
Oh, so many things over the years! – such as helping form the staff collective, broadening the genres of music being serviced and reported on charts, rebuilding library storage systems, refining processes for reviewing and labeling CDs, live music/remote broadcast protocols, moving to online collaboration for concert promotions, training, committee work, etc. Also helped hire great staff people as well as program hosts and in general, better serving all our volunteers. I couldn't do it all these days without my half-time assistant Aaron, known as "musicass" due to his email nickname.
What do you love most/dislike most about Madison?
Its frequent freakiness, and its occasional pretentiousness.
How does WORT make itself known throughout Madison? What sort of things do you do to connect with the community?
We host a lot of artists, local to international, for interviews and live in-studio music; we work with venues on promo exchanges for concerts; we put on annual events including the Block Party, Bowl-A-Thon, Chili Cook-Off, the Willy St. Fair Underground Stage and more. Our website has useful event calendars and publishes many local stories of interest, and we provide numerous opportunities to access promotional tools in order to support artists and other local organizations.
What artist/band have you heard for the first time this year that has impressed you the most?
A Giant Dog. What a wonderful voice and presence she has, along with unique catchy tunes and the whole band is driving and cohesive, just a delight!
Do you have a favorite artist or album you never get tired of listening to?
It's just so hard to pick favorites with music; I have to go back to my roots and say The Who, they never fail me.
What is your favorite live show you have ever attended?
Out of thousands, I can't possibly say!! My favorite early memory was The Who with Toots & the Maytals opening (!) at Pontiac Silverdome in 1976. This year alone, among my favorites were The Zombies, Robert Fripp, Legendary Shack Shakers, Charlie Parr, Charles Bradley, Nobunny, Barrence Whitfield, Meklit…stop me before I fill up the whole page…
What is your best childhood memory?
Probably just hanging out on the farm, when not reading or listening to music I was training my horses and going to horse shows and races. I enjoyed being around them more than I did most people.
If you could choose, what time period in the past would you most want to travel back to and visit?
The Sixties, to experience as an adult the struggles and excitement of being part of a *real* revolution.
Do you have a favorite restaurant in town you always make sure to take guests/visitors to?
There are so many great choices here but I'll say Alchemy Cafe for casual and creative food, Tornado Room for classic steakhouse/seafood/supper club atmosphere, and most importantly not the food but the beer at the Malt House, a European-style pub with fantastic taps and firkins, great live music and NO TVs.
What's the one thing you can't do without?
Music! Of course.
Lightning Round:
Dog or Cat? I have both, why decide? Wanna see pictures of my really cute Pug puppy?
Coke or Pepsi? ummm….what happens when you snort Pepsi?
Morning Person or Night Owl? Hoot, hoot! You can't stay up very late if you get up too early. I'm working to end discrimination against night people.
City or Country? I loved growing up in the country, and I loved living for years in Detroit. Madison is somewhere in between but it's a rapidly growing city, with all that has to offer. I prefer city for now.
Watch TV or Read A Book? Again, why choose? I do both, though mostly avoid advertisements.
Sunny or Rainy? Now that's a no brainer for me, I crave the sun. Though a light, warm rain is alright with me too, for a short while. Being close to nature is easier when it's nice and mild.
Dine or Delivery? I love dining out, Madison has so many great restaurants with different kinds of cuisine, and many are locally sourced and organic and just taste soooo good.
Beard or Clean Shaven? No beards for me personally, if I can help it. I have very sensitive skin.
Pants or Shorts? That depends on the weather. It can easily go back and forth several times a day here.
Do you have any current favorite TV show obsessions?
Sure! Underrated: Humans, People of Earth, Son of Zorn, American Dad; Obvious: Rick & Morty, Westworld, Shameless; Classic: South Park, Simpsons, Star Trek, the occasional SNL.
And finally, and most importantly, Coconut: Tasty? Disgusting? Discuss.
Too much is always better than not enough…except when it's just too much! Bent Kettle's K'Paui is a coconut porter that gets it just right. The importance of this question is that whatever brings you the most slack is best for each individual. For more tasty insights, tune into my radio show Psychoacoustics Thursday nights from 8-11 pm Central or stream the archives from www.wortfm.org